We've come to the end of our month-long stay in Bali. I'm sure you all know by now that we prefer to be completely honest on our blog. So here goes…
We probably wouldn't go back to Bali. There are a few things that we loved about Bali, and a few more things that we didn't. It just wasn't for us, and in this post we're going to tell you why. We want to be careful not to make this a Bali-bashing post, but we do want to write down our honest thoughts!
To make it completely unbiased, we'll obviously be telling you about the things we loved as well! Let's start with the good news:
Weather
We experienced some of the best weather of our travels so far in Bali. Beautiful sunshine almost every day, with a cooling breeze and manageable humidity. It probably helps that we came to Bali straight from Siem Reap, where we SWELTERED.
Nevertheless, the weather in Bali is gorgeous in May/June. This also makes it the perfect place to visit if you find yourself in Southeast Asia during the summer months. Almost everywhere else will be sticky, humid and wet.
Beaches
Bali has some beautiful beaches. They're not quite as stunning as some of the beaches we saw in Thailand, but they're the perfect place to sunbathe, learn to surf or just watch the sunset with a cold beer. We saw some incredible sunsets in Bali.
The large waves make it difficult to swim at most of the beaches, though.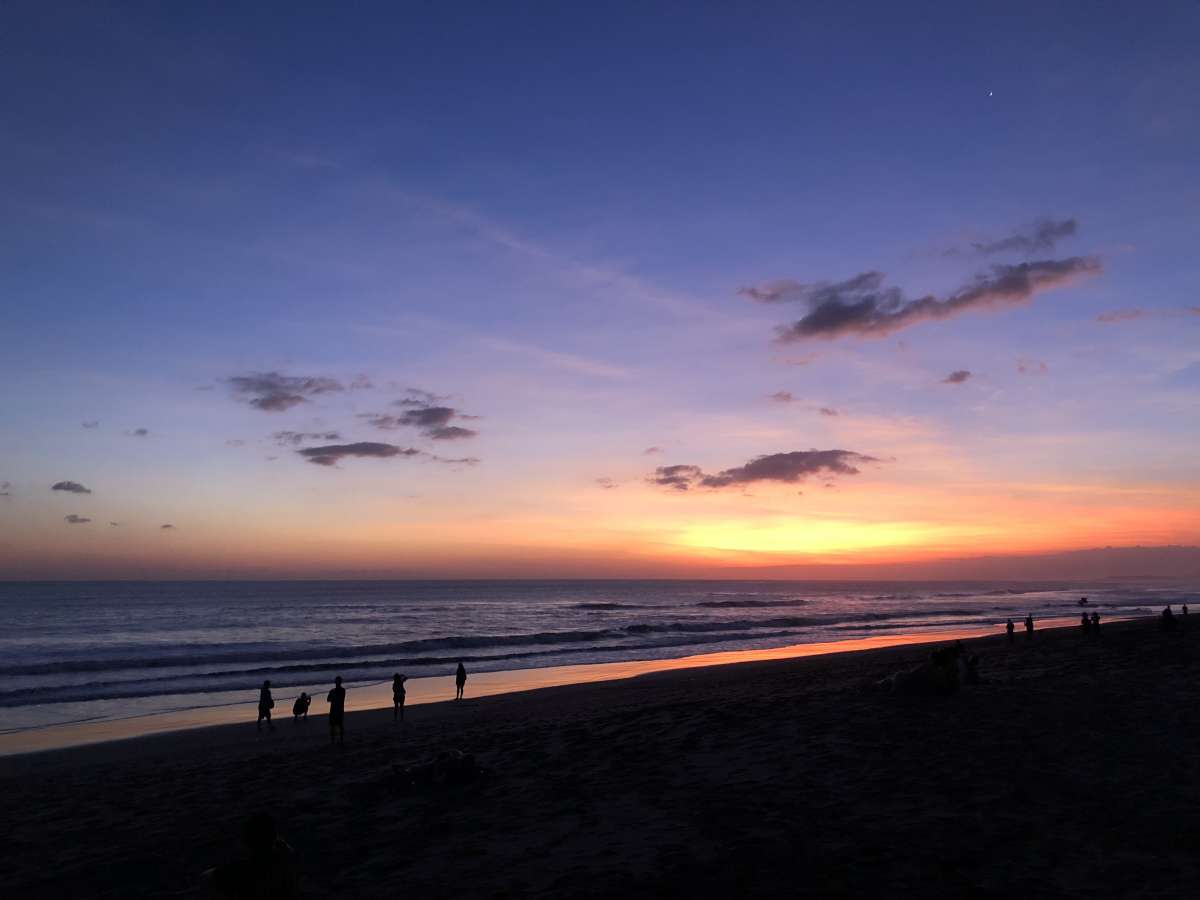 Food and drink
There are plenty of great places to eat and drink in Bali. Wherever we were, we never struggled to find good restaurants. Cool cafés, bustling bars and wonderful warungs are literally around every corner. You won't go hungry!
Things to do
There's a LOT to see and do in Bali. We had some incredible experiences here including the Mount Batur trek, visiting Monkey Forest in Ubud and learning to surf in Canggu. Some of these are our most memorable experiences from our travels so far!
And now, the not so good…
Taxis
The taxi situation in Bali caused us quite a few problems during our stay. The Bali Taxi Mafia is very, very real. There are men every few metres (especially in Ubud) aggressively offering taxi services. It gets SO tiresome after a while.
Services like Uber and Grab are banned in Bali, but they do still operate under the radar! They're also much, much cheaper than the local taxi drivers who charge way over the odds.
To put it into perspective, we paid 133,000 IDR (around £7) to get from Ubud to Canggu with Grab (after a grand total of FOUR Grab drivers cancelled on us because they wouldn't risk picking us up). In contrast, the price we were quoted by local drivers ranged from 300,000-350,000 IDR!
We heard a lot of stories about local drivers ripping off tourists, and the quotes we were given seemed to confirm our suspicions. We always stuck to using Grab but it is risky, especially in Ubud.
Rip-offs
On the subject of rip-offs, we were almost the victims of a few scams in Bali.
We were shortchanged in restaurants, cafés and bars quite a few times, and in some cases our change was not returned to us at all. This is the norm when the change is only coins (equivalent to a few pence), but we were often not given change for amounts far exceeding this.
If you visit Bali, try to shop in supermarkets where the price of products is clearly marked (like Circle K). We were burned more than once in the same Pepito supermarket in Petitenget, where the prices either weren't marked correctly, or even marked at all. Always ask "how much?" before buying.
We'd also recommend shopping around for the best price when buying clothes, jewellery and souvenirs. Karl asked for the price of a bracelet in a shop in Ubud, and was told it cost 150,000 IDR. We went back the next day and asked a different member of staff, who only asked for 80,000 IDR… we haggled them down to 60,000 IDR in the end!
A lot of friends also told us to be wary of police scams in Bali. A few different people warned us specifically against hiring a scooter. It is common for the police in Bali to pull over tourists for no reason at all, and request a large "fine" (bribe). An American guy we met in Cambodia gave us a great tip! Carry a small amount of money in a separate pocket, and if you're ever asked to pay an on-the-spot fine, you can pull it out and tell them it's all you have.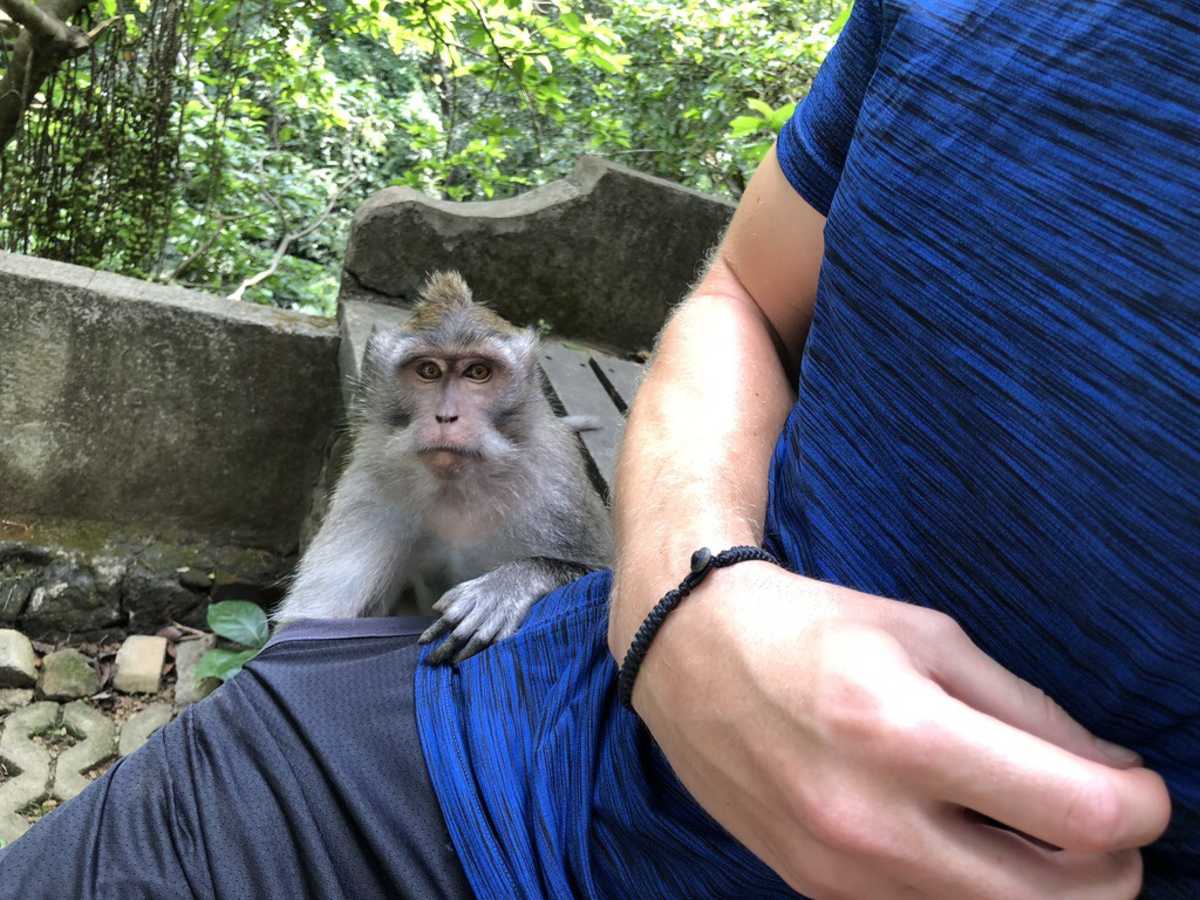 Traffic
We've never experienced anything quite like the traffic in Bali (and in that I include Bangkok, Hanoi and the M62 between Liverpool and Manchester).
It is SO busy, ALL the time. We took a Grab from Seminyak to Legian one night (a journey of around 2 miles), and it took us 45 minutes in almost completely standstill traffic. To put it in perspective, Google Maps predicted that to walk it would've only taken 10 minutes longer!
The only way to avoid Bali's notorious traffic is to walk (which doesn't really work for longer journeys) or risk your life hiring a scooter. OK, we may be over-exaggerating a bit, but we saw plenty of tourists nursing some nasty-looking scrapes.
Accommodation
We may have just been unlucky with accommodation in Bali, and we did stay in a couple of nice places. But compared to other destinations where we've paid a similar price per night, Bali just didn't match up.
Despite plenty of research on TripAdvisor, we really struggled to find anywhere with a decent WiFi connection, and we found that a lot of the places where we stayed seemed to have serious pest control problems.
We also found Bali incredibly expensive, with very basic hotel rooms costing upwards of £40 per night. We even found food, drink and grocery shopping in Bali quite pricey in comparison to Thailand, Cambodia and Vietnam, which we weren't expecting.
Why we wouldn't go back to Bali
It's beautiful and charming in some ways, but for us, Bali didn't live up to the hype. Perhaps our expectations were pretty high? We were expecting a laidback, tropical paradise. Instead, we found Bali to be quite the opposite in some ways.
Luckily, after a few months travelling we're much savvier, and we're confident enough to call out potential scams and rip-offs. If we'd visited earlier on, I think we may have fallen victim to a few scams here. We felt like we needed to be constantly on our guard.
I hope this doesn't put off people who are planning to visit Bali in the future. We just wanted to highlight some of the negative things we noticed.
For us, in comparison to other countries we've visited so far, Bali comes towards the bottom of the list of places we'd want to return to.