We may have only spent three full days in Hong Kong, but we ate some fabulous food during our stay. I've put together a shortlist of our favourite places. Get ready to drool!
On our first full day in HK, we spent most of the day working and unusually for us, we actually
missed lunch! This meant that we were ravenous at 6pm, when we set off on a hunt for food.I found Little Bao on TripAdvisor. After getting more than a bit lost, we finally tracked down this tiny restaurant. We arrived at 6.30pm, when the queue was already out the door. So we put our names down, before returning 20 minutes later. We were seated directly in front of the kitchen!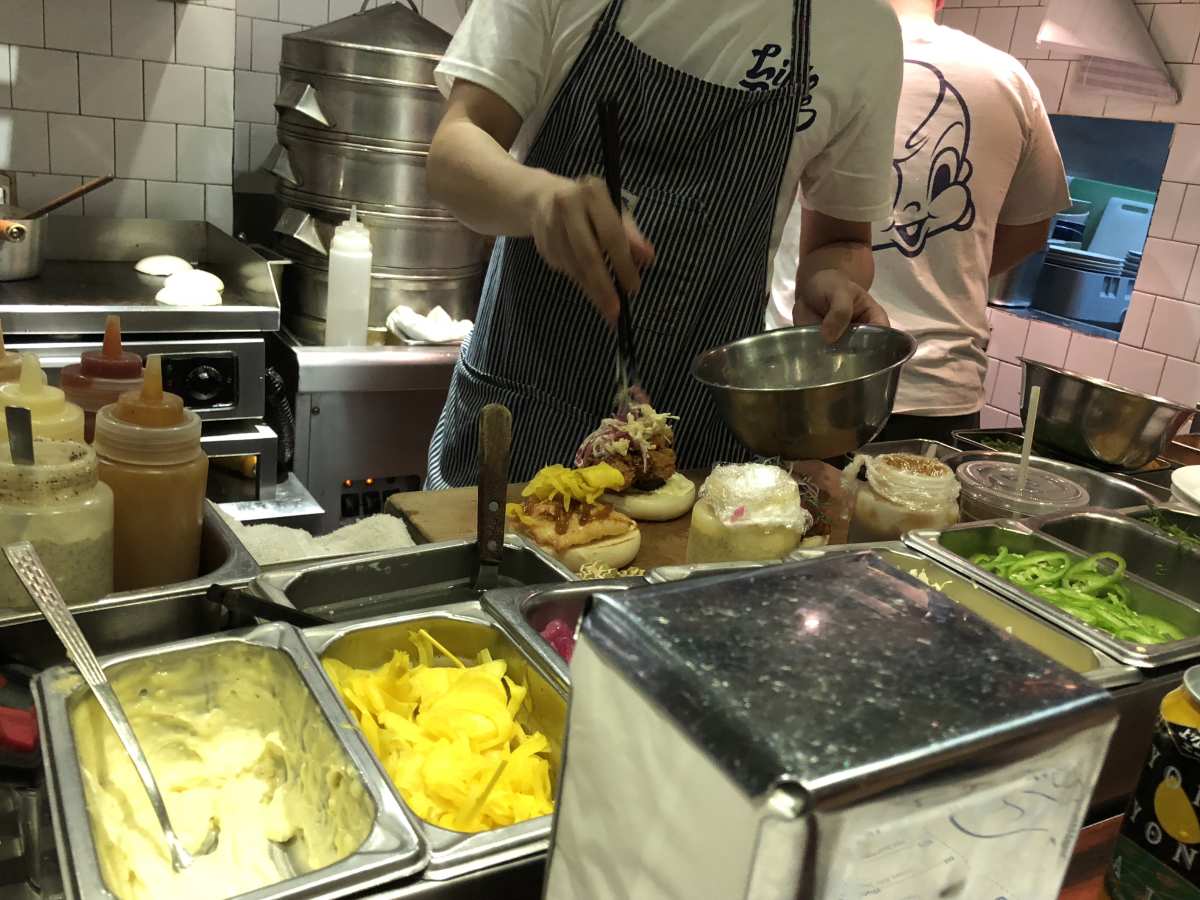 With a small but perfectly formed menu, this place is famous for its baos (obviously). We ordered two of the Szechuan fried chicken baos, as well as some pan-fried short rib dumplings and what was only described on the menu as "Hot" chicken. (Spoiler alert: It was f***ing spicy).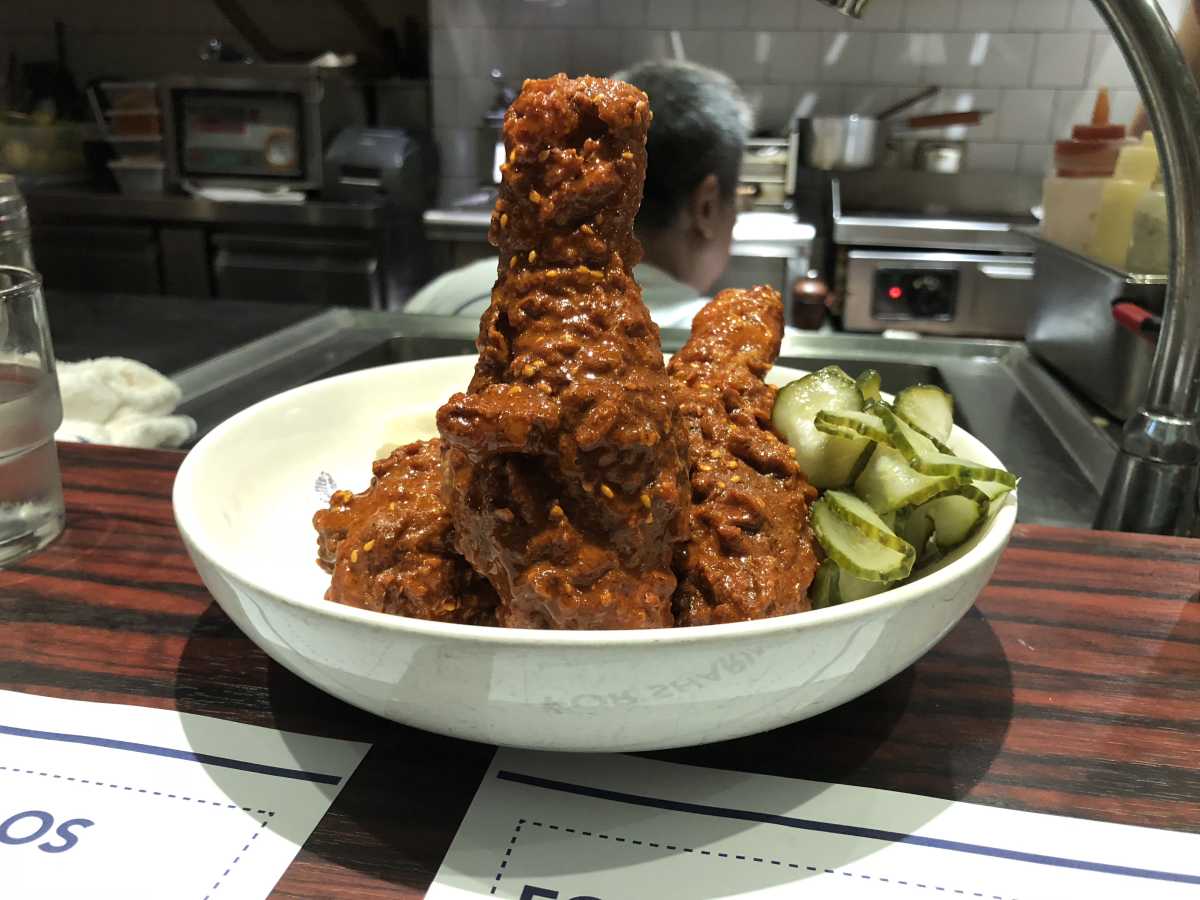 All the food was incredible, and to watch it being prepared in front of us made the whole experience even better. If you're in HK and fancy something completely different, Little Bao is the perfect choice. It's well worth the price tag!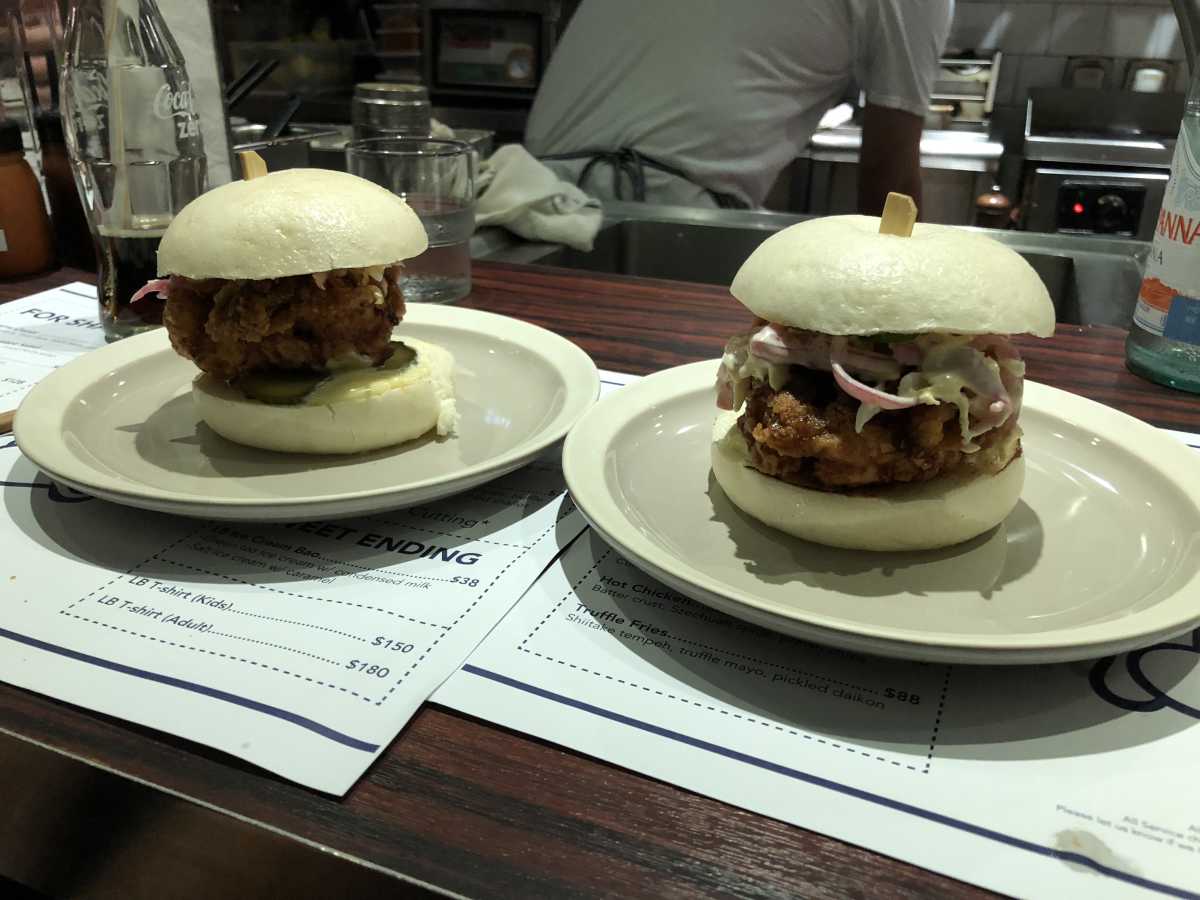 How to get there: Take the MTR Island Line to Sheung Wan. Use Google Maps (if you have data) or Maps.me to find Little Bao, on Staunton Street.
I was desperate to try traditional Peking duck in China. When we didn't have chance, I tried to find it in HK instead. I also found Monogamous on TripAdvisor, but we actually ended up eating here by chance. We walked past it, tucked away down a side street, when we were trying to find a different restaurant. Tired of walking in circles, and after remembering Monogamous' glowing TripAdvisor reviews, we decided to eat here instead. We were glad we did!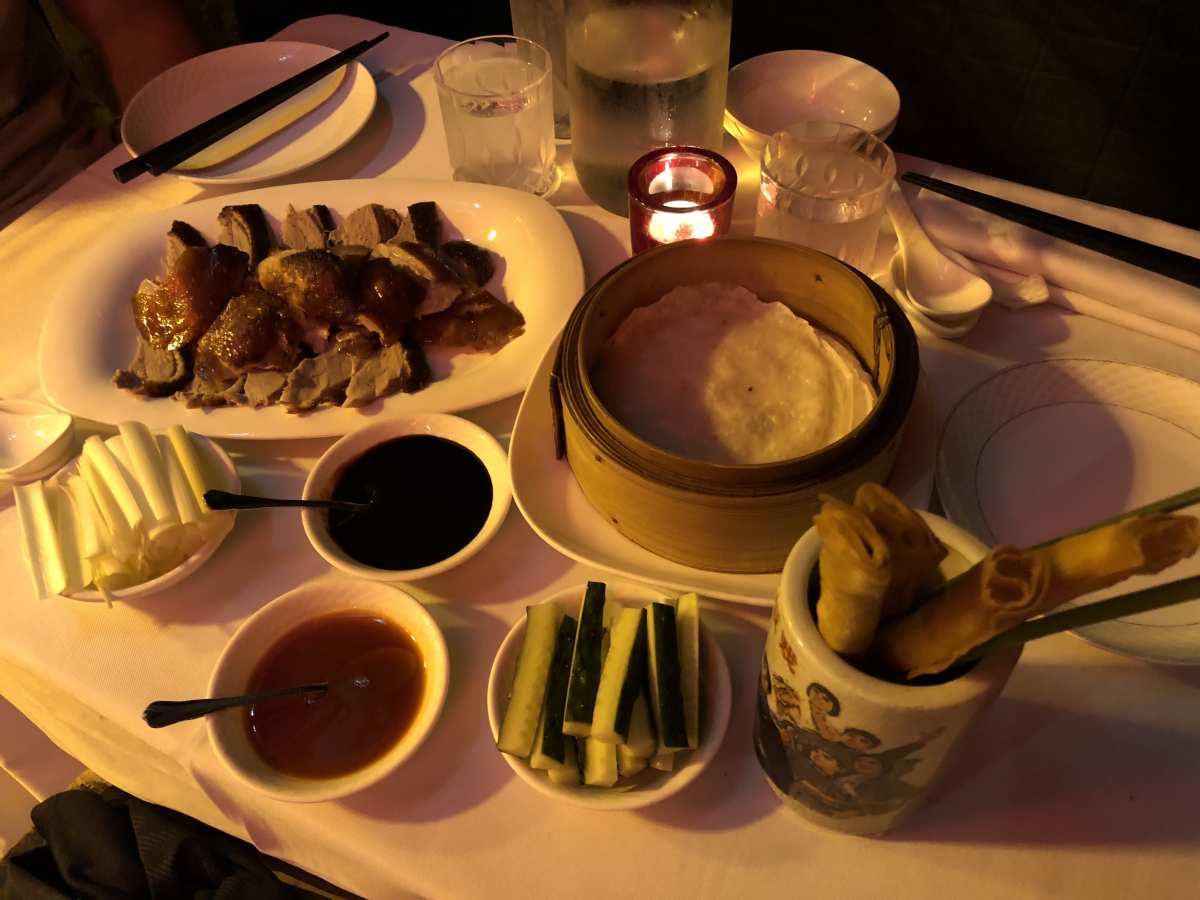 The delicious Peking duck was served with the freshest vegetables and the thickest hoi sin sauce, as well as homemade pancakes. We also ordered some vegetable spring rolls (one of Karl's favourites), which were about a foot long! If you're after a proper Chinese feast in HK, this is the place to go.
How to get there: We just stumbled across this place! The nearest MTR station is Central. It is hidden away down a side street between Caine Road and Elgin Street.
We ate breakfast here twice during our stay, because it was
that good. Their menu is enormous, with every type of breakfast you can imagine including eggs (ANY way), French toast, pancakes, waffles, fry ups… As I'm sure you can imagine, Karl went for healthy eggs with sides of spinach and asparagus. I went for a slightly unhealthier option.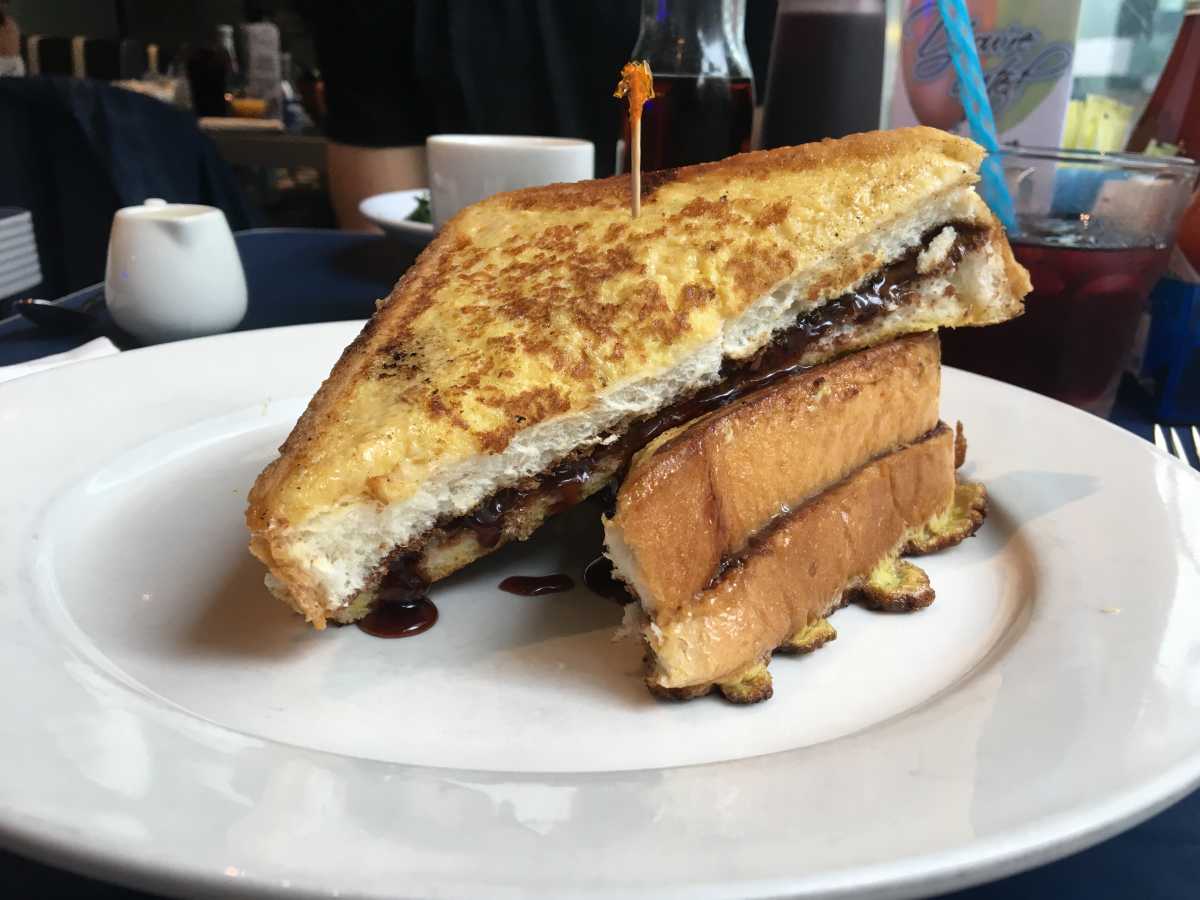 The French toast sandwich with Nutella is the breakfast of DREAMS. On our second visit, I went for an equally unhealthy grilled cheese sandwich with crispy bacon and avocado. At least it had something green in it! It's worth noting that there are two of these places in HK. One is a short walk away from Wan Chai MTR (the one we visited), and one is nearer to Central MTR. Oh, and it's open 24-hours too.
How to get there: From Wan Chai MTR, it's an easy 5-minute walk to The Flying Pan. Take exit C out of the station at continue west on Lockhart Road. You'll see The Flying Pan at the junction of Lockhart Road and Fenwick Street.
It's becoming customary for us to include a rooftop bar in these posts, so we won't break from tradition! Situated in Tsim Sha Tsui, Eyebar boasts a jaw-dropping view across the bay to Hong Kong Island.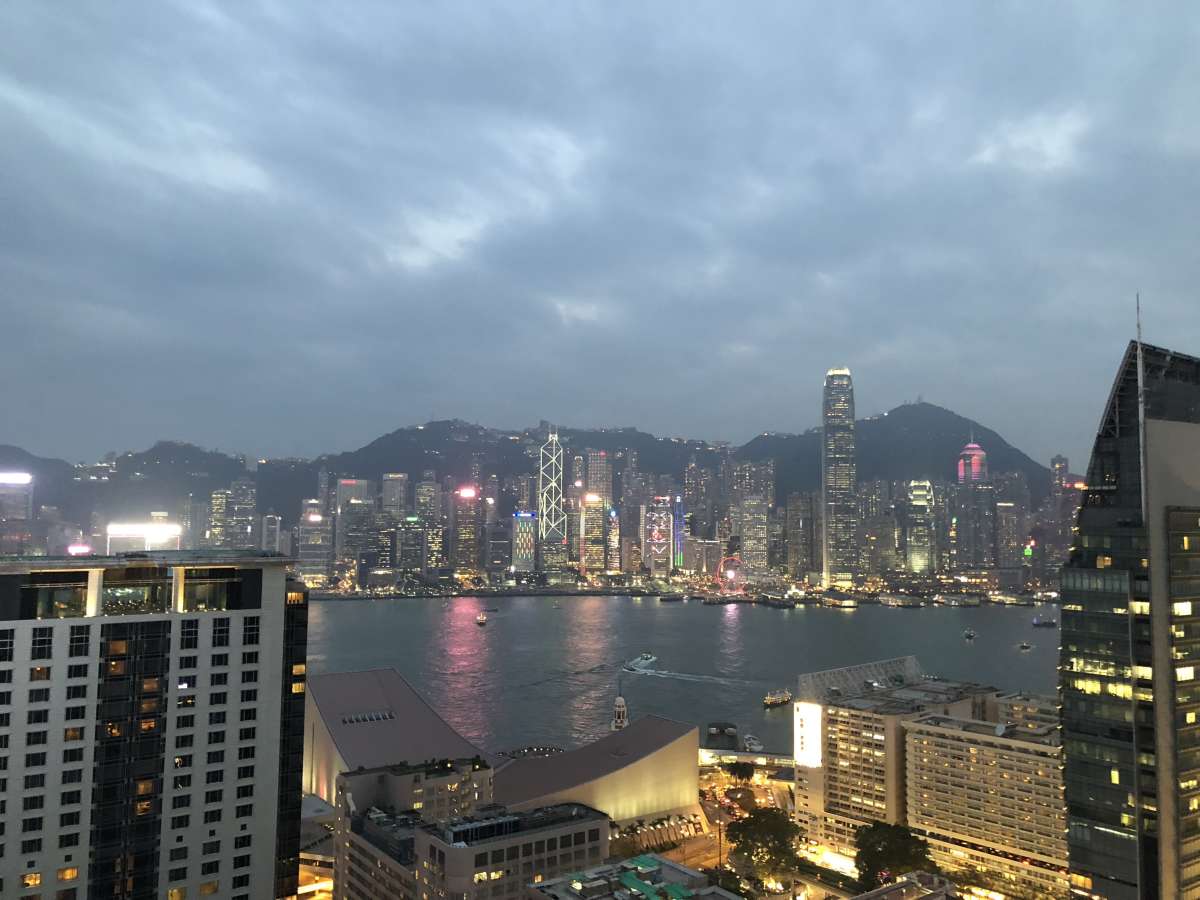 We didn't technically eat here (unless you include the spiced nuts which are stealthily added to your bill if you request an outside table). The drinks were nice though, but honestly we were just here for the view.
How to get there: Take the MTR Tsuen Wan line to Tsim Sha Tsui station. Follow signs for iSquare and take the lift up to floor 30.
What to eat in Hong Kong
HK has it all, and we're so disappointed that we only got to spend a few days in the bustling city. We'll be back, not just for the sights but for the incredible food as well!