When deciding what to eat in Bangkok, you can find incredible food on every corner. From scrumptious street food to fabulous 5-star dining, this lively city has it all.
Cheap and cheerful eats
Street food
Bangkok is probably the street food capital of the world. Wherever you are in the city you'll find sizzling stir fries, tempting pad thai and fresh fruit along every alleyway.
It goes without saying that street food is unbelievably cheap, too. A large portion of fresh fruit costs 20 baht (around 45p), and larger meals cost around 50 – 100 baht (£1 – 2).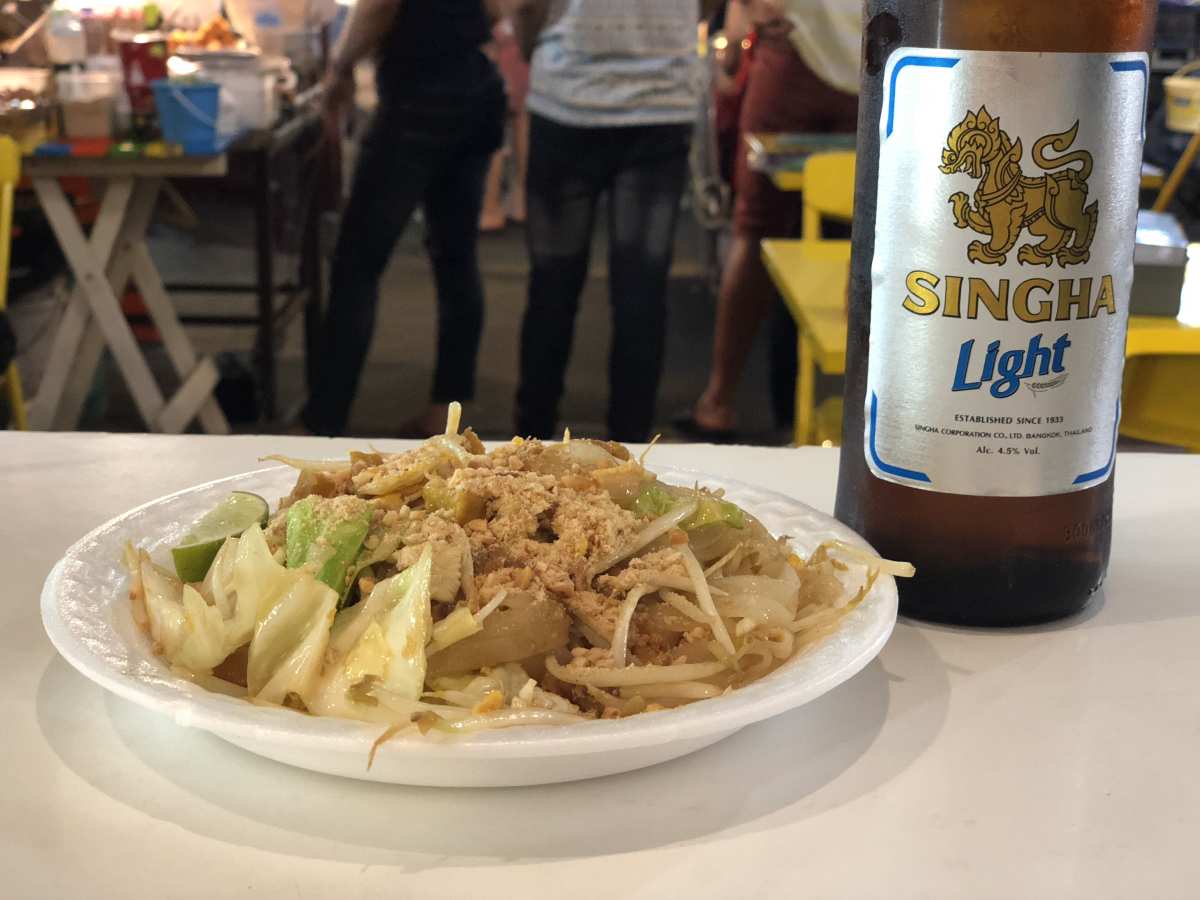 It definitely takes some getting used to, though. When you step outside first thing in the morning, it can be off-putting to smell fish and curry! I'll admit, when deciding what to eat in Bangkok we gave the street food a miss in the mornings and stuck to failsafe pastries and eggs for breakfast.
How to get there: You can't miss Bangkok's street food. You'll find it everywhere!
Average prices, NOT average food
When deciding what to eat in Bangkok, don't judge this place by its name! We had NO idea what to expect when we found Cabbages and Condoms, but we were pleasantly surprised.
It was honestly one of the coolest restaurant settings I've ever experienced. A leafy al fresco patio strung with hundreds of twinkling fairy lights and quirky 'condom' lamps! Trust me, this restaurant is NOT seedy. Surprisingly, it's quite the opposite!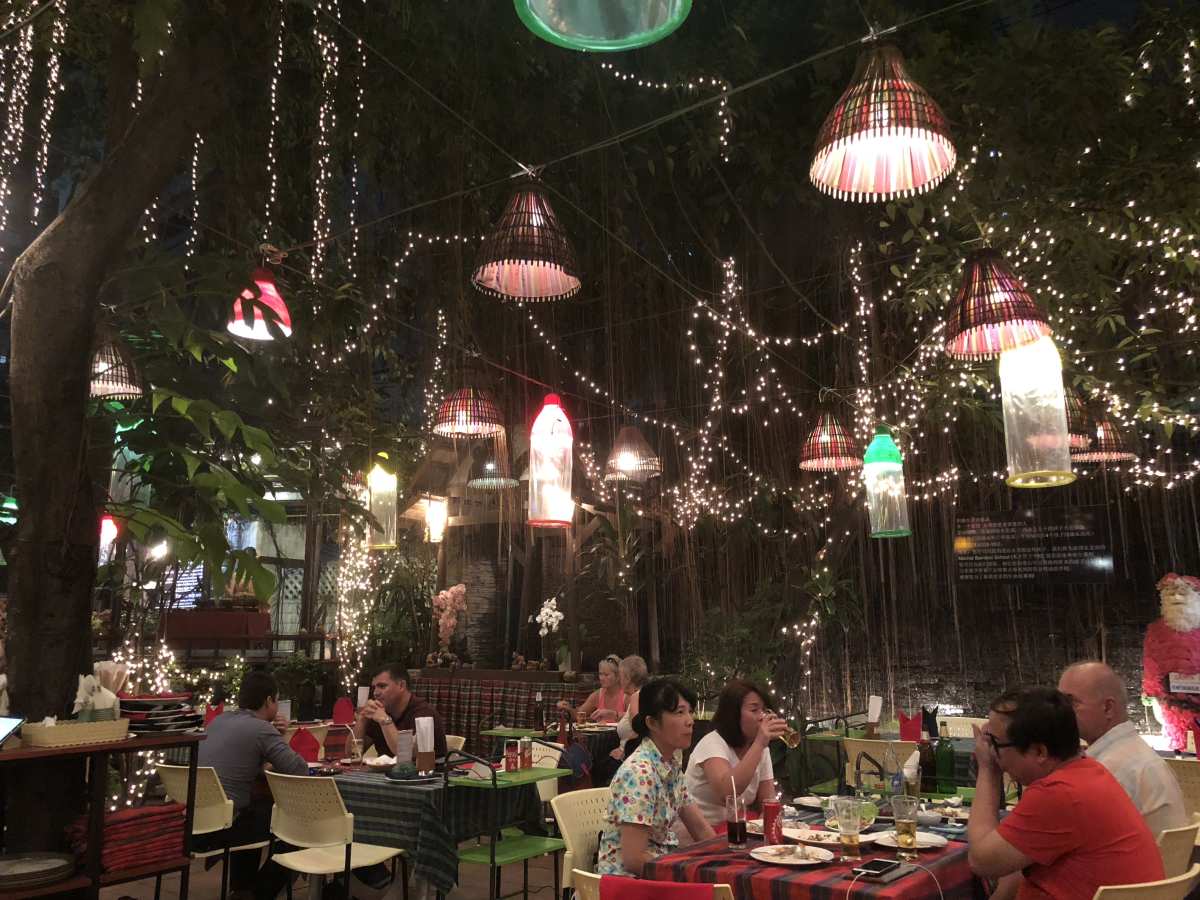 What made it spectacular for us was the quality of the food. I had a 'sweet' massaman curry, while Karl went for a traditional Thai green curry. Both were delicious, and the portions were huge.
Best of all, proceeds from this restaurant are used to fund social development programs around Thailand. You can eat good food, and do something good for others too!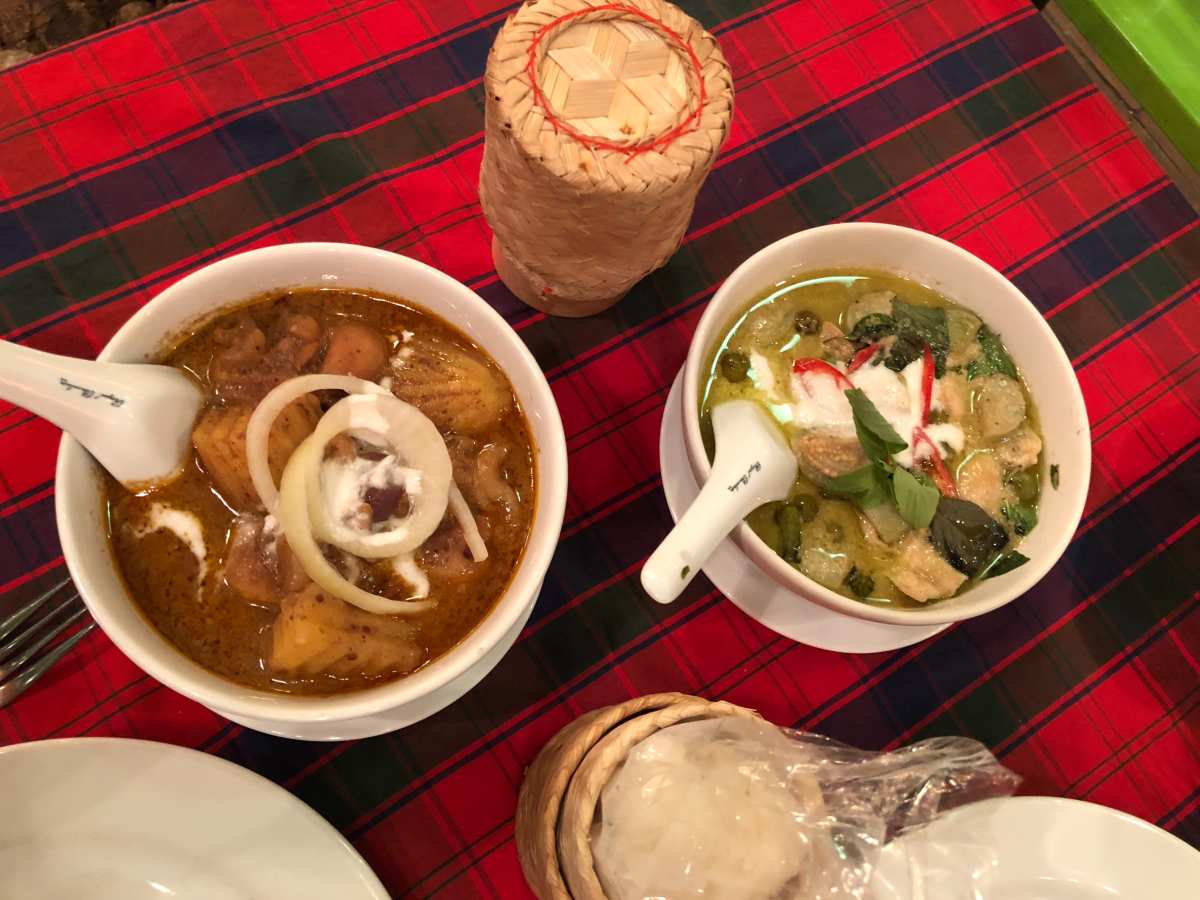 How to get there: Take the Skytrain to Asok BTS station. Head north on Sukhumvit Road and take a left at Sukhumvit 12. You'll find Cabbages and Condoms about 5 minutes down this road.
Luka was our favourite place to work in Bangkok. Oozing class and quality, this hipster cafe is the perfect place to sit with your laptop for a few hours. You won't even need headphones, because the ambience and background music are just right. Their food is extremely Instagrammable too (not to mention incredibly tasty). When deciding what to eat in Bangkok, Luka is ideal for brunch or lunch.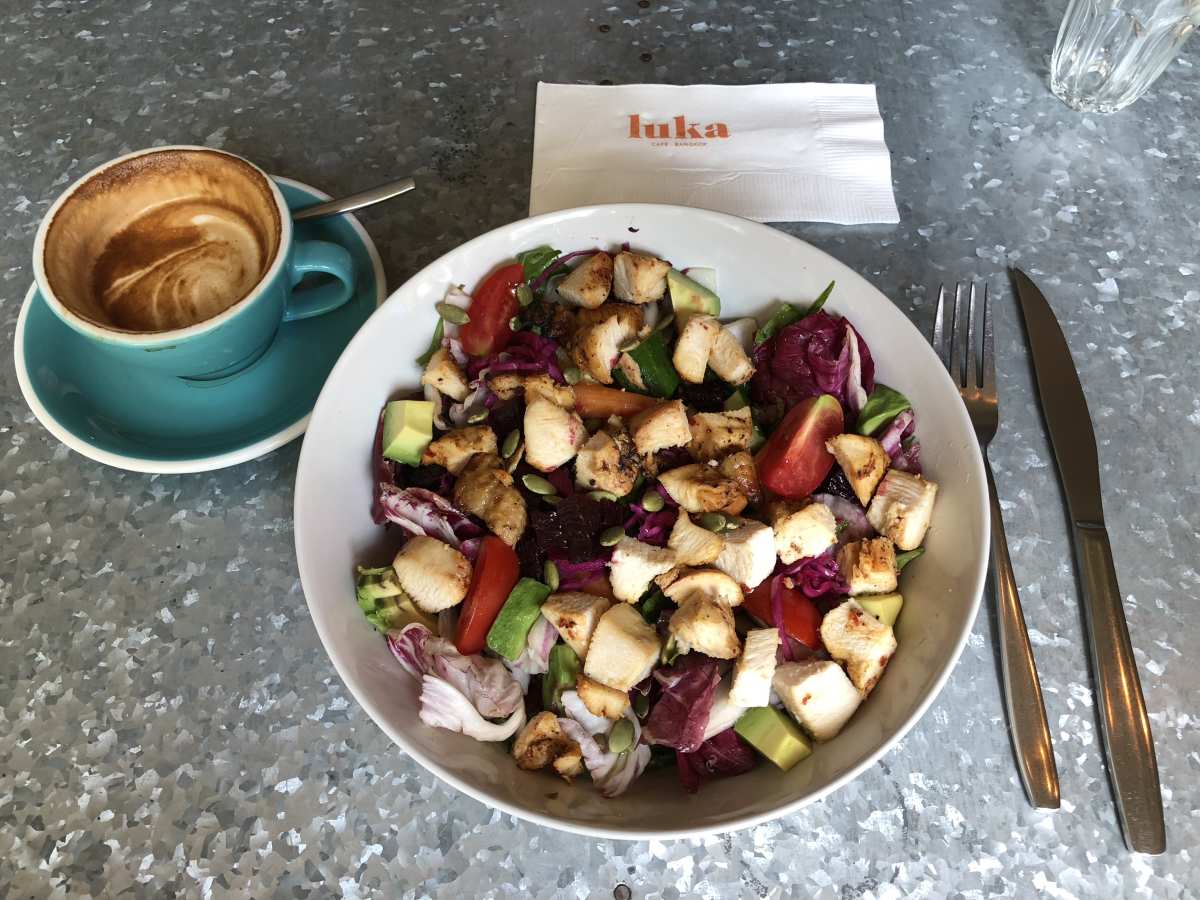 The coffee is out of this world, and their salted caramel latte is To. Die. For. (True story – I NEVER drink coffee, but I tried a hot salted caramel latte followed by an iced one because they were so delicious. I then spent around 7 hours trapped in a very serious and very shaky caffeine high).
Actually me:"Do you guys hear a buzzing?"
How to get there: Take the Skytrain to Surasak BTS station. Walk east on Sathon Road, then turn left onto Pan Road.
This North Indian restaurant was recommended to us by one of Karl's ex-colleagues. When we found out that it was around the corner from where we were staying, we knew we needed to check it out.
They do a thali selection which is very reasonably priced, but we went for two curries, rice and naan (a typical British choice)! The quality of the food was very good, and our bill came to less than 1000 baht for a LOT of food.
How to get there: This place is practically outside of Nana BTS station. Just look for the blue sign.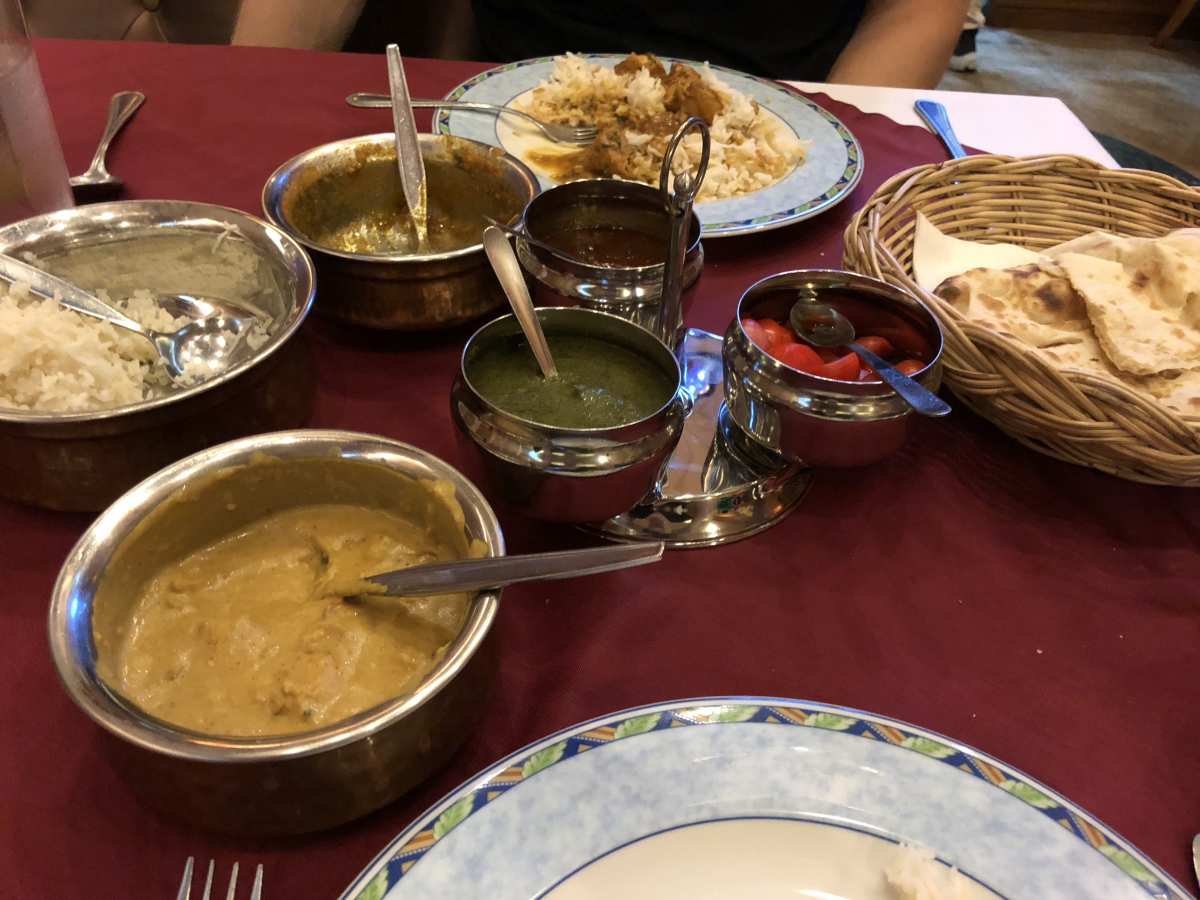 I won't lie to you. Sometimes the food in Bangkok becomes a bit overwhelming, and all you want is something comforting and familiar.
Luckily, Daniel Thaiger was right around the corner from us! If you fancy a burger in Bangkok, this is the place to be. Their burgers were almost as good as Five Guys (which is a huge compliment)!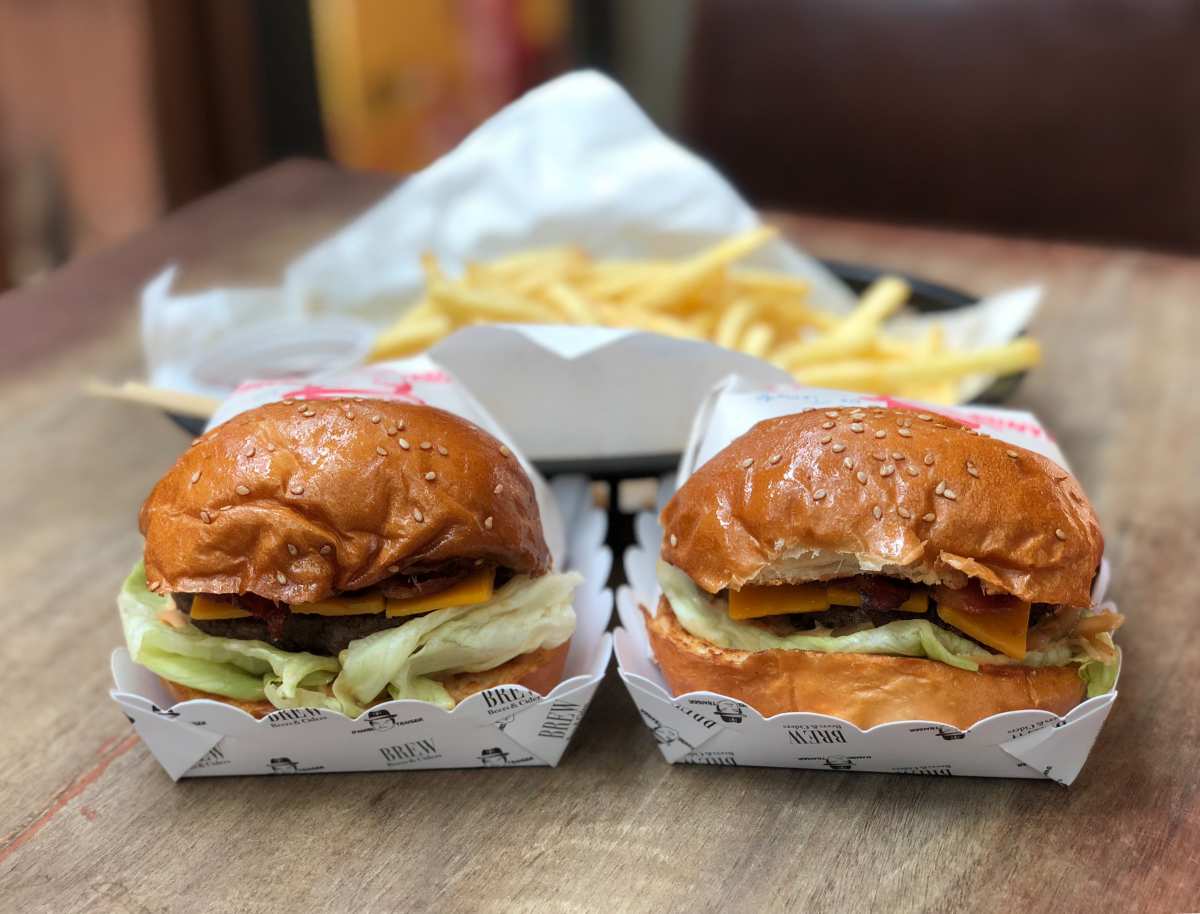 How to get there: Take a train to Nana BTS station. Head down Soi 11, and you'll find Daniel Thaiger at the end of the street, next to the Holiday Inn Express.
Blow the budget feasts
We spotted this place around the corner from where we were staying. When we checked it out on TripAdvisor it had fantastic reviews, so we decided to make it our 'treat meal' in Bangkok. We were glad we did! (When a restaurant provides a bib, you know you're in for a good meal).
It specialises in traditional tandoori grilling, and they have a killer cocktail menu too. We shared chicken and lamb kebabs from the menu and a delicious black lentil dish recommended by the very knowledgable waiter. The meat was SO succulent and tender, to the point where Karl declared it "the best Indian meal he'd ever had". He also highly recommends the mojitos, which come served in a glass sitting inside its very own metal tin of ice.
How to get there: Head out of Nana BTS station and make your way down Sukhumvit Soi 11. Turn left when you reach the Holiday Inn Express, then follow the road right. Char Coal is inside the Fraser Suites.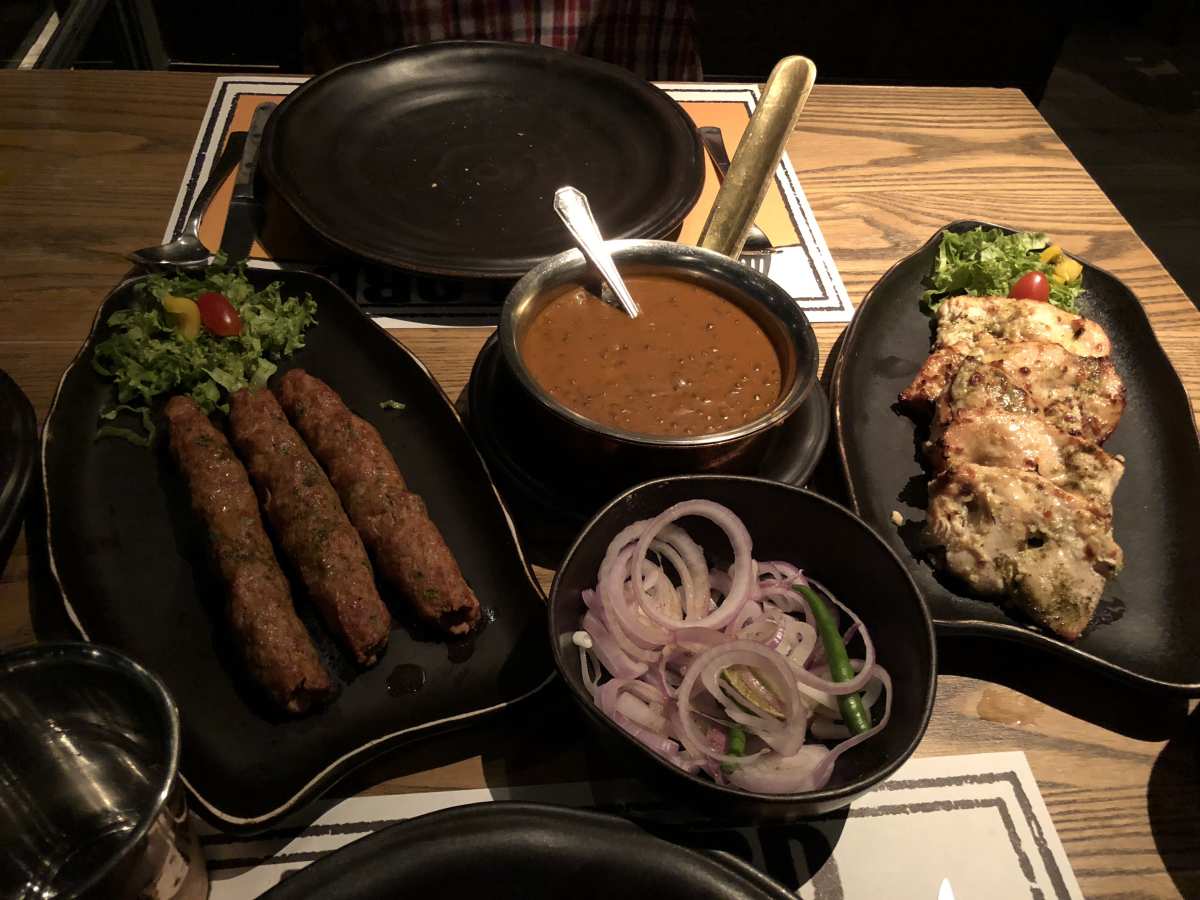 When we're in a new city, we always like to try a new rooftop bar. I was in two minds about whether to feature Above Eleven on our blog, because we actually weren't too impressed with it. Style over substance comes to mind.
But it does have a great view of Bangkok's soaring skyline, especially at sunset. If you're going to go here, I'd recommend only having a quick drink between 6-7pm. Then take your money elsewhere!
How to get there: Above Eleven is also inside the Fraser Suites, so follow the same directions as above.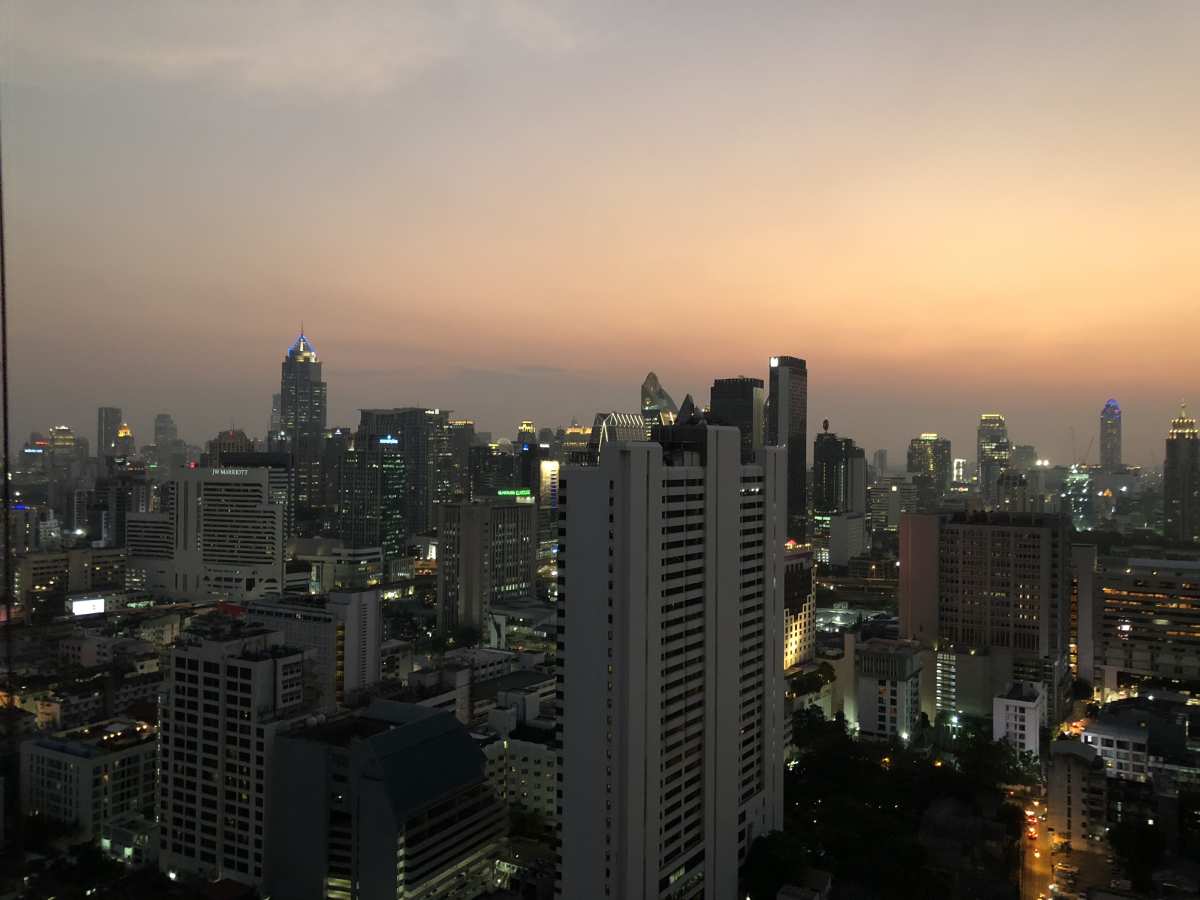 Deciding what to eat in Bangkok
Whether you go for street food or something more pricey, most food in Bangkok is very affordable. We didn't have a bad meal here, although I'd always recommend stocking up on meds… just in case!