During our short stay in Phnom Penh, we spent some time visiting Choeung Ek and Tuol Sleng. Although the experience was deeply depressing, we think it is essential to acknowledge the pain and suffering in Cambodia's sad history.
Recently, we've come to notice that many of these sites (much like the Cu Chi Tunnels in Vietnam) are described as "dark tourism" destinations. While we don't agree with exploiting tragedy, we do believe that it's vital to learn about the history of the countries we visit. The good and the bad. After all, what happened in Cambodia during the Khmer Rouge reign was absolutely horrifying. There is no way to understand that horror without seeing it for yourself.
History of the Khmer Rouge
The Khmer Rouge won the Cambodian Civil War in 1975, when they captured the Cambodian capital and overthrew the existing government. Led by Pol Pot, they then installed a new government called the Democratic Kampuchea. What followed was the brutal Cambodian genocide, in which an estimated 1.5 to 3 million people died. At the time, this was around 25% of the country's population. Cities were depopulated, money was abolished and thousands of perceived political opponents were murdered.
Tuol Sleng
The Tuol Sleng site used to be a high school, before it was transformed into Security Prison 21 (S-21) during the Khmer Rouge regime from 1975 to 1979. It is only one of at least 150 execution centres throughout the country. Over 12,000 people died here.
Now, it stands as a harrowing reminder of the terror and torture that occurred during the Khmer Rouge's time in power. Prison cells are bare, apart from the cast iron bed frames used to shackle tortured, emaciated prisoners during interrogation. The outer walls are still covered in sharp barbed wire. It was used to keep prisoners from escaping, and to stop outsiders from getting in and seeing the sheer brutality that was happening on their doorsteps.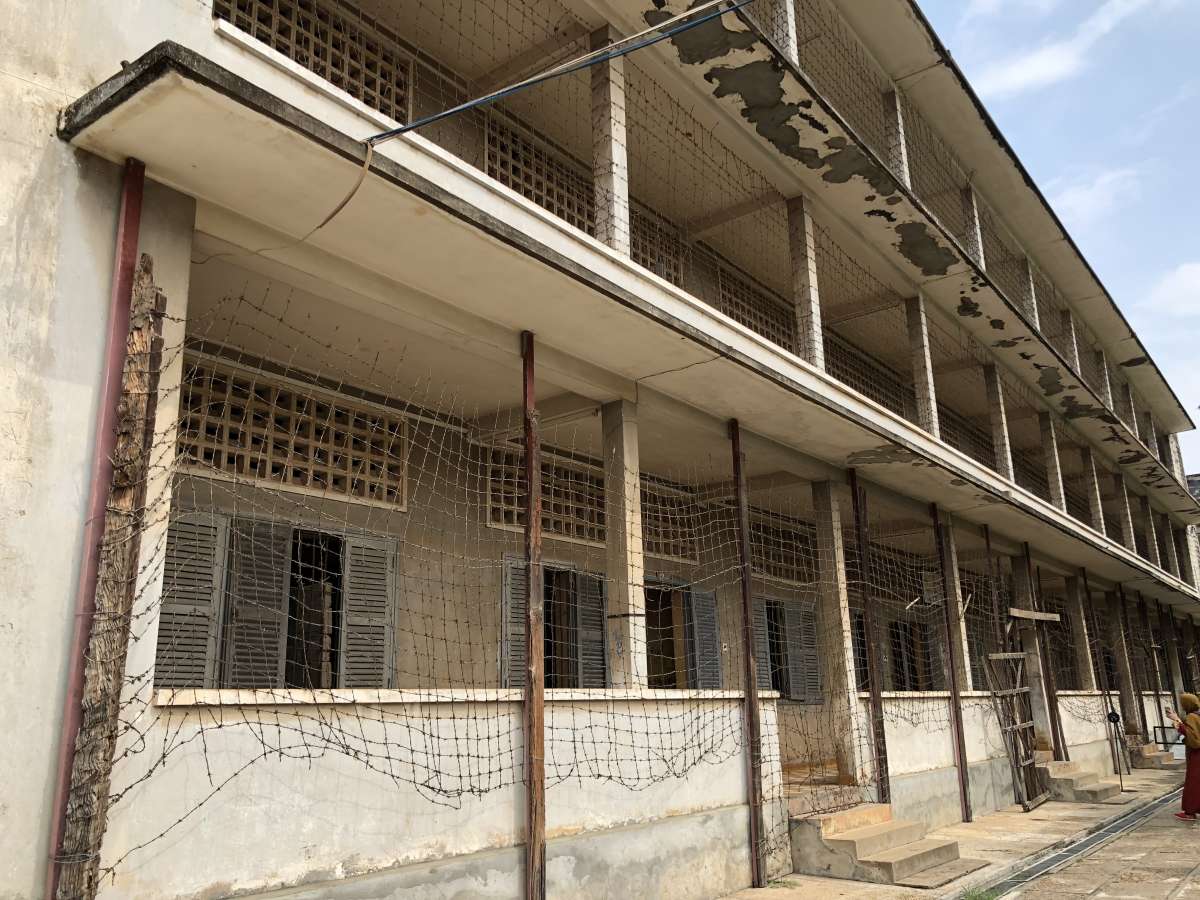 There are five buildings in the complex, surrounded by eerily tranquil gardens shaded by mango and frangipani trees. It is difficult to imagine how different Tuol Sleng must have looked 40 years ago.
We took an audio tour which guided us through the peaceful gardens and around the buildings. We heard some incredibly sad stories. If you visit here, the audio tour is a must. We'd also recommend visiting Tuol Sleng before the Choeung Ek Killing Fields, because it gives the second visit much more context.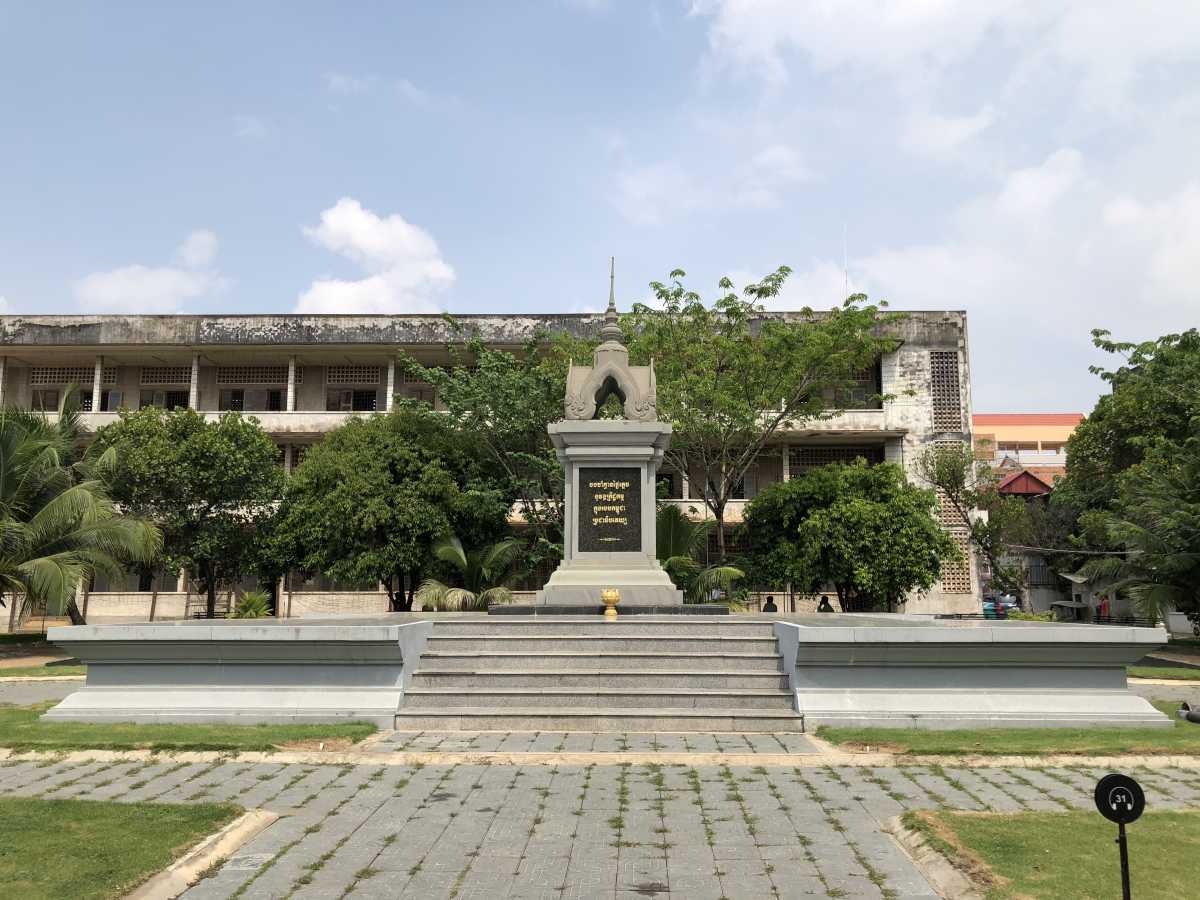 S-21 Survivors
Very, very few prisoners from S-21 survived. Two of the last remaining survivors, Chum Mey and Bou Meng, regularly return to the site to teach visitors about their ordeal. They also sell copies of their memoirs.
We were lucky enough to meet both of them during our time at Tuol Sleng. Chum Mey was a mechanic, and Bou Meng was an artist. Both had skills that the Khmer Rouge valued, meaning that their death sentences were temporarily put on hold.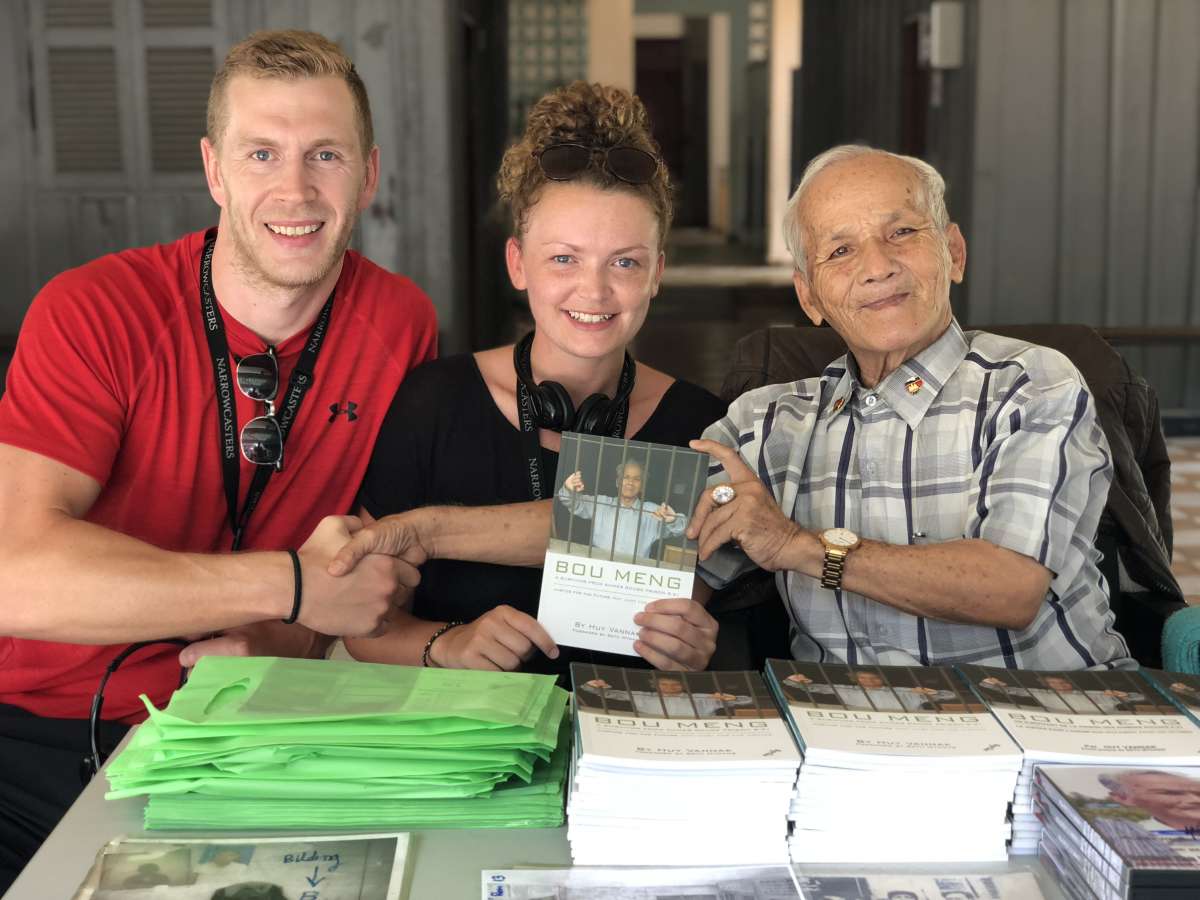 Choeung Ek Killing Fields
When arriving at this peaceful and beautiful area, you could be forgiven for thinking you'd come to the wrong place. Sitting around 11 miles south of Phnom Penh, the site was a former orchard before it was used as a mass grave for victims of the Khmer Rouge.
After the fall of the Khmer Rouge regime, mass graves containing almost 9,000 bodies were discovered at Choeung Ek. Today this memorial is marked by a Buddhist Stupa filled with more than 5,000 human skulls. Many of them are shattered or smashed.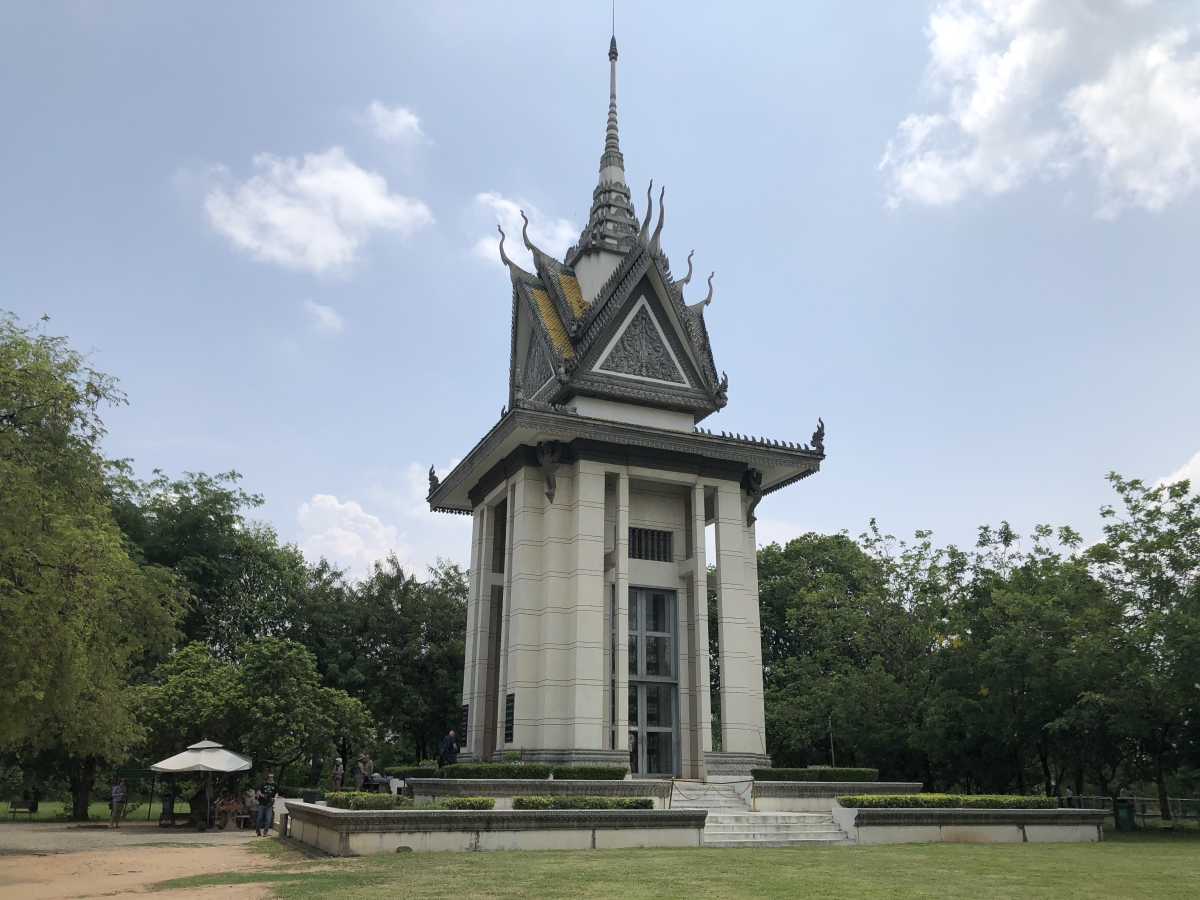 Here, we also took an audio tour as we were guided around a pathway where we saw the pits from which thousands of bodies were exhumed. At the moment, any remains still present at the site are not to be disturbed. Some of the graves are so shallow that occasionally, bone fragments rise to the surface.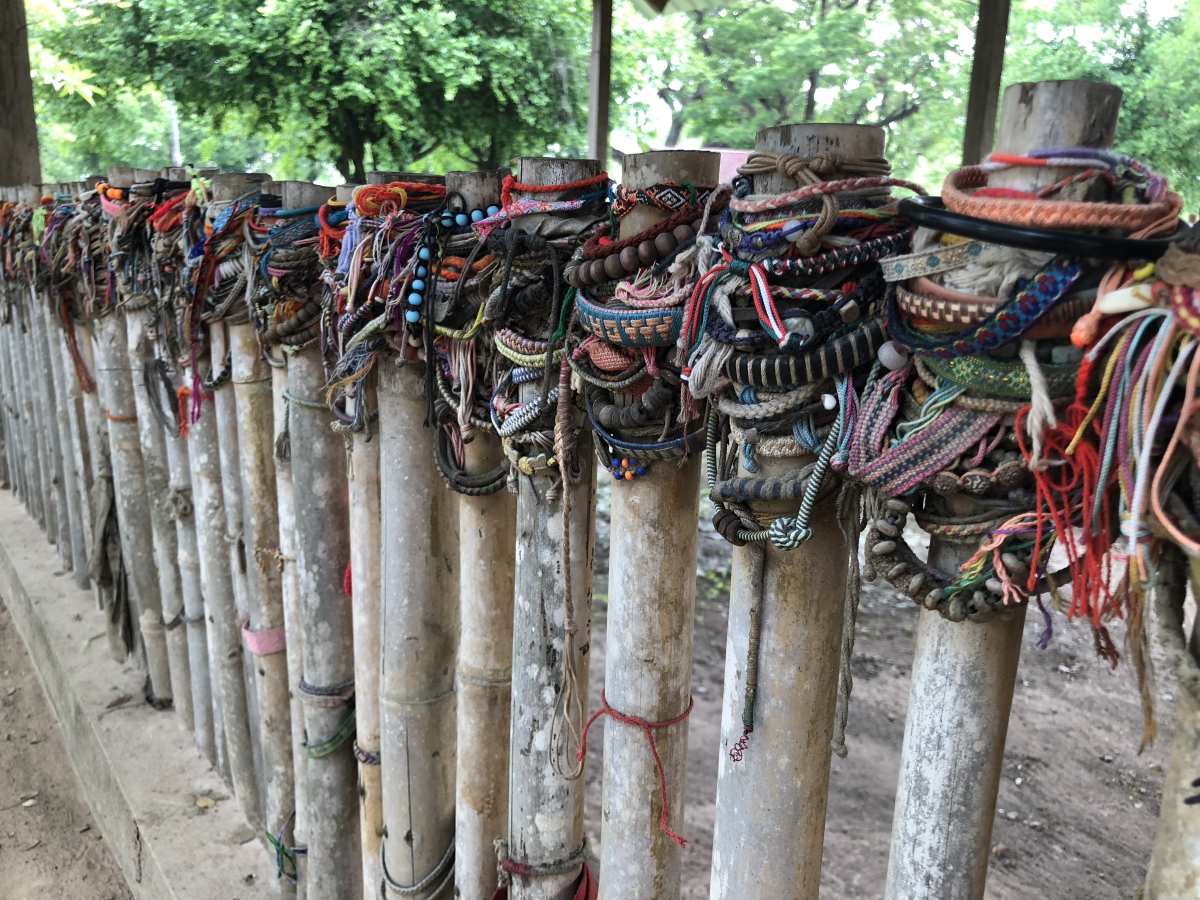 Visiting Choeung Ek and Tuol Sleng
If you're planning a trip to Phnom Penh, we'd really recommend adding a visit to Choeung Ek and Tuol Sleng into your itinerary. It might be upsetting, but we think it's important to understand and acknowledge Cambodia's incredibly sad past.
It is also heartwarming to see how this beautiful country has managed to overcome its devastating history.