It's the question on everyone's lips before they head off around the world. Which travelling essentials do I actually NEED? (And what can I do without)? Once you've made the decision to go travelling, and
sorted out all the life-admin
that goes with it, it's time to get packing!
Our backpacks
After a LOT of research, we went for a backpacker favourite, the Osprey Farpoint (and Fairview).
Striking the perfect balance between a backpack and a suitcase, we decided that this was the best option for us. Suitcases with wheels just aren't practical for long-term travel, while a top-loading backpack would be a chore to unpack and re-pack every few days.
What really sold them to us though, was the attached daypack. We liked the idea of unzipping the daypack to use as a carry-on, then being able to re-attach it once we reached our destination. Bonus points: the daypacks also come with laptop sleeves.
The Osprey Farpoint 70 Rucksack
is the standard version. We read plenty of articles that recommended travelling with nothing larger than a 60-litre pack, but Karl opted for the 70-litre size. A lot of backpackers recommend finding a pack that fits 'you', and Karl is bigger than your average person (no shade intended). Plus, without the daypack, it's just a 57-litre backpack.
The Osprey Fairview 55 Backpack
is the womens' version. It offers a female-specific fit, with an ergonomically shaped hipbelt, harness and back panel. I chose the 55-litre version, which again comes with a removable 13-litre daypack.
Our gadgets
Laptops
We're both travelling with MacBooks. Karl works on a new 15″ Apple MacBook Pro
. I work on a 13″ Apple Macbook AIR
. Since we're freelancing, these are non-negotiable!
Phones
We both have iPhones. I have a 6S, while Karl upgraded to the Apple iPhone X 64 GB
shortly before we left the UK. Both are unlocked so that we can swap our SIM cards for local ones whenever we need to. (We also switched our current contracts to the cheapest possible tariffs before we left. This allows us to keep our phone numbers, and stay connected during times when we don't have a local SIM).
Cameras
The main reason Karl upgraded to the iPhone X was for the incredible built-in camera. We toyed with the idea of investing in a decent DSLR, but neither of us are photography fanatics. We wouldn't have a clue how to use a top-of-the-range camera, plus we didn't want the added bulk in our backpacks.
However, we did invest in a GoPro HERO5 Black Action Camera
. We knew we'd be doing some pretty cool stuff, and despite the iPhone X's waterproof qualities, there's just something that doesn't feel right about sauntering off into the sea with it! We also bought the GoPro 3 Way Mount
.
Headphones
When you have hours of long-haul flights, cross-country journeys and noisy internet cafes ahead, headphones become essential. Karl uses the ever-popular Bose QuietComfort 35 (Series II) Wireless Headphones
. He also has a pair of Apple AirPods
. (Both gifts from me… I'm a keeper). Headphones are something that I lose/break/misplace a LOT, so mine are bog standard in-ear buds from Sony.
Disclaimer: We took out extra gadget cover as part of our insurance policy.
Other travelling essentials
We've tried to cut back on the case-stuffing as much as possible, but it's pretty tough to compress your entire life down into one backpack. Here's the rest of the essential gear we travel with: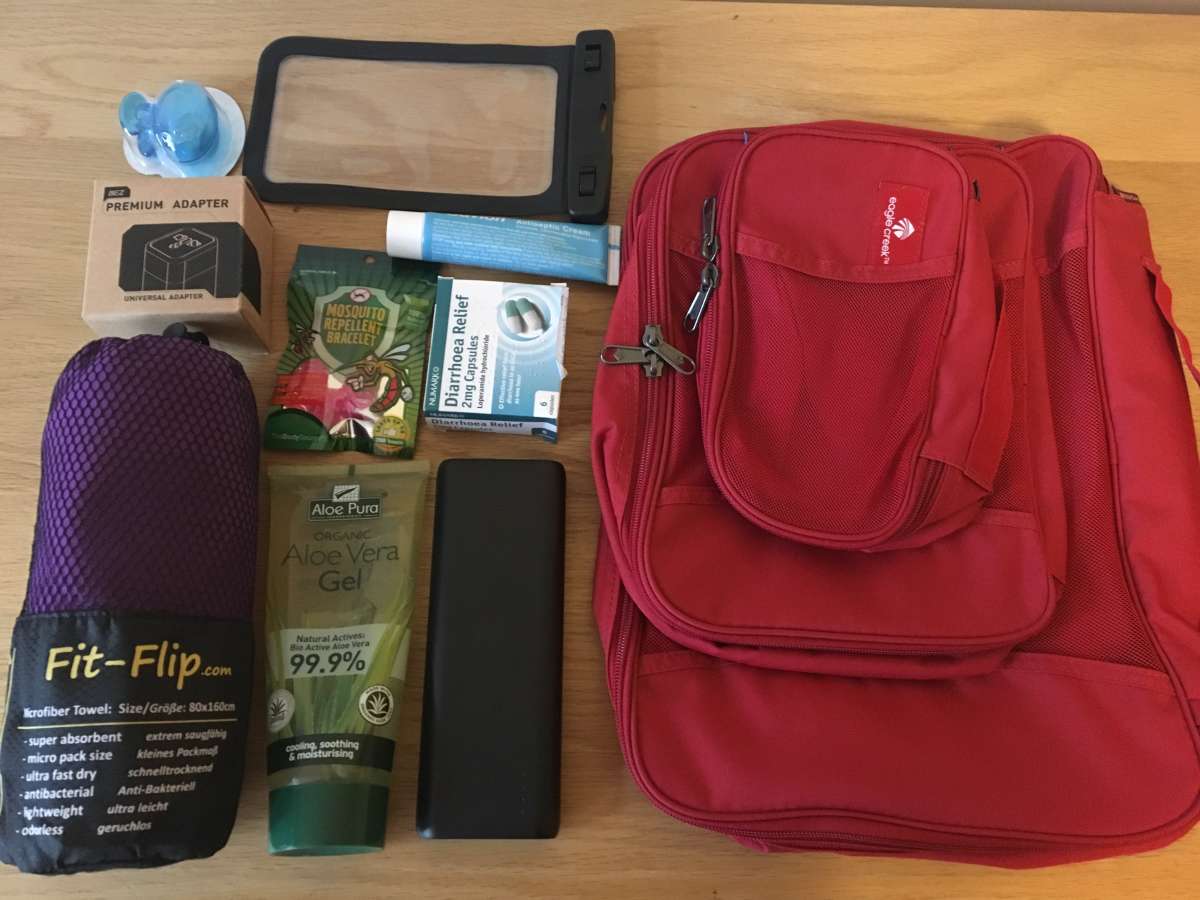 Anker PowerCore
– We both have one. They're relatively small, and they hold their charge forever. A travelling essential for long journeys.
Universal Power Adapter Plug
– This one pretty much speaks for itself. We also picked up a cheap universal extension too.
YOSH Waterproof Phone Case
– Karl's iPhone X might be water resistant, but my iPhone 6S isn't!
Microfibre Towels
– Ours came with drawstring bags. They're ultra light and super fast-drying too.
Packing Cubes
– They make it easy to organise your stuff, and they seem to create a lot more space in your backpack too.
Mosquito Repellent Bracelets
– We also have some deet spray, but we've found that the bands work well and can be worn over and over again.
First aid kit – We both packed a miniature medical kit so that we (hopefully) won't get caught short. Paracetamol, antiseptic cream, plasters and Imodium because… well… you know.
Aloe vera gel – You can use it for EVERYTHING, including sunburn, insect bites and irritated skin.
Steripod Clip-on Toothbrush Protectors
– They help to prolong the life of your toothbrush, keep it more hygienic, and stop it from making a mess in your backpack.
And for the girls…
Mooncup – If you haven't tried one yet, I'd highly recommend it. Comfortable, reusable, and it can be left in for longer than a tampon. Failing that, take a stash of sanitary products with you, as it can be difficult to find the type you're used to in some Asian countries.
Contraceptives – I'm on the pill, so I'm taking a years' supply away with me. However, most women seem to have had good experiences buying the pill over the counter in Asia. If you're going to try the implant or the coil, it's a good idea to have it fitted a couple of months before you leave. Then, if it doesn't agree with your body, you can have it removed before you go.
Sarong – Really useful for covering up in temples or at the beach, and it can even be used as a scarf or a blanket during cold plane journeys. You'll be able to buy a cheap one anywhere in Asia.