Before our road trip, we put a LOT of thought into our two week New Zealand South Island itinerary. It can be difficult to know where to start, so we hope this post will be helpful for anyone looking to spend a couple of weeks on the South Island!
Known for its towering glaciers, stunning scenery and sprawling national parks, New Zealand's South Island is a must-see for nature lovers. One of the best ways to take in all the sights at your own pace is by hiring a car or campervan.
Car or campervan?
The million dollar question! We decided to rent a car and stay in motels. This was mainly due to the time of year we visited NZ. It was frrrrreeeeezing, and I didn't fancy our chances of still being together after two weeks spent cramped in a campervan.
We managed to get a decent deal with RaD Car Hire. We rented a Ford Focus for two weeks for $35 NZD per day (around £18).
Price-wise, you can make the trip as budget-friendly or budget-blowing as you want to. If you hire a basic camper from a company like Jucy and cook all of your own meals, the trip can be pretty inexpensive. You could also hire a very cheap little car and stay in backpacker lodges if you don't fancy a campervan. We stayed in mid-range motels, which were mostly clean and comfortable, and all came in around $80 NZD per night (around £40). We did a mixture of cooking in motel rooms and eating out at cheap places like Subway.
Driving in New Zealand
On the whole, we found driving in NZ very, very easy. Being from the UK probably helped, because we're used to driving on the left-hand side. We'd read that driving in NZ during winter could be treacherous, but we were quite lucky with the weather conditions during our visit.
If you want to read up on the country's road rules, there's plenty of reliable information online.
Many of New Zealand's roads are extremely remote. Even with mobile data, you may not always get any service at all. For this reason, we'd recommend downloading the Sygic Offline GPS Navigation app.
Our two week New Zealand South Island itinerary
I've tried to make our itinerary as detailed as possible. If you'd prefer to see a quick list of where we went and when, you can scroll straight down to it.
Karl also went to the trouble of planning out our entire route on Google Maps:
Day 1: Christchurch to Twizel
On day one, we picked up our hire car from Christchurch airport and set off on the three-hour journey to Twizel. We stopped off in the town of Geraldine along the way, before carrying on until we reached Lake Tekapo. Here, we stopped off for an hour to take in the incredible view, before moving on again to Lake Pukaki. Again, we stopped here for another hour before driving a further 40 minutes to our motel in Twizel.
We stayed in The Lakes Motel, which was very clean and really comfortable. Twizel itself has quite a few motels and lodges, making it a good base if you want to explore the Mt Cook National Park. You'll also find plenty of restaurants and a supermarket here.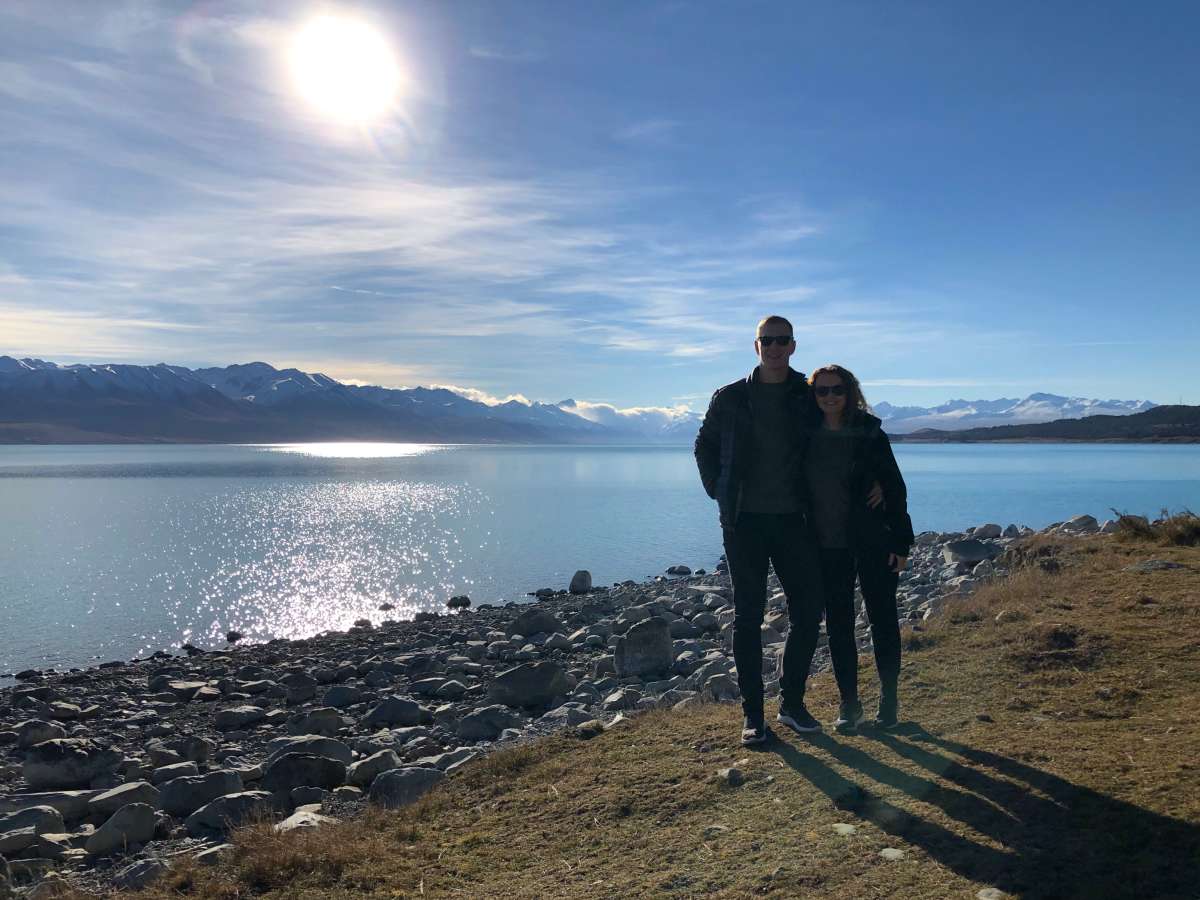 Day 2: Mt Cook National Park
Today is the first full day of our road trip. We drove for 50 minutes from Twizel to the Mt Cook National Park, where we decided to walk the Hooker Valley Track. The walk takes around 1.5 hours each way, and should be do-able for everybody with an average level of fitness. There isn't too much up or downhill hiking. The walk is mostly flat, and it boasts some incredible views (and some impressive swing bridges).
Afterwards, we returned to our motel in Twizel for a nap, followed by fish and chips from the food van that was almost directly outside our window!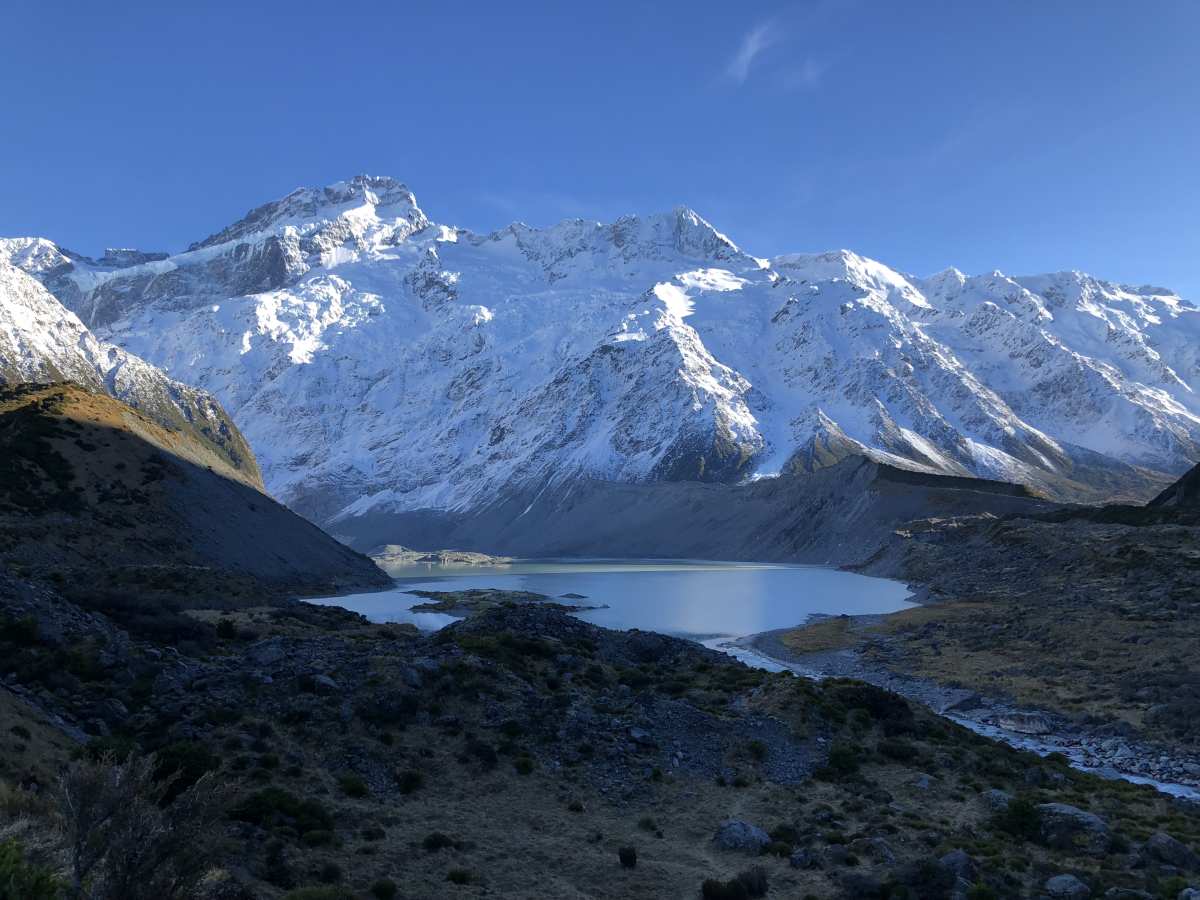 Day 3: Twizel to Queenstown
The 2.5-hour drive from Twizel to Queenstown takes you through Lindis Pass, which is a fantastic place to stop off for a few pictures. Unfortunately, we only realised the significance of Lindis Pass after arriving in Queenstown. Oh well.
In Queenstown, we stayed at the Autoline Motel. After checking in, we took a short walk into the town. Queenstown has so many little restaurants, bars and shops. It's also a great place to stock up on cold weather clothes if you need any. We went to Fergburger for tea with friends of ours, which we would definitely recommend. The enormous burgers are SO worth the wait!
Day 4: Lake Hayes
We originally wanted to use the cable cars in Queenstown to see the amazing view, but the $39 NZD price tag put us off a bit. Being the big kids that we are, we were also disappointed to see that The Skyline Luge was closed until the end of July.
Instead we drove 15 minutes to Lake Hayes, where we enjoyed a stunning five-mile walk. We'd definitely suggest it to anybody visiting Queenstown on a budget. We saw deer, rabbits and some of New Zealand's native Tui birds.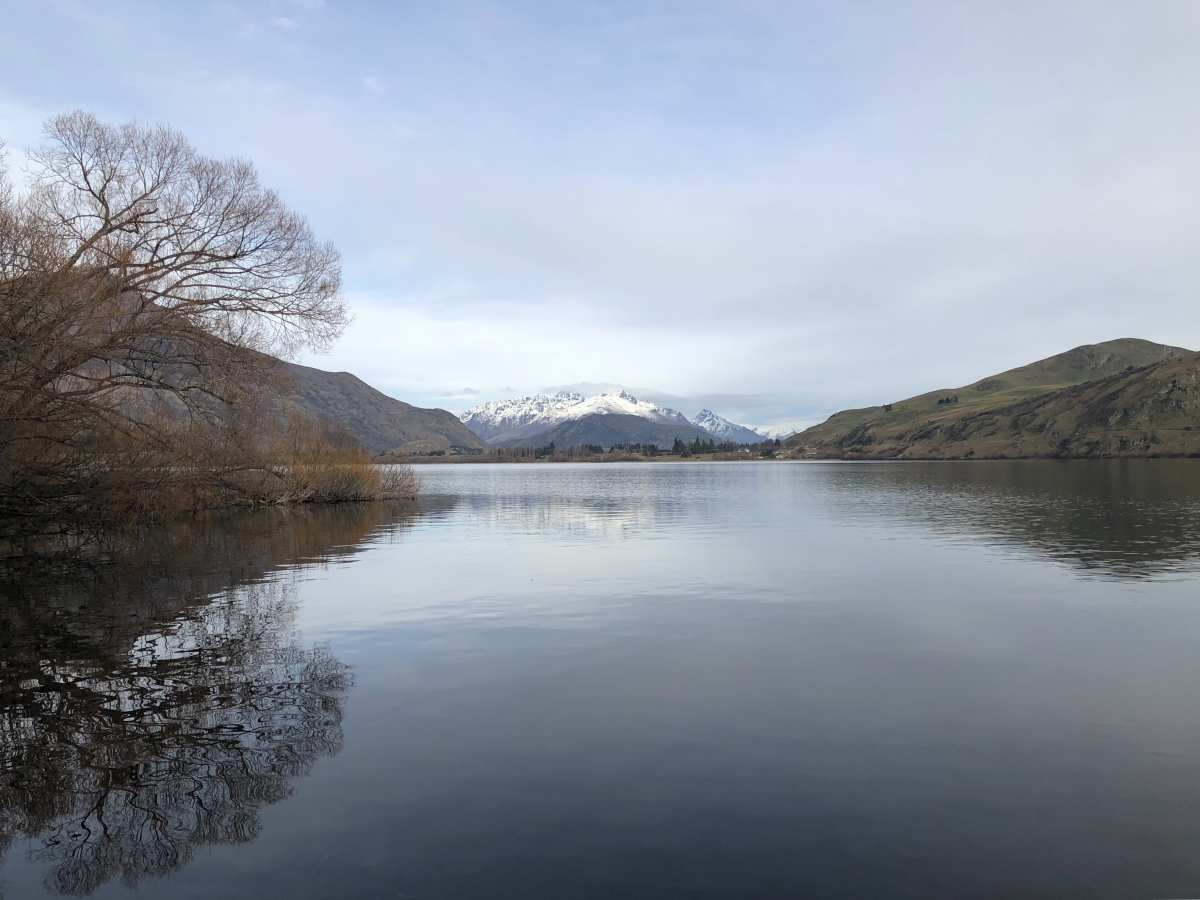 Day 5: Queenstown to Te Anau
The drive from Queenstown to Te Anau took around 2.5-hours. We arrived in Te Anau too early to check in at the Kiwi Lakeview Holiday Park, so we took a walk around the town and the lake instead. It's worth noting that if you visit Te Anau in July, it will be quiet. A lot of the restaurants close for the winter season, so there are only a couple of places open. It's still worth a visit though, plus accommodation prices are a bit cheaper!
We stayed in a "studio motel" room at Lakeview Holiday Park, and surprisingly it was one of our favourite places during our entire road trip! Our little unit was detached, which meant no noise from the room next door. The low season meant that the holiday park was quiet too, and our room had everything we needed including a fully equipped kitchen, spa bath and electric blankets.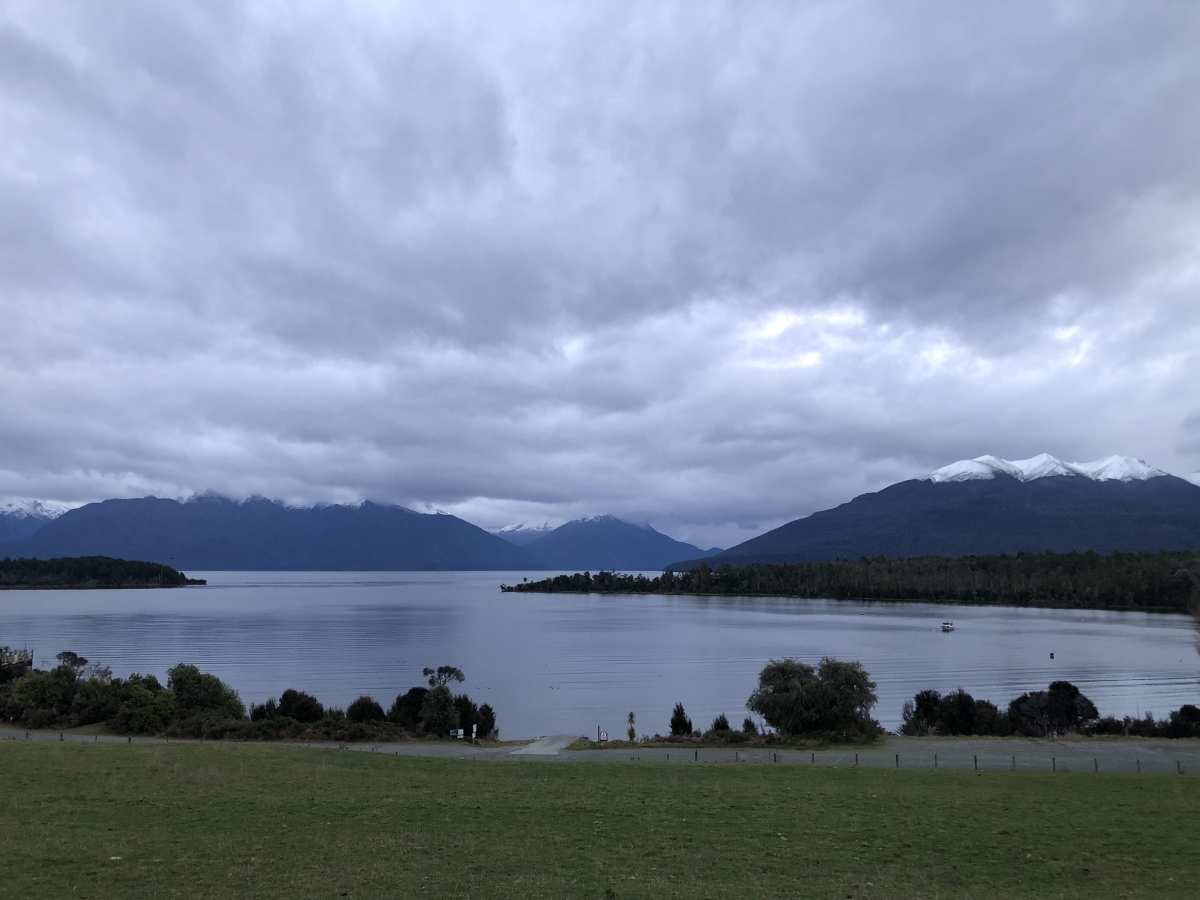 Day 6: Milford Sound
If you're planning your New Zealand South Island itinerary, you should really try to make time for a trip to Milford Sound. Accommodation near Milford Sound is difficult to come across, so Te Anau is the best place to stay if you want to do a day trip there.
During winter, it isn't advised to drive the twisty road from Te Anau to Milford Sound. However, we wish we'd saved a bit of money and done it ourselves. There hadn't been much snow before our trip, so the road wasn't too treacherous.
Having said that, the coach transfer that we booked was very good. We had the coach to ourselves, and our lovely tour guide Ray stopped off at lots of points of interest along the way. He even took some great photos for us!
We booked the "Coach Cruise Coach" option with Mitre Peak Cruises, who we'd highly recommend. The views were eerily beautiful, and due to the low season our boat only had about 15 people on it. Even better, the recent rainfall meant that we saw some spectacular waterfalls, and we even managed to spot some seals as we headed back towards the ferry terminal!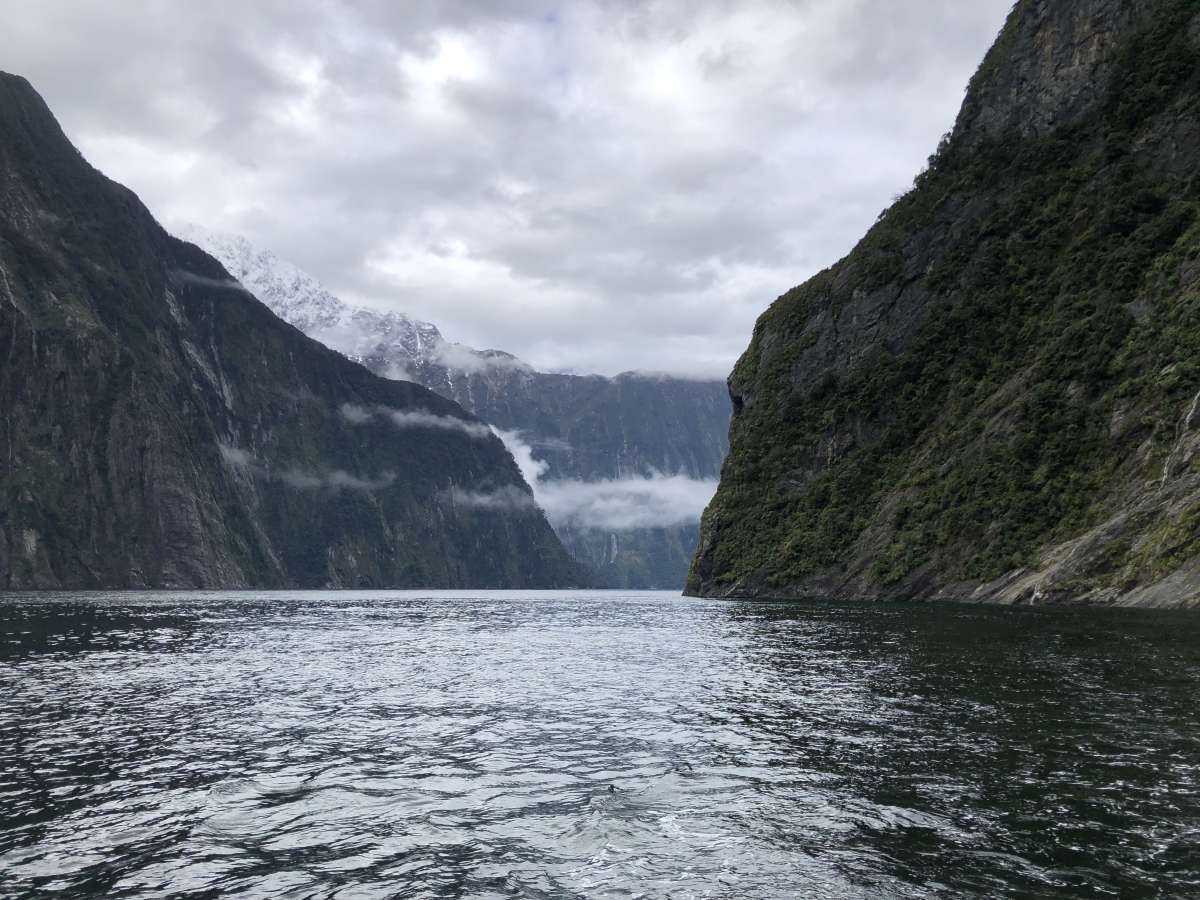 Day 7: Te Anau to Wanaka
The three-hour drive from Te Anau to Wanaka takes you straight past Queenstown again, so we stopped in Queenstown for some lunch before continuing up the very twisty Crown Range Road. If you're visiting in winter, make sure that this road is passable before attempting it! Despite some extremely tight corners and steep climbs, this road will reward you with some breathtaking views.
We arrived in Wanaka and checked in to our Airbnb (our first EVER amazing Airbnb experience)! We then took a walk around Lake Wanaka and the main town. There are loads of great cafes, restaurants, bars and shops in Wanaka. The place has a much more vibrant and buzzy feel when compared to some of the very sleepy smaller towns.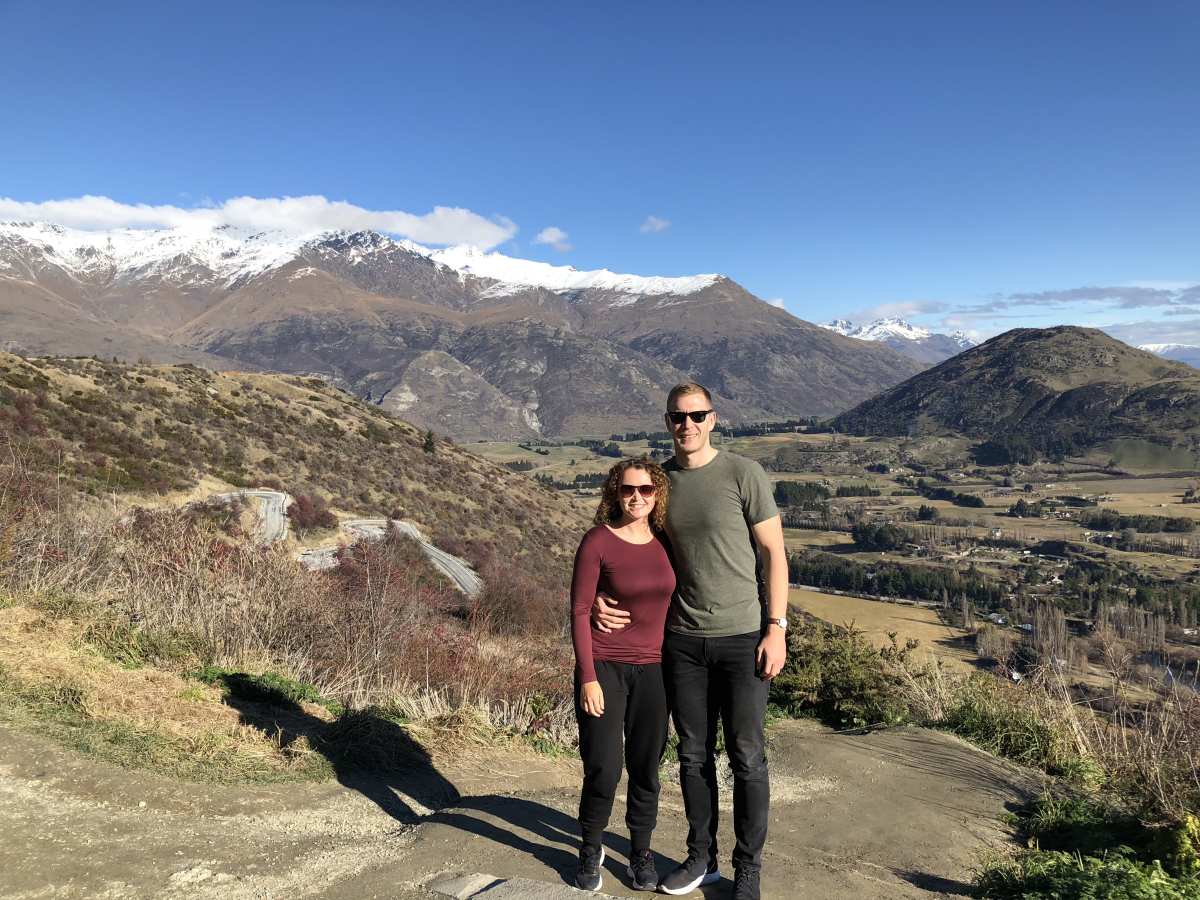 Day 8: Skydive day!
We put our lives in the hands of Skydive Wanaka, and we're glad we did!
All we can say is that doing a 15,000ft skydive was an incredible experience. Completely and utterly unforgettable. So much so that we've dedicated an entire blog post to it.
Day 9: Wanaka to Franz Josef
Today was a quiet one. We were hoping to take some cool photos of the stunning scenery during our 3.5-hour journey from Wanaka to Franz Josef. Alas, the weather had other plans. The torrential rain made it a good day to travel (because we wouldn't have been doing much else)!
We arrived in Franz Josef and checked in to the Alpine Glacier Motel. Here, we had a shop and restaurants on our doorstep, as well as a HUGE, spacious room with an enormous bed. Bliss.
Day 10: Franz Josef Glacier hot pools
For a second day running, the weather thwarted our plans. We'd hoped to do some hiking around the glacier, but the rain just kept on coming! Instead, our friends recommended we try out the glacier hot pools, which use water from the glacier. They were just down the road from us.
If you're looking for something to do on a rainy day in Franz Josef, this is it! The pools are really well sheltered from the elements (and they're WARM). We used BookMe to get a private pool for two for half price.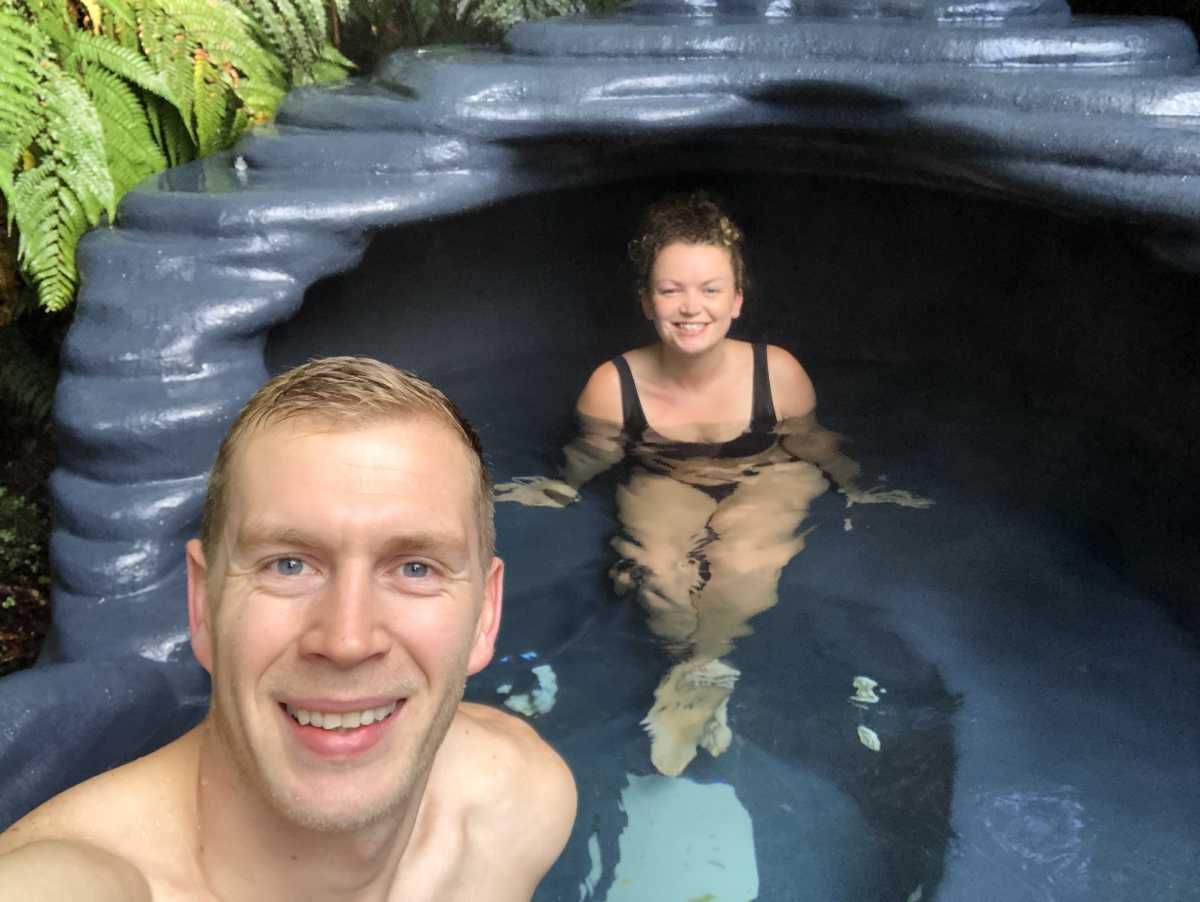 Day 11: Franz Josef to Nelson
Disclaimer: this is a long drive. Around six hours with no stops. BUT it is a gorgeous drive, with lots of beautiful scenery. The two main towns to stop off in along the way are Greymouth and Murchison.
We were up at 7am and left Franz Josef at 8am in glorious sunshine. About an hour into our road trip, the rain set in, again. We did have some respite though when we drove up into the mountains and were surrounded by stunning snowy scenes at every turn!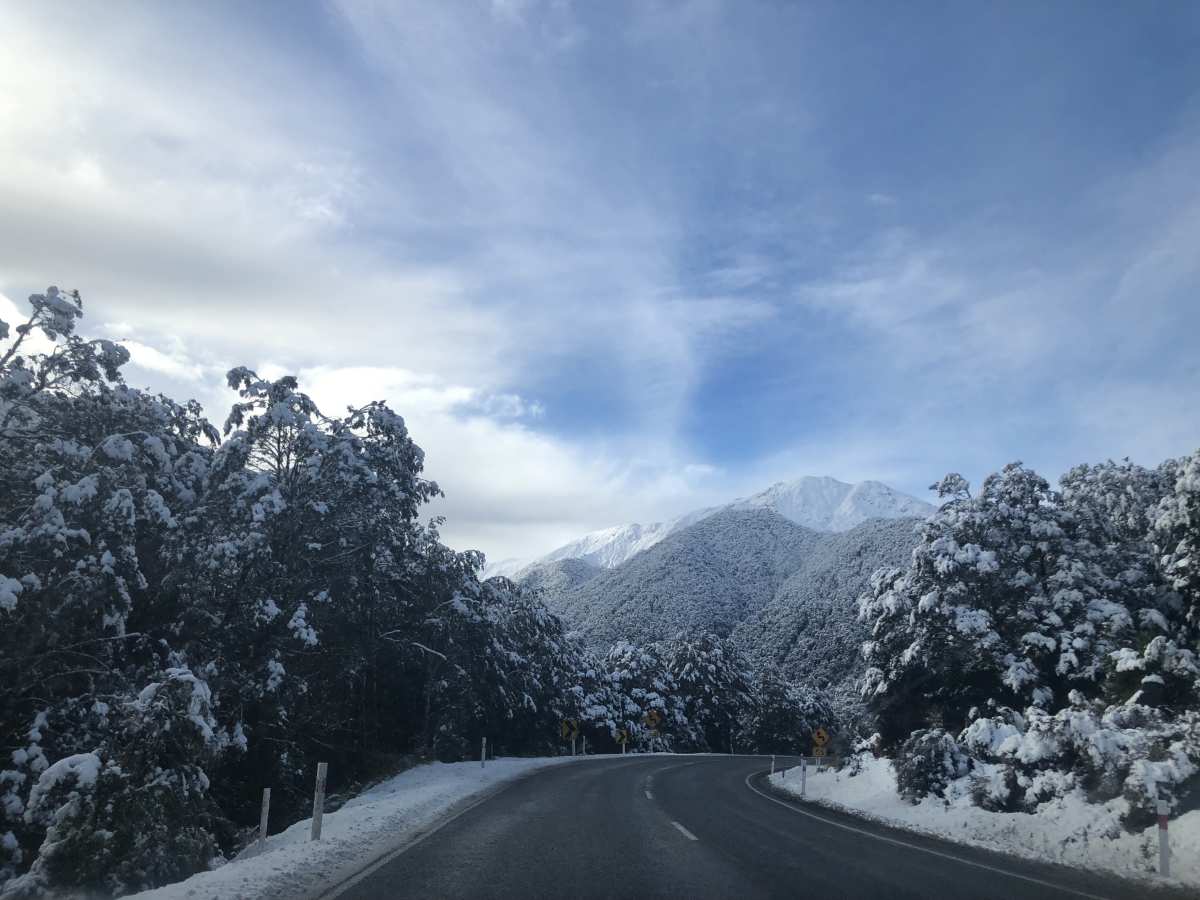 After a couple of rest breaks, we stopped off in the Pak n Save (our favourite NZ supermarket) in Richmond before carrying on into Nelson. We stayed at The Hotel Nelson, which was OK. We ended up upgrading our room so that we had access to a full kitchen (which actually saved us money on eating out).
Day 12: Abel Tasman National Park
Today we got up pretty early and drove from Nelson to Abel Tasman National Park. We used the car park near Marahau beach and walked some of the coastal track. You can use the water taxis, but we just fancied some fresh air.
The walk was nice, but we have to be honest. The scenery wasn't the best we've seen in New Zealand. Maybe we should've shelled out for a water taxi and gone a bit further up the coastline? Still, it was a nice walk with pretty sea views. We got the feeling that this area would be much nicer to explore during the summertime.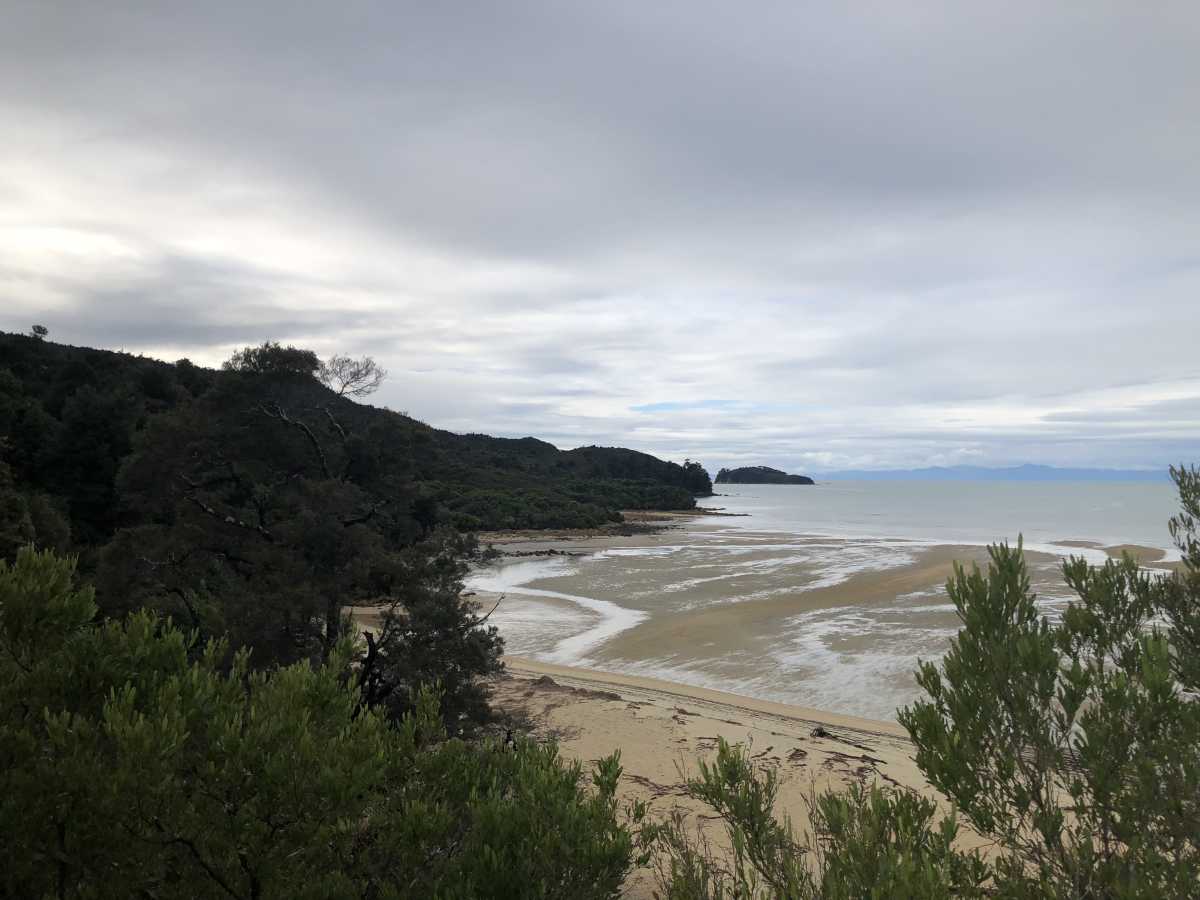 Day 13: Nelson to Kaikoura
The drive from Nelson to Kaikoura takes around three hours, so we took it steady today. We drove through Blenheim during the journey, where we stopped off for lunch. (We also spotted a Pak n Save here, so we stocked up on essentials for the last couple of days of our trip).
When we arrived in Kaikoura, we checked into the Alpine Pacific Holiday Park. We quickly realised that Kaikoura is a very small place, and we were within walking distance of pretty much everything!
Day 14: Whale watching in Kaikoura
This was definitely one of the biggest highlights of our time on the South Island. Once again, we used BookMe to get a great price for a whale watching tour. We booked with Whale Watch Kaikoura, who were amazing.
Obviously, these tours are at the mercy of nature! There's no guarantee that you'll see any whales, but if you don't, Whale Watch Kaikoura promise an 80% refund. We were extremely lucky to have four separate whale sightings (two of them were of the same whale, but still…)
We were also fortunate enough to have an enormous pod of dolphins following our boat, swimming alongside us, jumping out of the water and even doing flips in mid-air!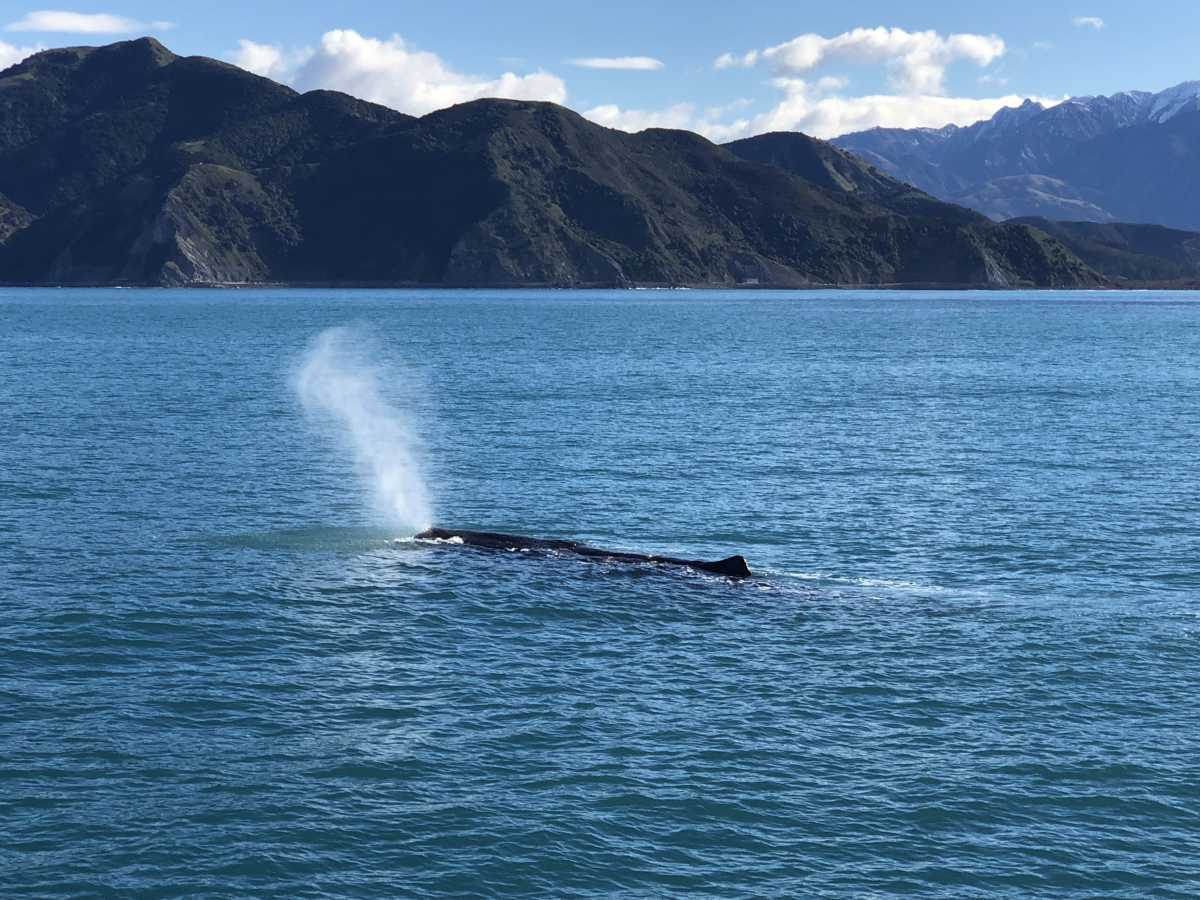 Day 15: Kaikoura to Christchurch
Not much to report on this day. We drove for 2.5 hours from Kaikoura back to RaD Car Hire at Christchurch airport. From here, we were driven to the terminal in time for our quick flight over to Wellington…
…stay tuned for our New Zealand North Island itinerary!
Our itinerary (the short version)
July 2018
13th – 15th Twizel/Lake Tekapo/Lake Pukaki/Mt Cook
15th – 17th Queenstown
17th – 19th Te Anau/Milford Sound
19th – 21st Wanaka/Skydive
21st – 23rd Franz Josef/Glacier pools
23rd – 25th Nelson/Abel Tasman
25th – 27th Kaikoura/Whale watching