Hopefully, you've already read about our
South Island adventures
! Now, it's time to move on to our New Zealand North Island itinerary. We spent a week travelling between the NZ capital, Wellington, and Auckland. Here's what we did!
The South Island gets a lot of love, but the North Island is also home to some spectacular scenery and national parks of its own. It boasts plenty of volcanic activity and authentic Māori culture too.
We decided to hire a car for our North Island trip, renting a Toyota Corolla from Apex Car Rentals. Instead of dropping the car off in the pick-up location (like we did on the South Island), we instead chose to pick up our car in Wellington and drop it off in Auckland. This hiked the price up a bit, but it was still pretty affordable.
Our New Zealand North Island itinerary
Just like in our South Island blog post, I've included plenty of detail. If you'd prefer to see a quick run-down of our New Zealand North Island itinerary, you can scroll straight down to it.
It's also worth mentioning that we spent two nights in Wellington before our road trip began, and two nights in Auckland afterwards.
Wellington
Before our road trip began, we spent a couple of days in Wellington to rest after two weeks spent driving around the South Island. We'd highly recommend spending a day or two in Wellington if you have time.
We stayed in a simple Travelodge which was cheap, comfortable and in a great location in the heart of the city. After spending quite a lot of time in sleepy towns, we really enjoyed getting back to city life, if only temporarily.
The main attraction we'd suggest seeing if you're short on time in Wellington is the Mt Victoria Lookout. It's a gorgeous (and mildly strenuous!) walk, and the views are brilliant on a clear day!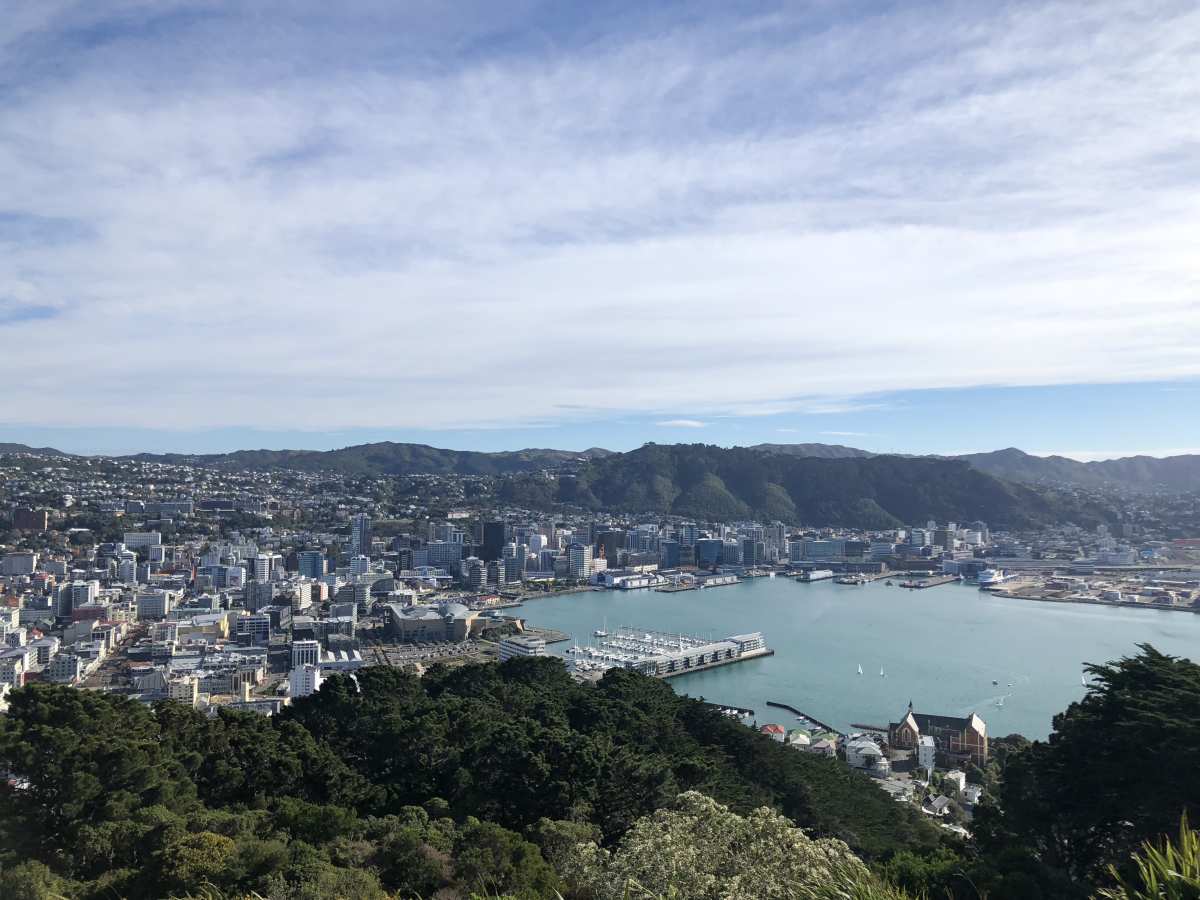 Day 1: Wellington to Tongariro National Park
We picked up our car at 11am, and stopped off at Pak n Save in Wellington to stock up on essentials before making the 3.5-hour journey to National Park Village. (If you read our previous blog post, you'll know how much we love Pak n Save).
When we arrived, we checked in to the Plateau Lodge. The National Park Village is very small, but it still has a shop, fuel station and a couple of restaurants. We'd recommend the Schnapps Bar for a post-hike refuel!
Day 2: Whakapapa Village
Our main reason for venturing to the Tongariro National Park area was to complete the day-long Tongariro Alpine Trek. However, we were advised by a lot of people that the track can be extremely dangerous in winter. Hiring a guide is a necessity (not to mention really expensive). So instead, we decided to drive to Whakapapa Village and find our way around a few of the less treacherous hiking trails!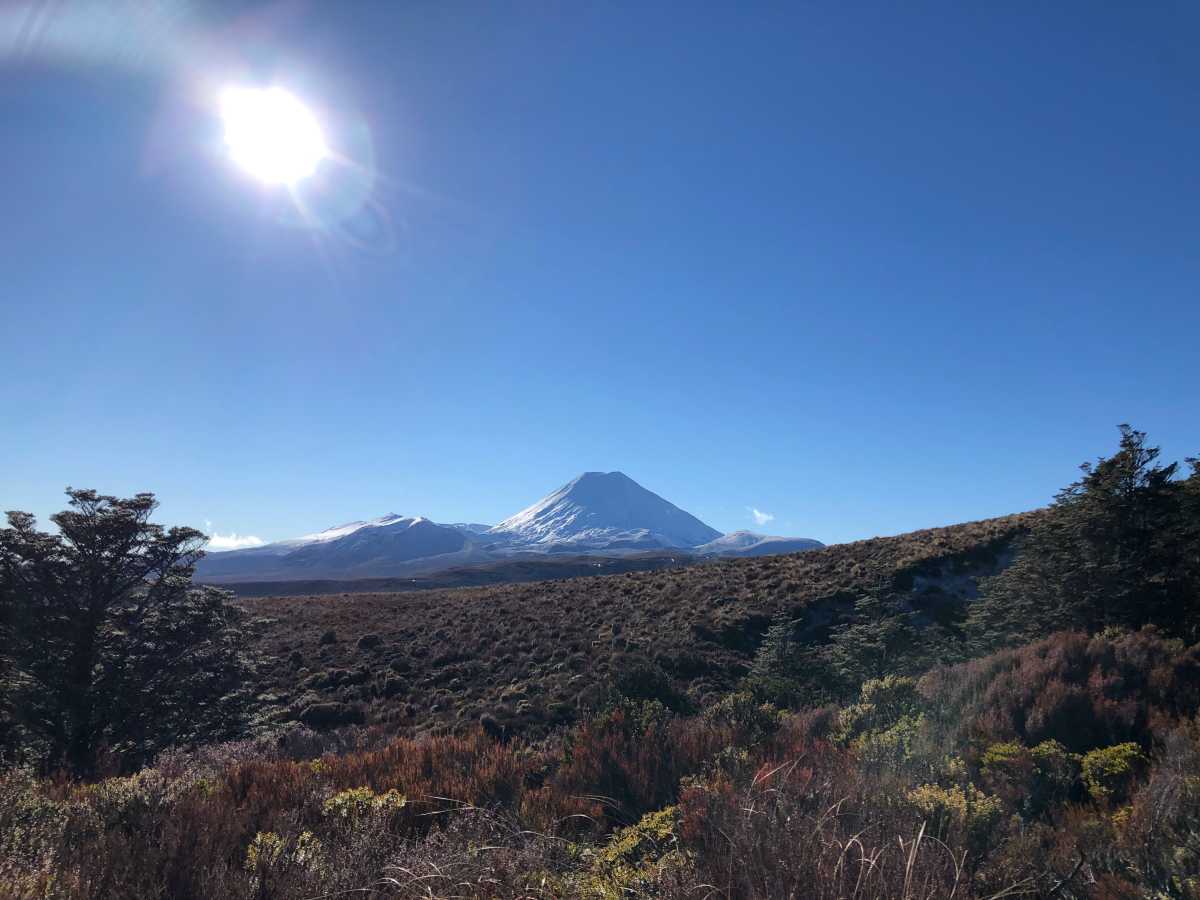 Day 3: Tongariro to Taupo
Today, we drove the short distance from Tongariro to Taupo. The drive took just over an hour, and we arrived in Taupo way too early to check into our motel, The Ascot Motor Inn. We grabbed some lunch to kill some time, before checking in and getting on with some work for the rest of the day.
Day 4: Taupo
After having a bit of a lie-in on a very grey morning, we headed out later than planned to see Huka Falls. This area is definitely worth a visit if you're in Taupo. The colour of the water is amazing, and the speed is incredible!
We parked at the main Huka Falls car park, and turned right after crossing the bridge. Unfortunately, it started to rain whilst we were walking, but we still saw some gorgeous scenery. The walk was also quite well covered, so we didn't get soaked!
Day 5: Taupo to Rotorua
On this day, we drove for one hour from Taupo to Rotorua. We had some pretty misty weather en route, so we decided to push back our plans to visit Wai-O-Tapu and see if the weather improved later during the day. Luckily it did!
This area is definitely worth a visit. Sitting just a 20-minute drive outside of Rotorua, Wai-O-Tapu Thermal Wonderland boasts some of New Zealand's most colourful and unique geothermal attractions, born after thousands of years of volcanic activity. The Champagne Pool and The Devil's Bath were two of our highlights.
Oh, and FYI, it smells.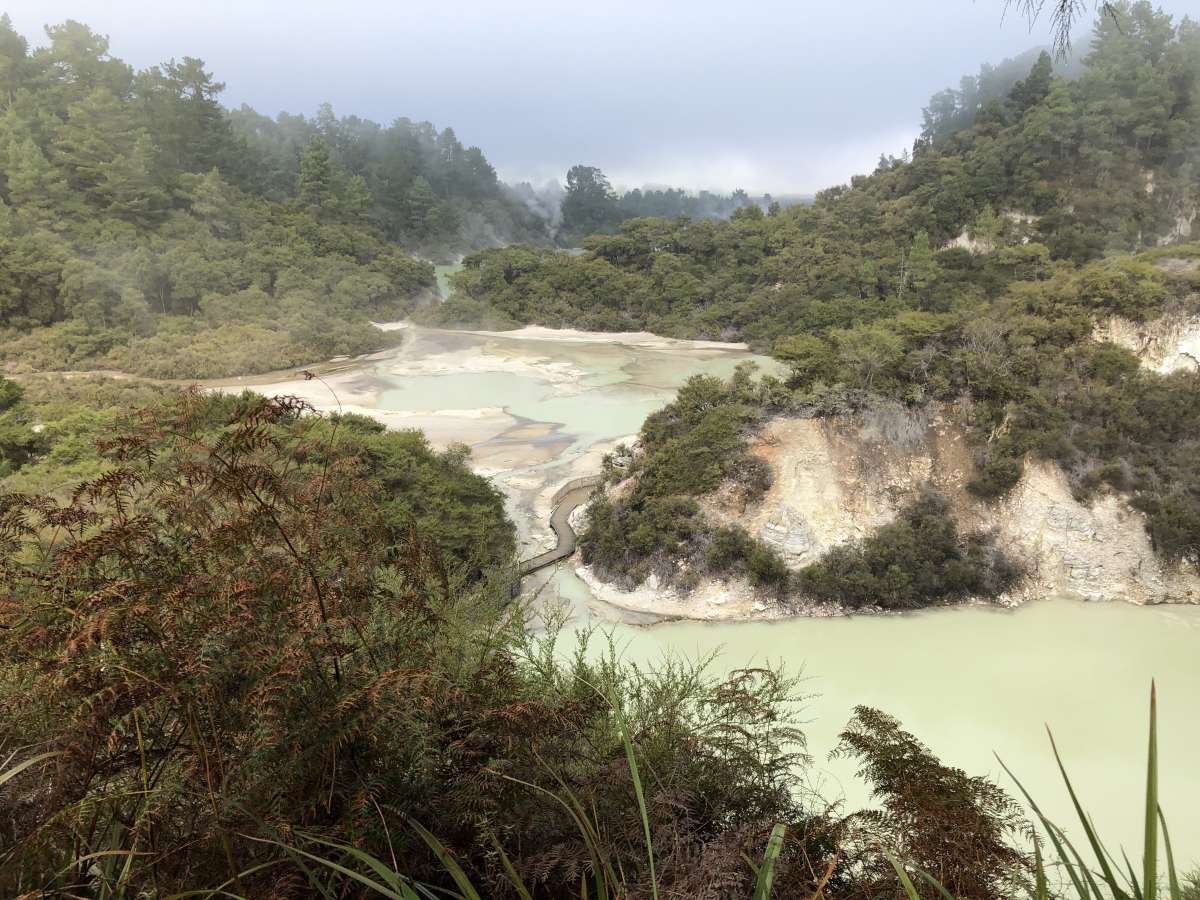 Day 6: Rotorua
During our time in New Zealand, we were keen to learn more about the country's Māori culture. Rotorua offered the perfect opportunity for us to visit Whakarewarewa, The Living Māori Village. After all, Rotorua is the heartland of "Māoridom".
We had a fantastic few hours in Whakarewarewa. We took a guided tour of the entire village, before being treated to a cultural performance which included to famous war dance, the Haka.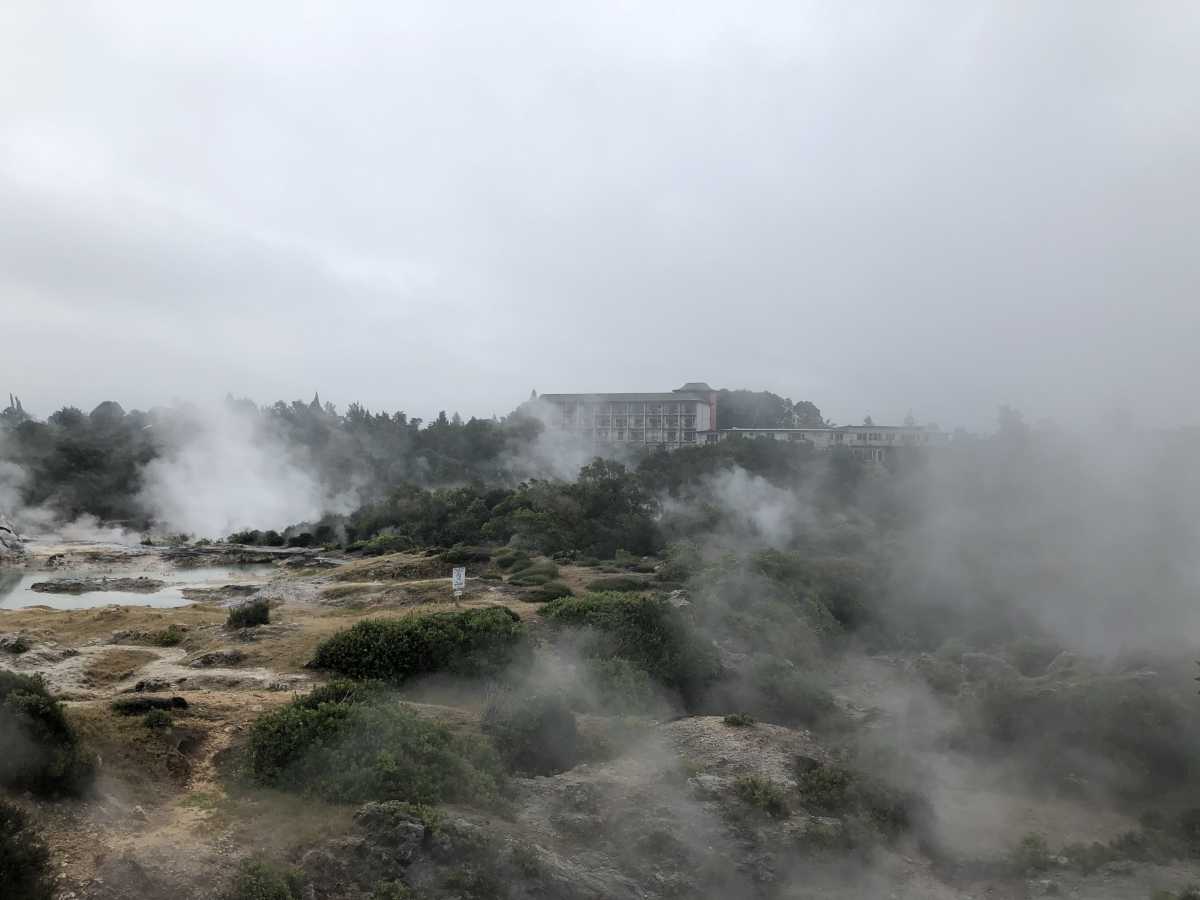 Day 7: Rotorua to Auckland
We left Rotorua at 9.30am and drove for 2.5 hours to Auckland. During the journey we experienced everything from torrential rain to blinding fog and blazing sunshine. You really can experience all the seasons in one day in New Zealand!
We arrived in Auckland and dropped off our car before checking into the Haka Hotel K Road. This was a great little base for us during our time in Auckland. Surprisingly, we didn't get up to much in the city. After our first day, we were pretty unlucky with the weather, so we spent most of our time in our room, working. Exciting!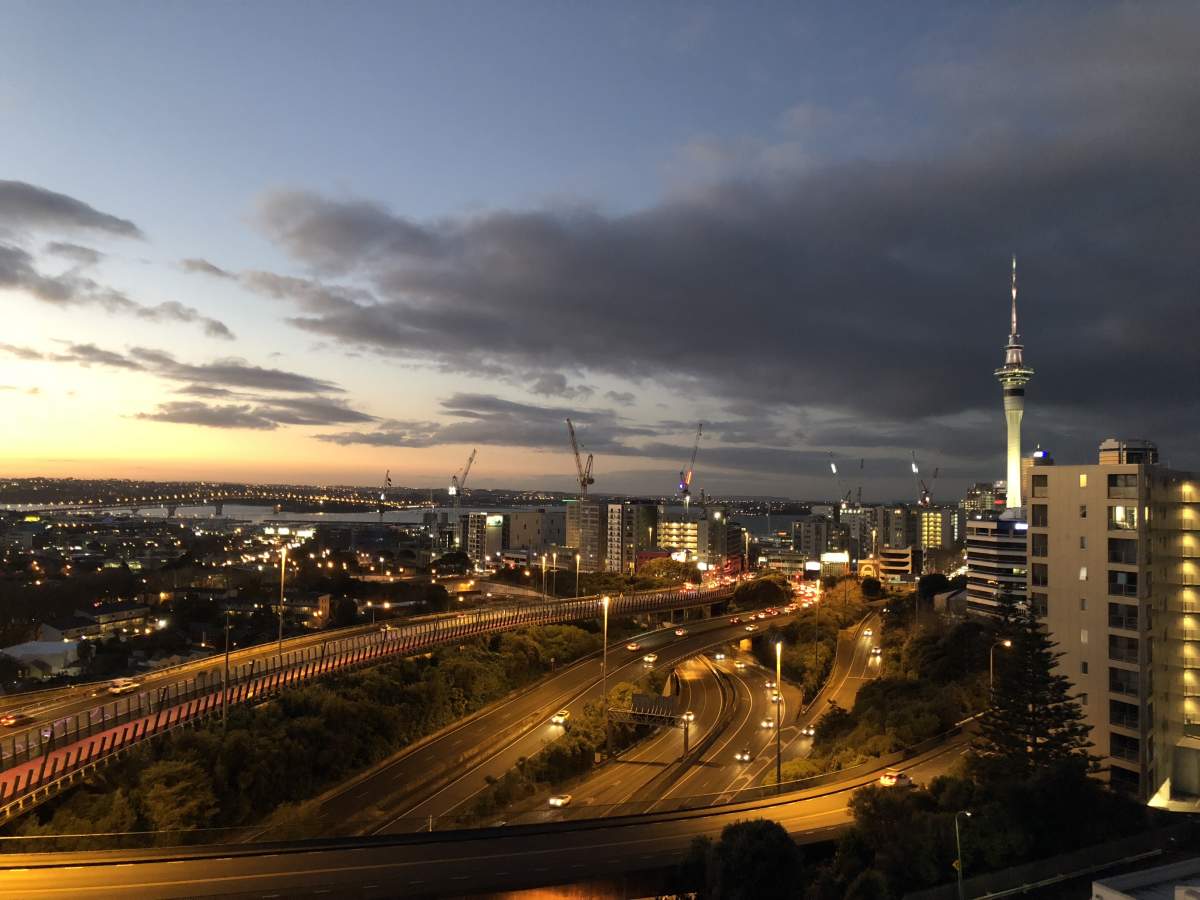 Our itinerary (the short version)
July – Aug 2018
27th – 29th Wellington
29th – 31st National Park Village
31st – 2nd Taupo
2nd – 4th Rotorua
4th – 6th Auckland