What do you do when your friends get in touch and ask if you want to get up at 2am to do the Mount Batur sunrise trek? We said "yes"! Then we wondered what we'd let ourselves in for…
We'd heard about the Mount Batur sunrise trek, but we hadn't considered doing it ourselves. After all, a trek beginning at 2am does sound pretty gruelling, doesn't it? But when our friends, Scott and Beka, asked if we fancied having a go at the sunrise trek, we agreed. Let's just say we're glad we did!
An early start
We were picked up from our guesthouse in Ubud at 2am on the dot. This required a grim 1.30am alarm, although we did manage to get around 4 hours of sleep beforehand. We then drove for about an hour along Bali's narrow, winding roads (have your travel sickness pills ready!) before reaching the car park at the bottom of Mount Batur.
Here we were handed our breakfast, which consisted of chocolate bread, fruit and cartons of tea. We also used the horrendous toilets. Seriously, you might be better off finding a well-hidden bush en route to the summit.
The trek
We started the trek around 3.30am. The first 15 minutes or so are very easy, with only a flat dirt track to navigate. Luckily, torches are provided!
After that, the trek becomes a bit more difficult. Obviously, most of the hike is uphill. The guides know the trail like the back of their hand and are able to take you along the easiest route, but it's still a struggle (especially after just a couple of hours' sleep and on an almost-empty stomach).
Some tour companies provide hiking poles, but ours didn't. Our guide did however, offer to break off some tree branches to form a makeshift stick! We found that the best way to trek was to take regular short breaks. There are around three main rest stops on the way up, all with benches. We took another few short stops too. Overall, it took us just under two hours to reach the top of Mount Batur.
The last few minutes of the trek are the toughest. Some light scrambling is required to navigate the loose rocks, and when your legs already feel like jelly it can be difficult to keep your balance!
We did it!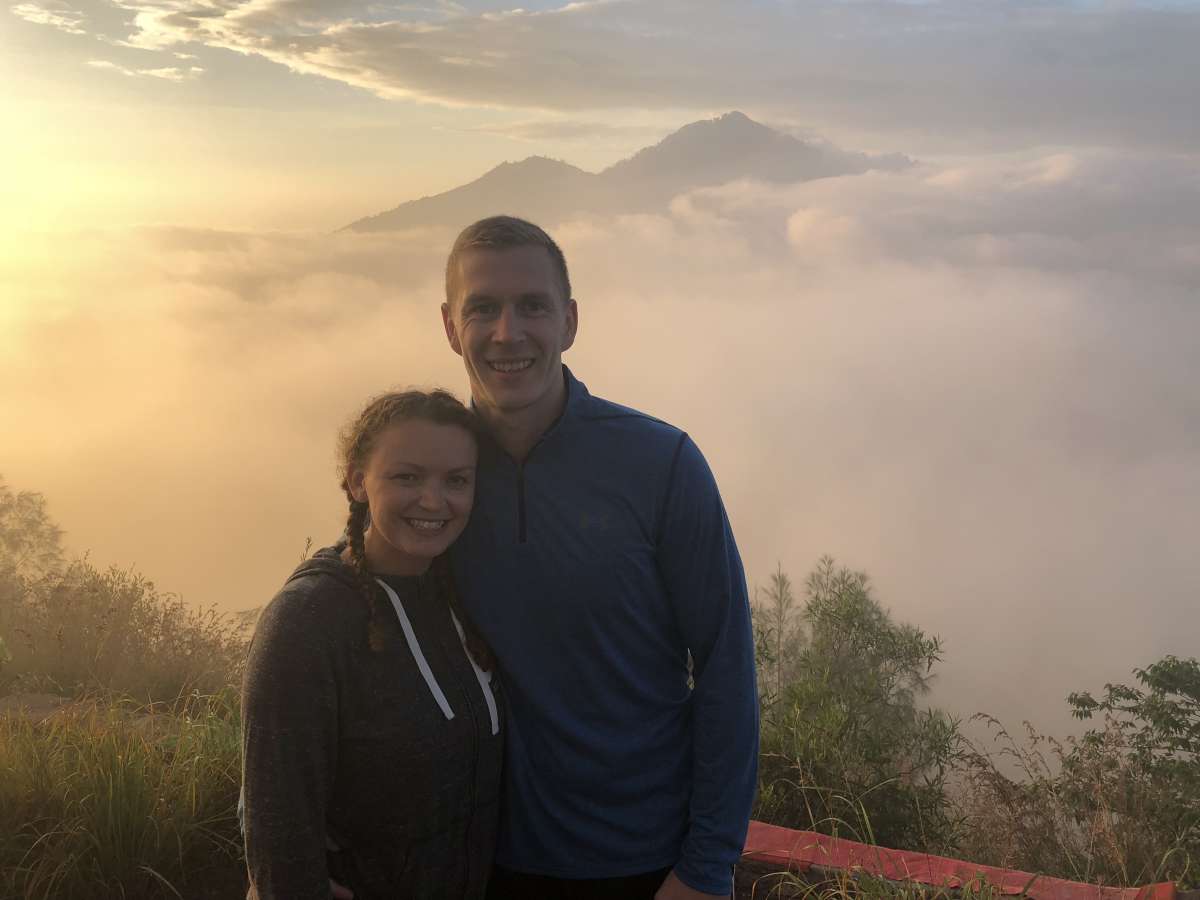 I won't lie, it was a huge relief to reach the top. We stopped next to the crater. We could've carried on for another 15 minutes to the main summit, but we already had an incredible view from the crater.
We then waited in the dark for around half an hour, when the sun began to peek through the clouds. The clouds really added to the experience, and we could just make out Mount Agung across the lake. During the sunrise, lots of rolling clouds descended, but they moved on again just in time for us to enjoy the last of the sunrise.
On top of the world
Up here, you literally feel like you're on top of the world. We didn't even realise that there is actually stuff to see on top of Mount Batur (apart from the sunrise, of course).
We heard the local monkey population wake up (they were LOUD) but unfortunately, we didn't spot any! We also saw some volcanic steam, and we were able to view the enormous crater on top of the mountain.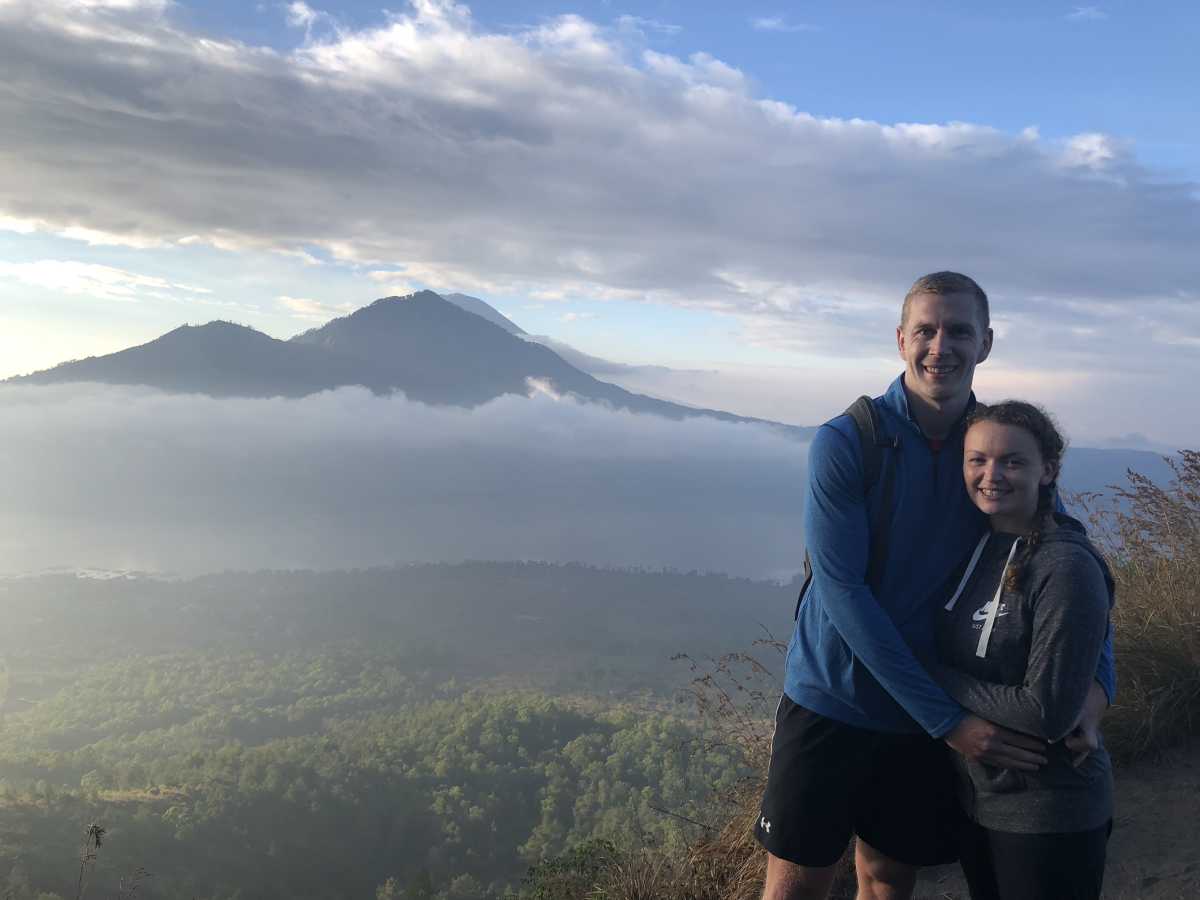 The descent
I bet you wouldn't believe me if I told you that going down was almost worse than going up, would you? But it was.
The track is ashy, sandy and very slippery underfoot, even if you're wearing shoes or trainers with good grip. It's easy to get impatient, walk down quickly and feel your feet slip from under you (this may or may not have happened to us). So our advice would be to head down at a pace you're comfortable with. It takes a while!
Was the Mount Batur sunrise trek worth it?
YES!
It has moved to the top of our list of "best experiences". Honestly, we couldn't recommend it highly enough. Even if you're not a big hiker (we're certainly not), it's definitely do-able.
Just go for it! We promise you won't regret it.