Our main reason for staying in Hanoi was always to see Ha Long Bay. It was another destination on our bucket list. But after seeing it for ourselves, is Ha Long Bay worth a visit?
After looking at the plethora of cruise and tour options available, we decided to just let our hotel (Hanoi Trendy Hotel and Spa) do the legwork for us. They suggested a few cruises ranging from cheap to 5*, and we chose one in the middle bracket. Our hotel even arranged for us to leave our big backpacks with them, so that we only needed to take a small backpack each on the cruise.
Glory Legend Cruises
We chose the 3* Glory Legend Cruise, which cost approximately £100pp. The hotel took care of the booking for us, which included a shared minibus transfer to and from Tuan Chau (which took around 3.5 hours each way).
The boat itself was impressive, with a huge dining area, sundeck, bar and relatively spacious rooms. We're not really into cruises (in fact, this was our first ever one) but we were pretty happy with it.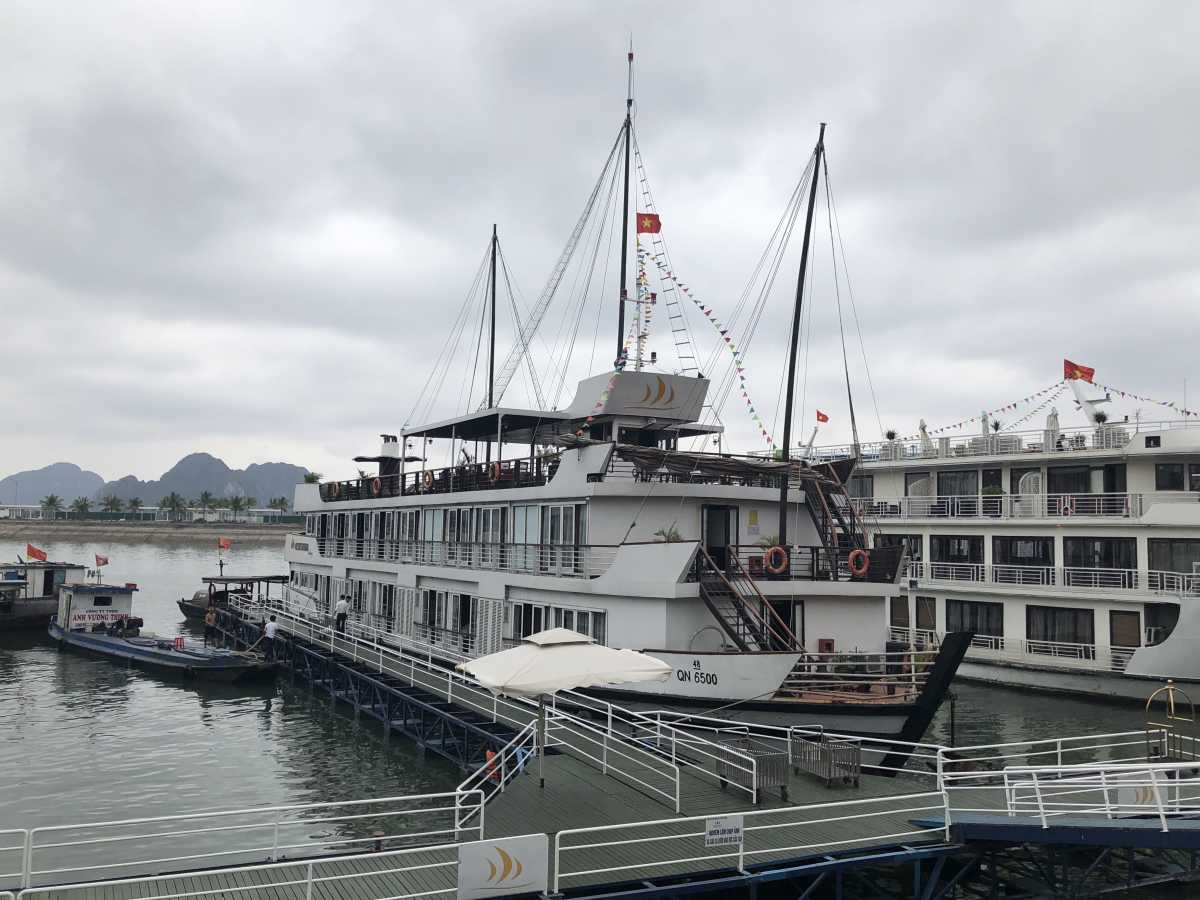 Straight after boarding, we were served an enormous 4-course lunch and given an itinerary for our 2 day/1 night trip.
Ti Top Island
The first stop on our tour was Ti Top Island. Famed for its 360-degree views of Ha Long Bay, we were excited to hike up the 400+ steps to the summit. We were slightly less excited when we arrived and saw the hoards and hoards of people. It was one of the busiest places we've seen on our travels so far!
When we got off the boat, we avoided the crowds on Ti Top Beach, and found our way to the beginning of the steps. Here, we got stuck in a queue. Yes, a queue! To reach the summit! I still can't believe how busy it was. The situation wasn't made any better by the huge amount of people who kept trying to push in either (remember how we told you that the Chinese don't queue)?! We just carried on up, and luckily most people in the queue stopped anybody from pushing in, which kept things moving, albeit slowly!
It took us around 20 minutes to reach the top. This was walking at a very slow pace, and seeing many people in the queue in front of us turn back. Part of me actually thought that maybe the summit wouldn't be too busy, because half the queue seemed to give up! How wrong I was.
When we finally reached Ti Top Island's summit, we yet again found ourselves in another sea of people. Everybody was clamouring to get to the edge with tripods and selfie sticks. We took a few minutes to take in the view, before attempting to get a picture of our own. Luckily, an Australian couple befriended us and we managed to take a few decent photos of each other before heading back down.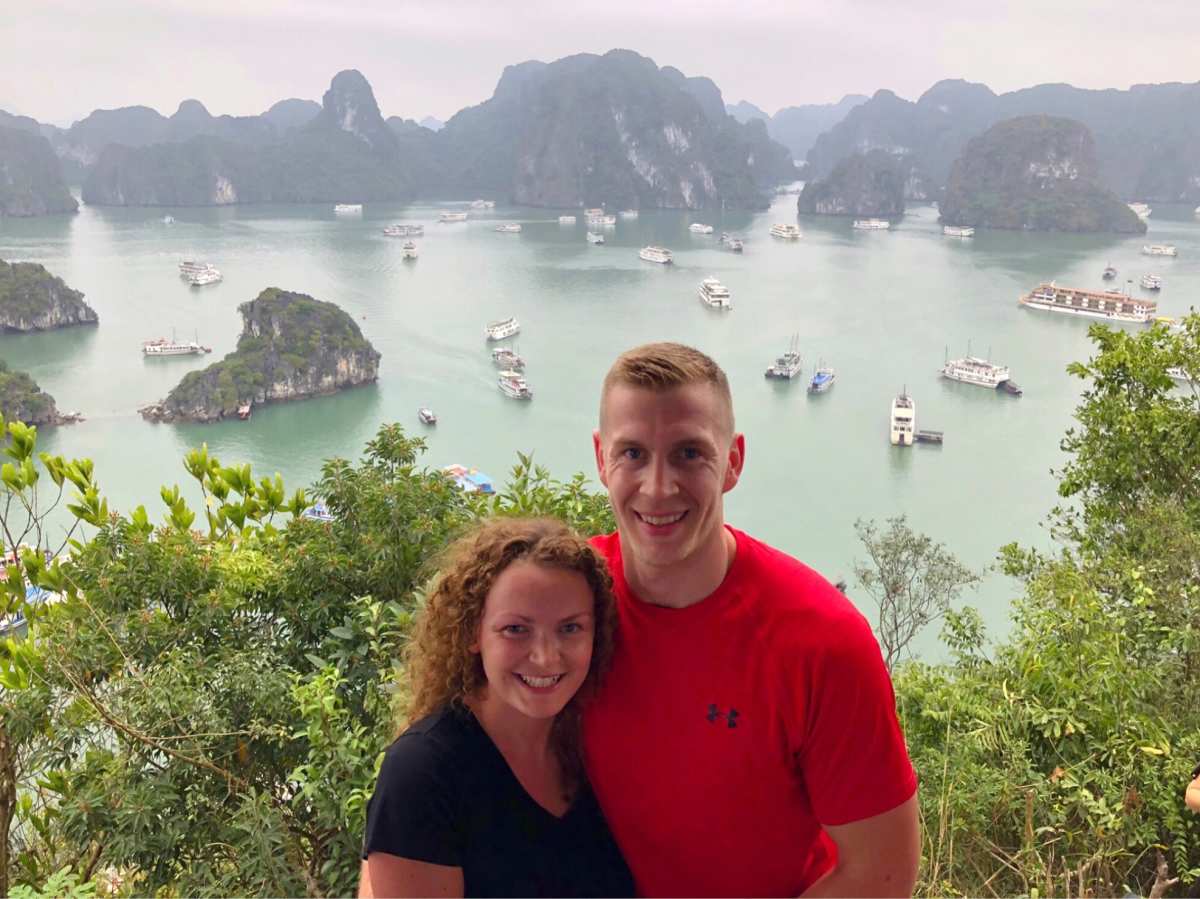 Kayaking
The next stop on our tour was kayaking (or a pearl museum, if you didn't fancy kayaking). The weather had turned pretty grey and cool by the time we arrived, but we really love kayaking and wanted to give it a go. Only a few other people from our cruise joined us.
It was an amazing experience, and I'm glad we chose to do it. We were given 45 minutes, which was plenty of time to explore some of the nearby limestone islands. It was sad to see a thick film of oil and lots of litter in the water though. (We actually spotted somebody asking if they could swim there… not sure we would've fancied that)!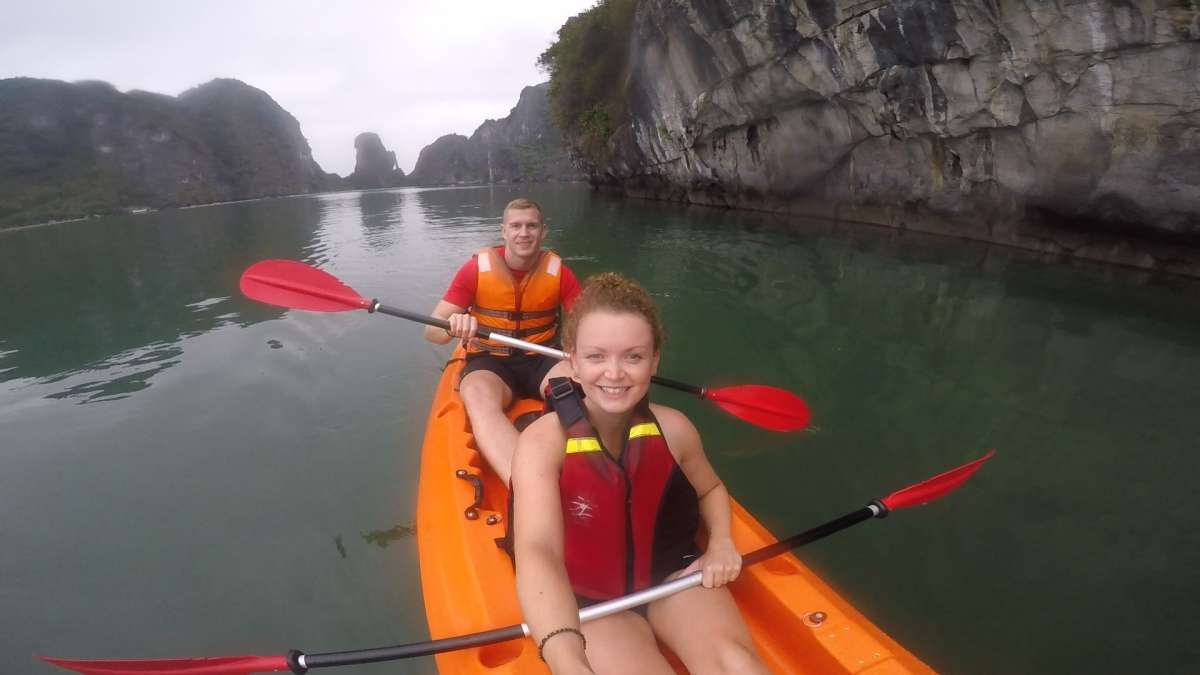 On the boat
We went back to our room to shower and get ready for dinner. This is when Karl started to feel really, really ill. It came out of nowhere. He ended up confined to our cabin for the night with what we can only suspect was a bad case of food poisoning.
This meant that I went to eat dinner alone (yay!) before heading back to the room to look after him. The staff on the boat were really good, offering him dry toast and ginger tea. Unfortunately for us, we'd left our medication back at the hotel in our big backpacks. Talk about bad timing!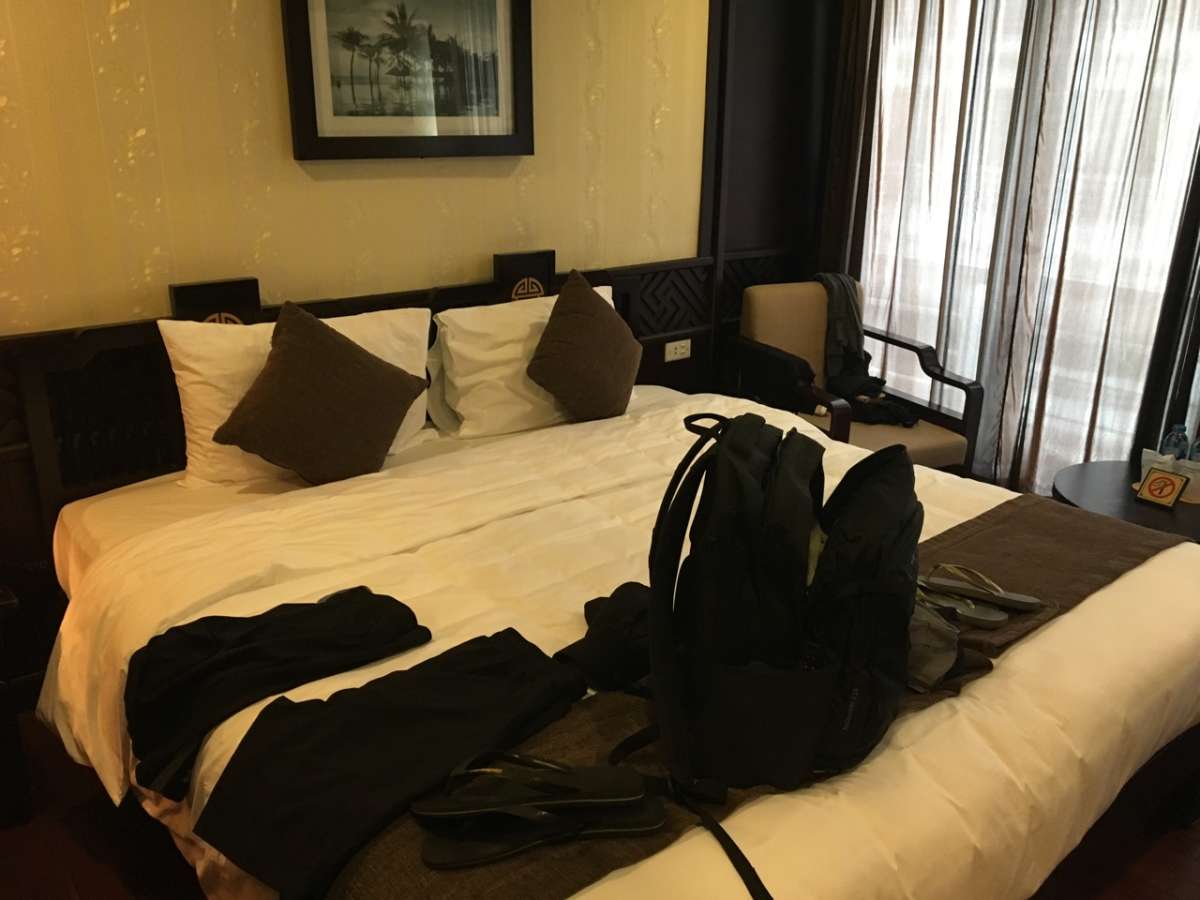 The next day
Understandably, Karl woke up feeling rough. I also found myself feeling under the weather and just about made it out of our room in time for breakfast. We both missed the final stop-off at the Sung Sot Cave, before being asked to check out as we arrived back to Tuan Chau. It was a shame that we hadn't been able to enjoy the whole cruise, but I suppose we were lucky that we managed to see Ti Top Island and do some kayaking!
Is Ha Long Bay worth a visit?
The short answer is "yes". Despite our experience, we were still incredibly impressed with Ha Long Bay. The natural scenery is like nothing else we've ever seen, and we loved the kayaking trip.
The long answer is a bit more complicated. As much as we enjoyed our cruise, we couldn't shake the feeling that we as tourists were directly contributing to the shocking levels of pollution in the area. We also visited Ha Long Bay around Earth Day, which made our feelings even more poignant.
I don't think we would go again. Ti Top Island was nothing but an overcrowded mass of tourists, while the water was studded with floating litter and covered with a sparkling film of oil. Hopefully, steps will be taken to reduce the amount of waste and pollution caused by mass tourism, littering and coal shipping.
This is an area of outstanding natural beauty, but sadly it may not stay that way for much longer.