Although we could've easily flown from Beijing to Shanghai, we wanted to do something different. We've been hopping on planes like buses recently, so we decided to find out how to use the bullet train!
How to book
As long as you're not travelling during a Chinese national holiday, you can easily book your bullet train tickets a few days before you travel, or sometimes even on the same day. You can also book online, but I'd recommend booking in person to ensure you get the correct tickets. We asked our hotel for help, and were directed to a ticket office on the same road. It was essentially a hole in the wall. We were soon on our way back to our hotel when it became apparent that the staff in the office spoke no English. Luckily, a receptionist at our hotel was kind enough to write down the date, time and class of ticket we needed to purchase in Chinese. We took this back to the ticket office, along with our passports and enough cash to pay for the tickets (cards often aren't accepted).
Bullet train pricing
You can choose from standard, first and business classes. We chose first class, so our tickets cost just over 900 Yuan each (just over £90 each). In comparison to a more expensive internal flight, we were pretty happy with the price! We considered travelling in standard class which was only 450 Yuan, but as we were treating our bullet train journey as an 'experience' in itself, we opted for first. Plus, legroom is usually an issue for Karl, especially during longer journeys. (For those of you who are wondering, I don't have this problem).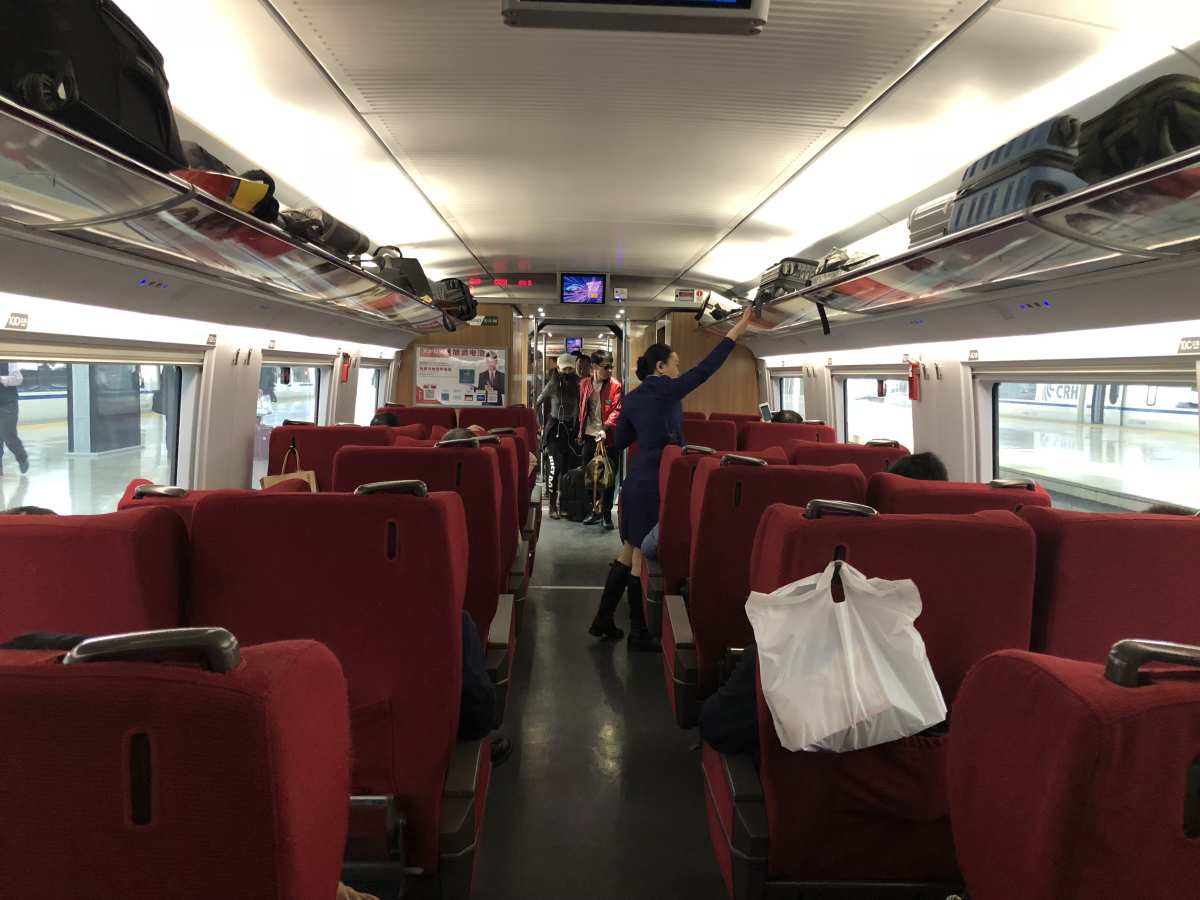 Getting to the station
Check with your hotel how long it will take to get to the station. Allow yourself plenty of time, as China's stations can be crowded! We left our hotel at 8am, and arrived at Beijingnan around 8.30am for our 10am train. This gave us LOADS of time to wander around the station and buy some food for the journey. Our tickets were valid from Beijingnan station (also known as Beijing South). Make sure you know which station you're heading to, because some cities like Beijing have multiple train stations. To be sure, we pointed out the station on our tickets to our taxi driver, which was printed in both Chinese and English.
Arriving at the station
Upon arrival at Beijingnan station, we went through a security check straight away. This was nowhere near as strict as an airport security check. We just dropped our bags on the conveyor and walked through a detector. This brought us into the main waiting area. It was busy. If you're in a major station, there will be some signs in English. Check your train number (ours was G119) and find it on the departure board. It will tell you which boarding gate to go to, and whether your gate is open yet or not. We were allowed to enter our gate 30 minutes before our train was due to depart.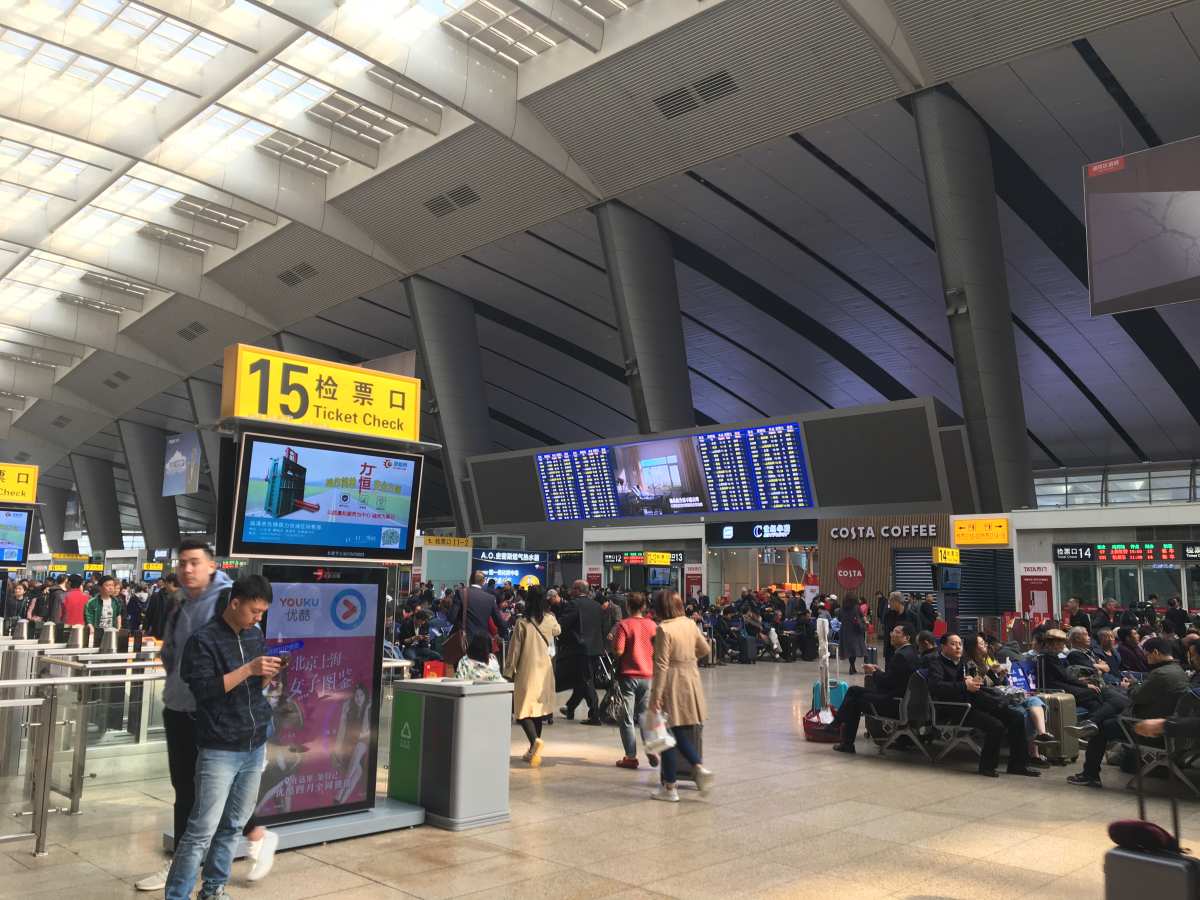 Luggage
Although there is an assigned luggage weight limit of 20kg per person, this is also not as strict as airline weight limits. Bags are rarely weighed. There are also size limits, but we saw passengers with enormous bags and boxes, so I'm guessing these rules are often ignored, too. Unlike air travel, there are very few restrictions around what you can take on board the bullet train. Just the usual stuff, like explosives, poison and all that jazz. Hopefully you won't be carrying anything like that! The only 'normal' items that are prohibited to a 'small amount' are things like aerosol sprays and lighters. You can carry food, water, cosmetics (and robots) without a problem.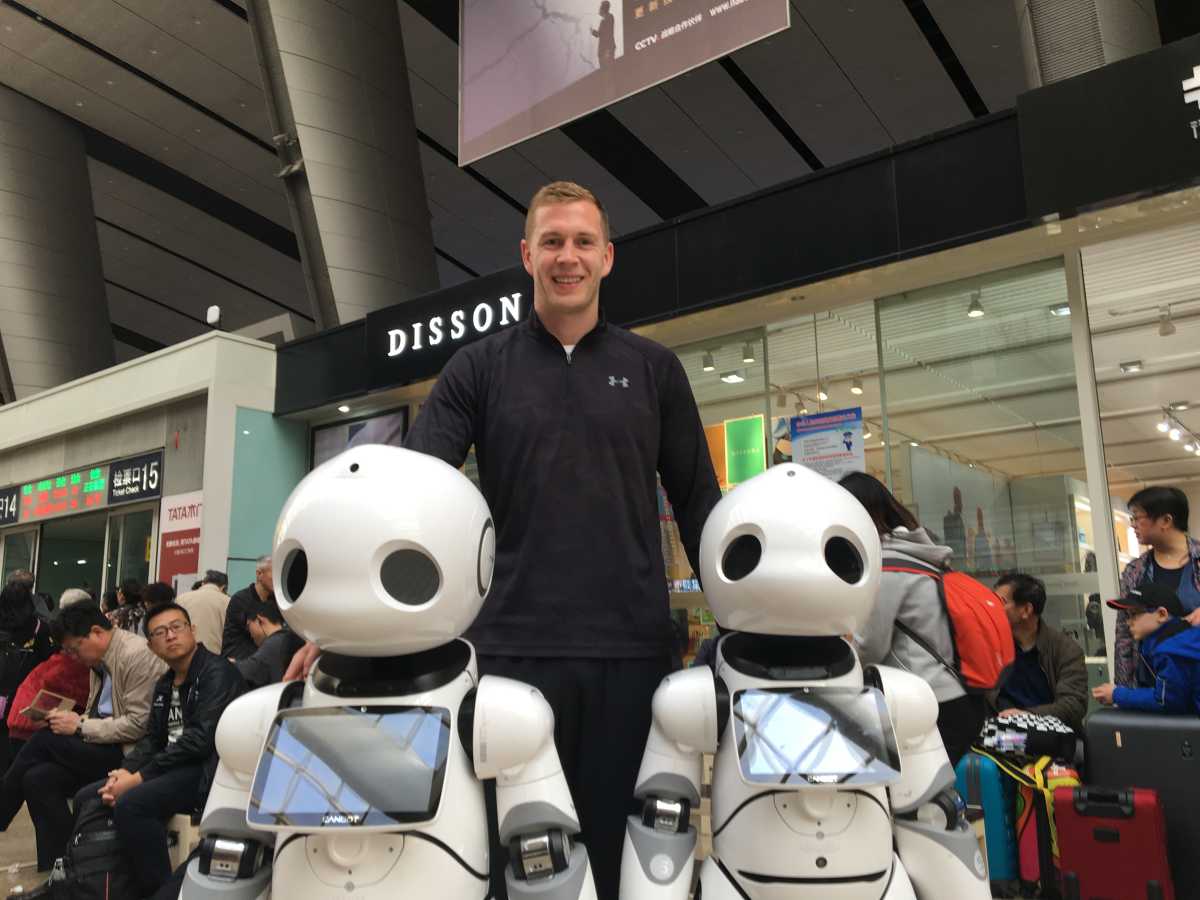 When you arrive at Beijingnan station, you'll probably be greeted by a number of men wearing red caps. These are porters, and you can pay them a small amount (10-20 Yuan) to transport your luggage to your train for you if you have a lot of bags. We only had our backpacks, so we didn't do this.
Boarding the bullet train
Your train's boarding gate will open around 30 minutes before departure. Have your train ticket and passport ready for inspection. You'll probably end up in a huge bottleneck as everybody tries to fit through two or three turnstiles. You'll then arrive at the platform. There are sometimes two trains on the platform, so make sure you get on the right one (fortunately, ours was signposted in English as well as Chinese). Check your ticket for the correct train carriage. Our tickets were for train number G119, carriage number 03, seat numbers 8D and 8F.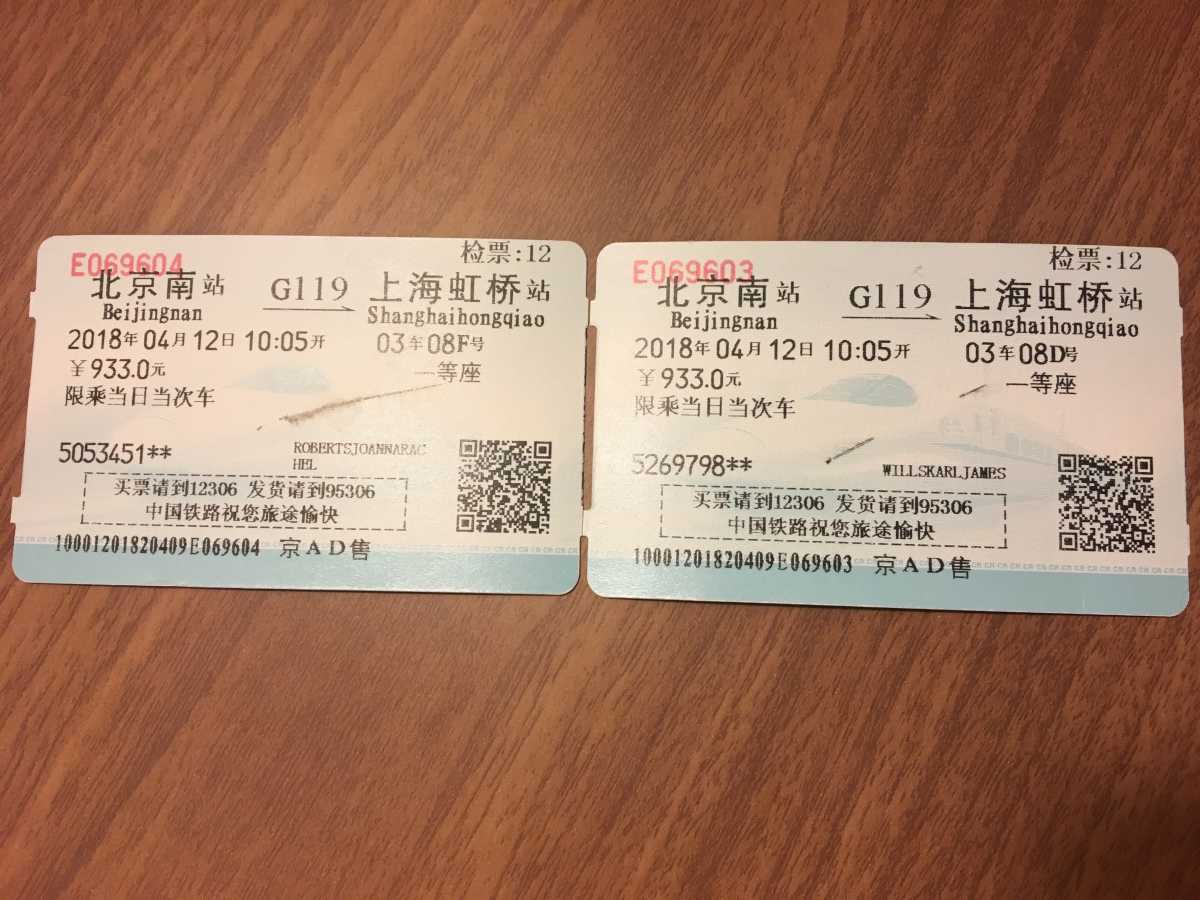 On board the bullet train
Standard class has seats in a three-by-two layout (ABC, DF). First class has seats in a two-by-two layout (AC, DF). The seats in first class are much, much bigger than airline seats and very comfortable. They come with tables that fold out from the armrests, as well as a seat pocket in front and a reclining mechanism. Karl was also very impressed with the amount of legroom available (that doesn't happen often)!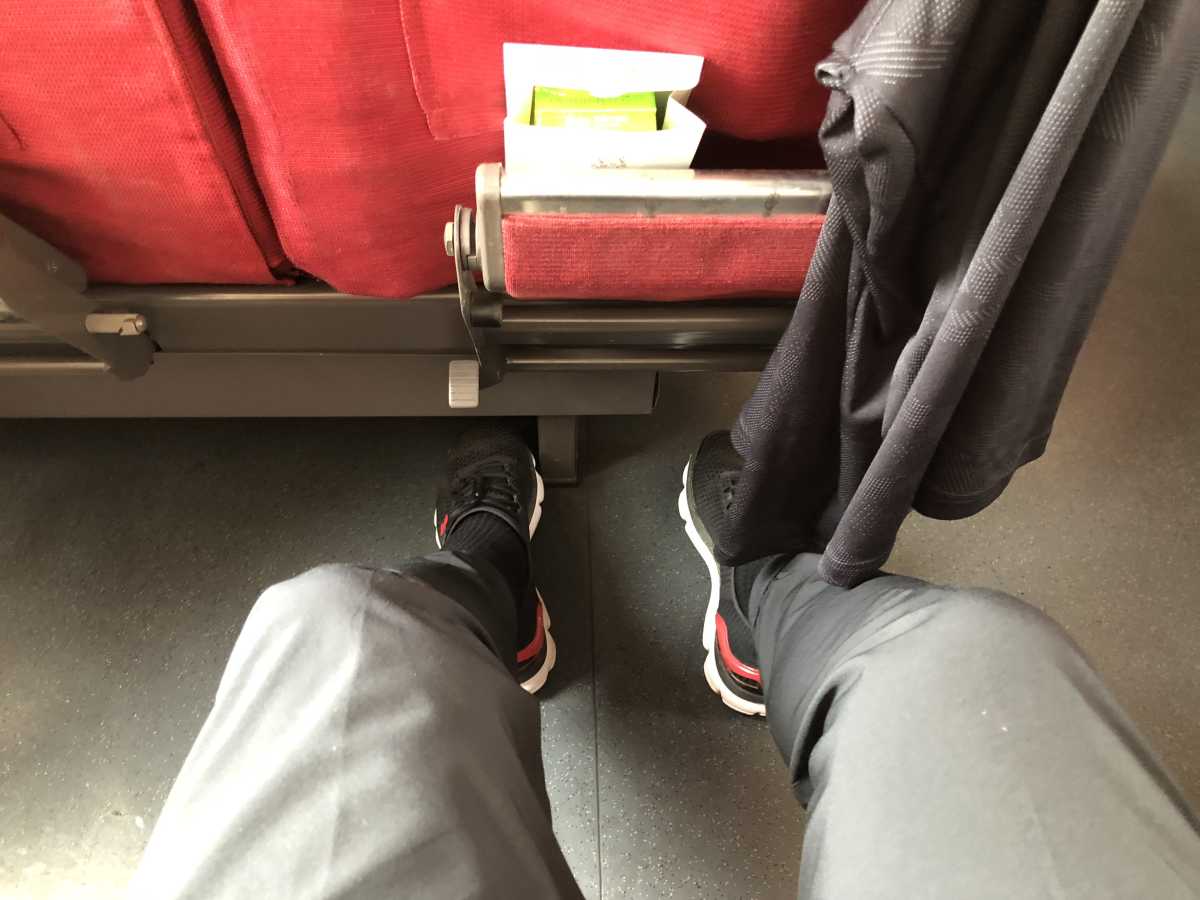 At each end of our carriage were two toilets, as well as a boiling water tap. Staff regularly passed through the carriage with water, snacks and fruit. There is also a restaurant carriage on the train where you can purchase full meals. The 5.5-hour journey flew by!
How to use the bullet train
We were pleasantly surprised at how easy the whole experience was (believe me, sometimes performing the simplest of tasks in China is really, really difficult). It helps that some of the station signs are in English, and it's also useful to allow yourself plenty of time! If you get the chance to travel on the bullet train, it's a worthwhile experience that we'd definitely recommend.