I'm writing this blog because when I Googled the question, "How to get to Wat Arun/Wat Pho/The Grand Palace?", all I was greeted with were confusing, contradictory forum posts. In actual fact, it isn't that difficult to find out how to get to the Bangkok temples. Here, I'll show you how (plus all the other information you need to know, without the waffle).
Disclaimer: The names of the temples are interchangeable between Thai and English. Here are the names of each in both Thai and English:
1. Wat Phra Kaew – Temple of the Emerald Buddha
2. Wat Pho – Temple of the Reclining Buddha
3. Wat Arun – Temple of Dawn
Make your way to Saphan Taksin
First, find your way to Saphan Taksin BTS station. Sitting on the Silom line, this Skytrain station is really easy to get to. We took a train from Nana to Siam (3 stops, heading towards Mo Chit on the Sukhumvit line). At Siam, we changed to the Silom line and took a train heading towards Bang Wa. Saphan Taksin is the fifth stop on the line from Siam. The names of the stations are clearly signposted on the platforms, and the train tannoys announce the upcoming station in English.
Head towards Sathorn Pier
Head to Sathorn Pier (also known as Central Pier). You'll find it directly below Saphan Taksin station. Walk down the steps or escalator, and head towards your left.
Find the right boat!
You're looking for the Chao Phraya Express Boat with either an orange, yellow or blue flag.
Do NOT allow yourself to be accosted by the hoards of salespeople wearing blue polo shirts. We spotted them blocking entry to the Chao Phraya Express ticket desk (circled in red) and guiding first-time visitors towards the Chao Phraya Tourist Boat. This company charges 10x the price (150 baht) for a "hop on, hop off" journey down the river with some English commentary. If that's what you want to do, go for it, but you can get a much more traditional (and cheap!) experience on the Chao Phraya Express.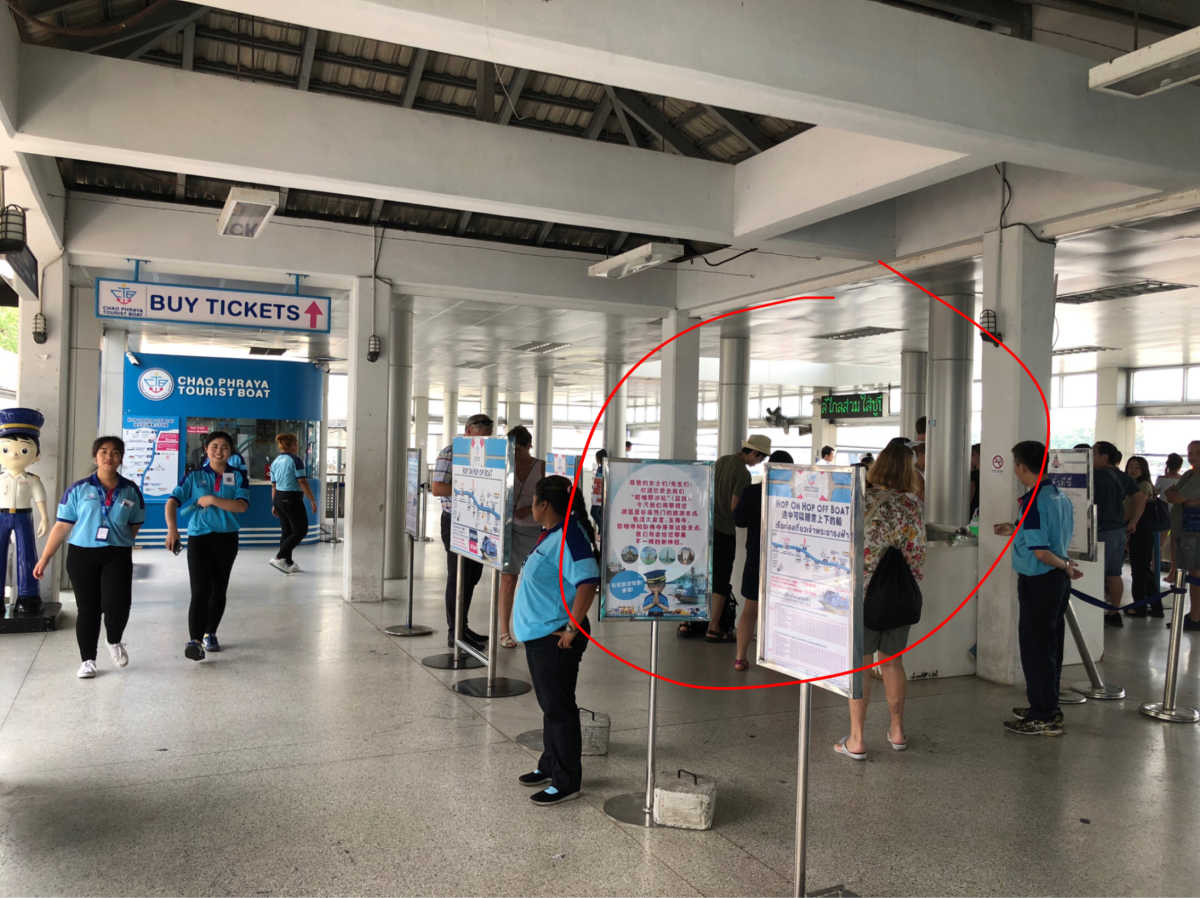 Board the boat
Once you've bought your Chao Phraya Express ticket (for a mere 15 baht), get into the queue. I'd recommend arriving early (pre 9am) as it can get busy. Move towards the front of the queue as much as you can to ensure that you gain access to the next boat (all the locals do it). Bear in mind that if you're one of the last people to board, you may need to stand up.
If you're able to, it's a good idea to find a seat on the right-hand side of the boat (starboard, if you're nautically inclined). This is because most of the piers sit on the right of the river as you travel north, making it easier to spot where you are and more importantly, where you need to get off.
There will usually be somebody on the boat walking around and shaking a tin. If you show them your ticket, they'll tear it so that it can't be re-used.
How to get to the Bangkok temples
Once you're on the boat, it's time to look out for the correct pier. Here are the names and numbers of the piers, and which temples they're nearest to:
Pier 8 (Tha Tien) – Wat Arun
Pier 9 (Tha Chang) – The Grand Palace, Wat Phra Kaew and Wat Pho
On your way up the river, you may stop at all of the piers, or only a couple, depending on which colour flag your boat has. When we first visited the temples, we boarded an orange flag boat which seemed to stop at every pier. Almost all of the piers are on your right-hand side, apart from Tha Tien pier (number 8) for Wat Arun, which is on the left-hand side.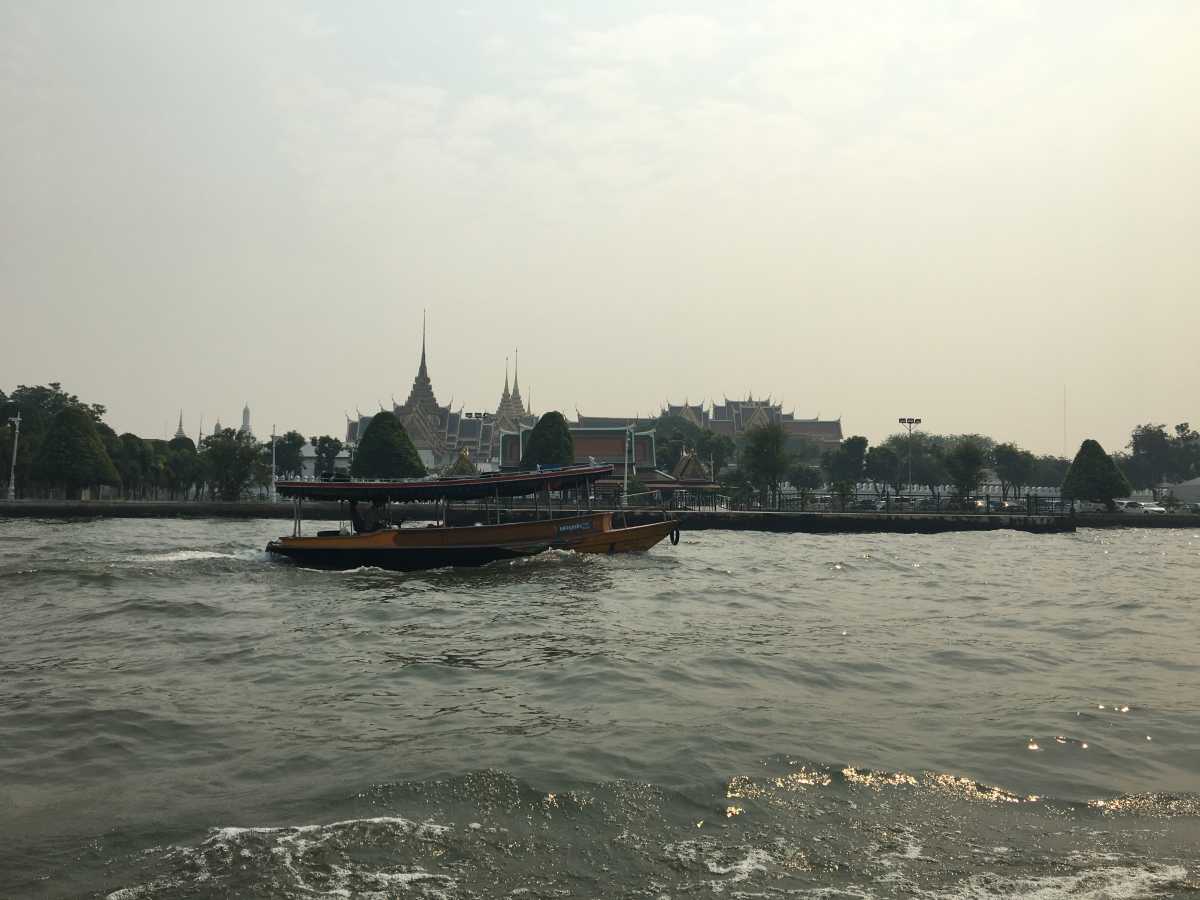 My suggested itinerary
Here's what I suggest you do to maximise your time and see everything in one day. (DON'T do what we did and split the temple trip into two days. It's not necessary). I've also included detailed directions for how to reach each temple or point of interest:
1. Tha Chang, Pier 9
Arrive at Sathorn Pier around 8am and take the boat all the way to Pier 9. Head through the mini market at the pier, and walk straight out to the main road. You'll see a large white wall. You'll also be accosted at all angles by locals offering you fruit, water, tuk-tuks and everything in-between. If anybody tells you that somewhere is closed, ignore them and carry on walking!
2. The Grand Palace & Temple of the Emerald Buddha
Follow the white wall away from the pier. Most other tourists will also be heading this way. The entrance to The Grand Palace and The Temple of the Emerald Buddha is on your right. I've written more information further down in this article about what you need to wear.
The entry fee is 500 baht each(!), and this will get you access to The Grand Palace and The Temple of the Emerald Buddha. Both sit within the same grounds, and are clearly signposted once inside.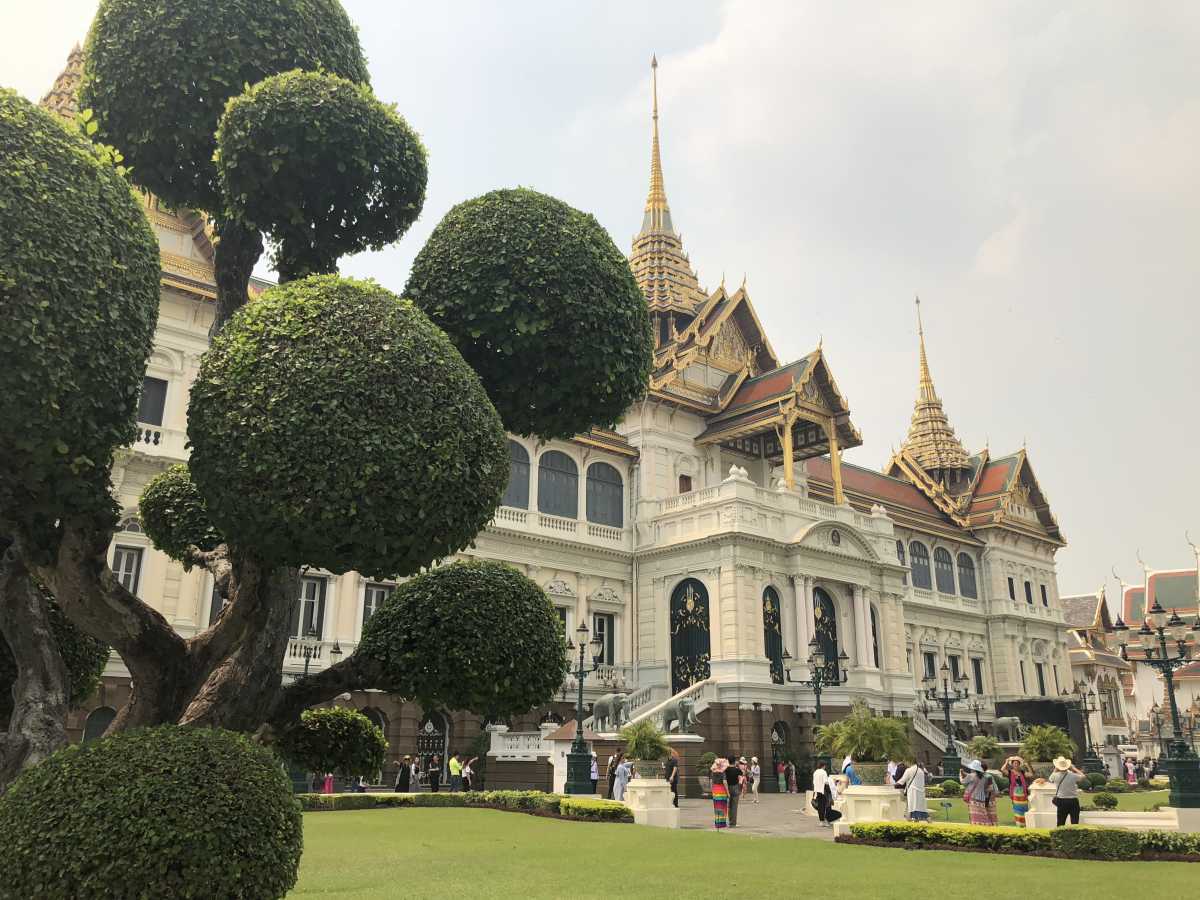 3. Wat Pho
Once you've fought your way through the crowds to see the Temple of the Emerald Buddha and the majestic Grand Palace, it's a good time to make your way to Wat Pho, the Temple of the Reclining Buddha. It's only a short walk away.
When you exit The Grand Palace grounds, head left and walk back towards the waterfront and Pier 9. Follow the white wall around to your left, so that you're walking parallel to the Chao Phraya River. Follow the walkway all the way along until you reach Wat Pho. You can't miss it and again, many tourists are usually heading in the same direction.
Entry to Wat Pho costs 100 baht each, making it a much more affordable option for travellers on a budget. The entry fee also includes a free bottle of water.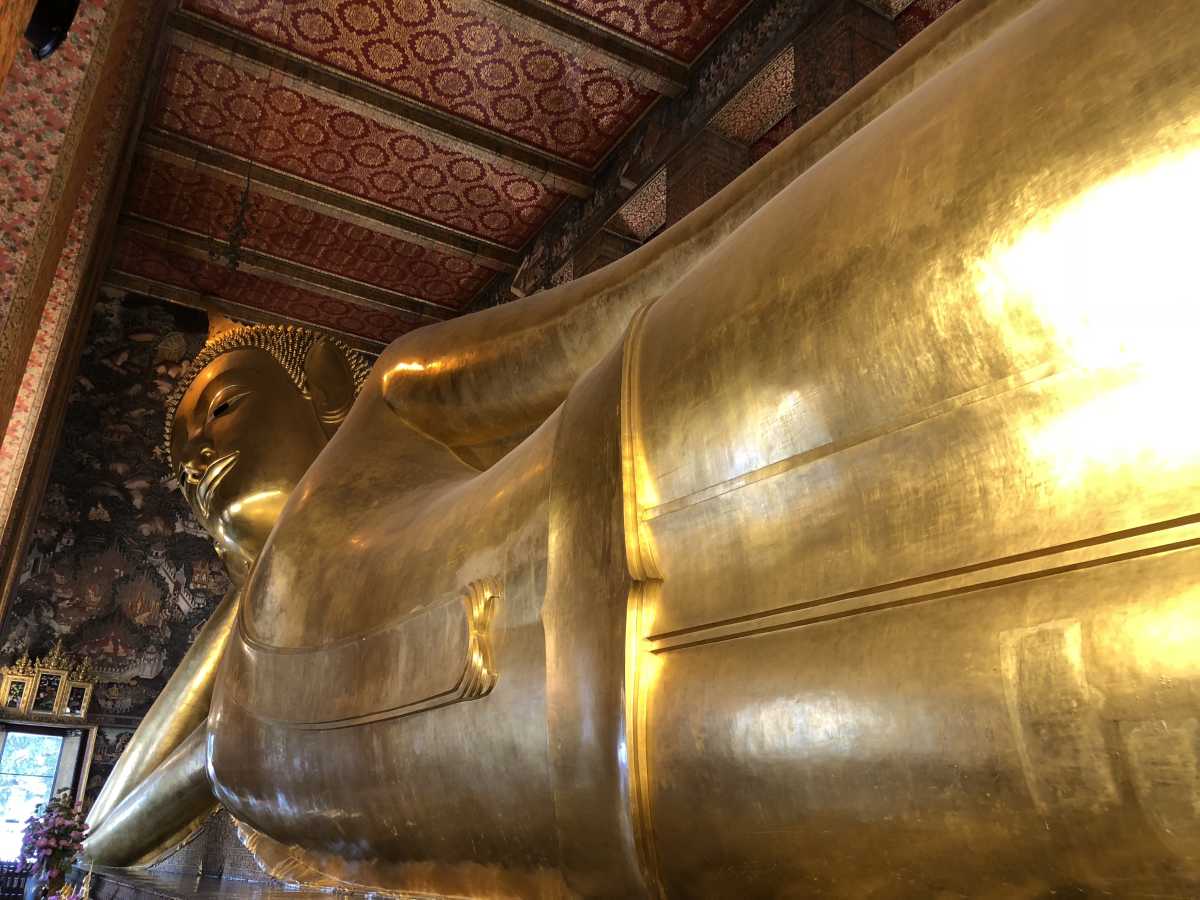 4. Wat Arun
Pretty much by accident, we stumbled across a really easy way to get to Wat Arun from Wat Pho. When you leave Wat Pho, head across the road to the little shops, restaurants and fruit stalls. If you head towards the river from the road, you'll notice that there's another pier, hidden away from the road (we didn't even catch the name of the pier). To cross the river to Wat Arun from here costs only 4 baht and literally takes seconds. You can pay at a little desk before boarding the boat.
When you reach Wat Arun, you'll only have to pay a 50 baht entrance fee each. Unfortunately, when we were there the steps up the temple were closed off, but it was still a worthwhile trip to see the incredibly detailed architecture.
5. Back to Sathorn Pier
Now it's time to head back. This is really easy. Head to 'Pier 1' from Wat Arun, where boats back to Sathorn Pier are clearly signposted. You can buy a ticket before boarding, or just head straight onto the boat and pay once you've found a seat. This time, it's worth trying to find a seat on the left side of the boat side (the Port side). Again, this helps you to spot most of the piers on the way back to Sathorn, so you know where to get off.
Extra info: What to wear
If you plan on finding out how to get to the Bangkok temples, it goes without saying that most of them have strict dress codes for visitors. It's worth noting that if you get caught out, there are plenty of stalls outside the temples selling shawls and 'traveller pants' for around 100 baht. Some of the temples also provide appropriate clothes for hire.
Having said that, it really is easier to just dress appropriately in the first place. If it's very hot (as it often is in Bangkok) do what we did and wear shorts and a lightweight T-shirt, but take a loose pair of trousers in your backpack (ladies, sarongs are ideal for this too). You can throw them on over shorts before you enter.
Here are the expectations for each place:
What to wear at The Grand Palace/Temple of the Emerald Buddha
This was the strictest of everywhere we visited. Security officers manned the entrance and would not allow access to tourists who hadn't adhered to the dress code. Both men and women are required to cover their legs and shoulders. T-shirts are fine, but trousers and skirts must be longer than knee-length. Flip-flops also aren't recommended here.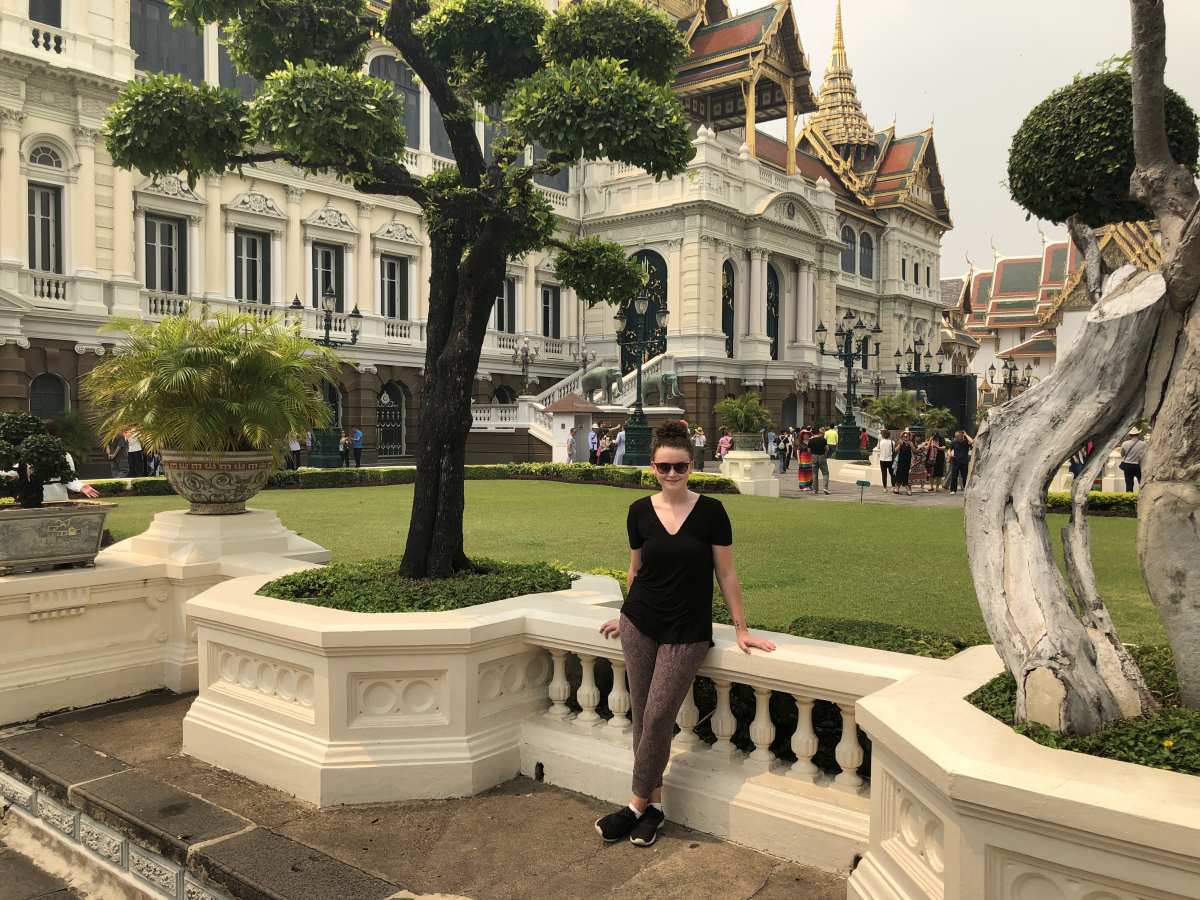 Remember that to enter the Temple of the Emerald Buddha itself, you'll need to remove your shoes and leave them on the racks outside. As previously mentioned, this place is busy, so it's a good idea to put your shoes in your backpack if you have room.
What to wear at Wat Pho
This temple was slightly more relaxed about dress code. I actually spotted women inside with uncovered shoulders, but to enter the temple itself, those dressed inappropriately were given a fluorescent 'coat' to wear. When entering the temple, pick up a pink carrier bag from outside for your shoes. Men are ok wearing shorts, but all the women I saw were wearing skirts or trousers below the knee.
What to wear at Wat Arun
Similarly to Wat Pho, Wat Arun has a slightly more relaxed dress code. When purchasing our tickets, I was asked if I had something to wear to cover my legs. Karl was fine in shorts.
How to get to the Bangkok Temples
I hope you've found this guide useful! It really is easy to find out how to get to the Bangkok temples once you know where to go. I decided that it would be good to put all the info you'll need into one place.
Have fun exploring the stunning Buddhist temples of Bangkok!