Thinking of flying with
Bassaka Air
from Phnom Penh to Siem Reap? When we were looking for easy ways to get between the two cities, we came across Bassaka Air as an affordable and quick option. So, what was it like?
After all, the bus option was a non-starter for us. The combination of Karl's height and my need to stop for a toilet break every hour or so makes getting a bus an uncomfortable prospect. We really wanted to fly, but the price of seats with Cambodia Angkor Air was eyewatering (and their website is unforgivably awful to use).
We noticed Bassaka Air mentioned a couple of times, but we could find no more than a couple of forum posts about them. In the end, we bit the bullet and booked with them anyway. We're glad we did!
(This isn't a sponsored post by the way, we just had a very good experience and wanted to share it with future visitors to Cambodia).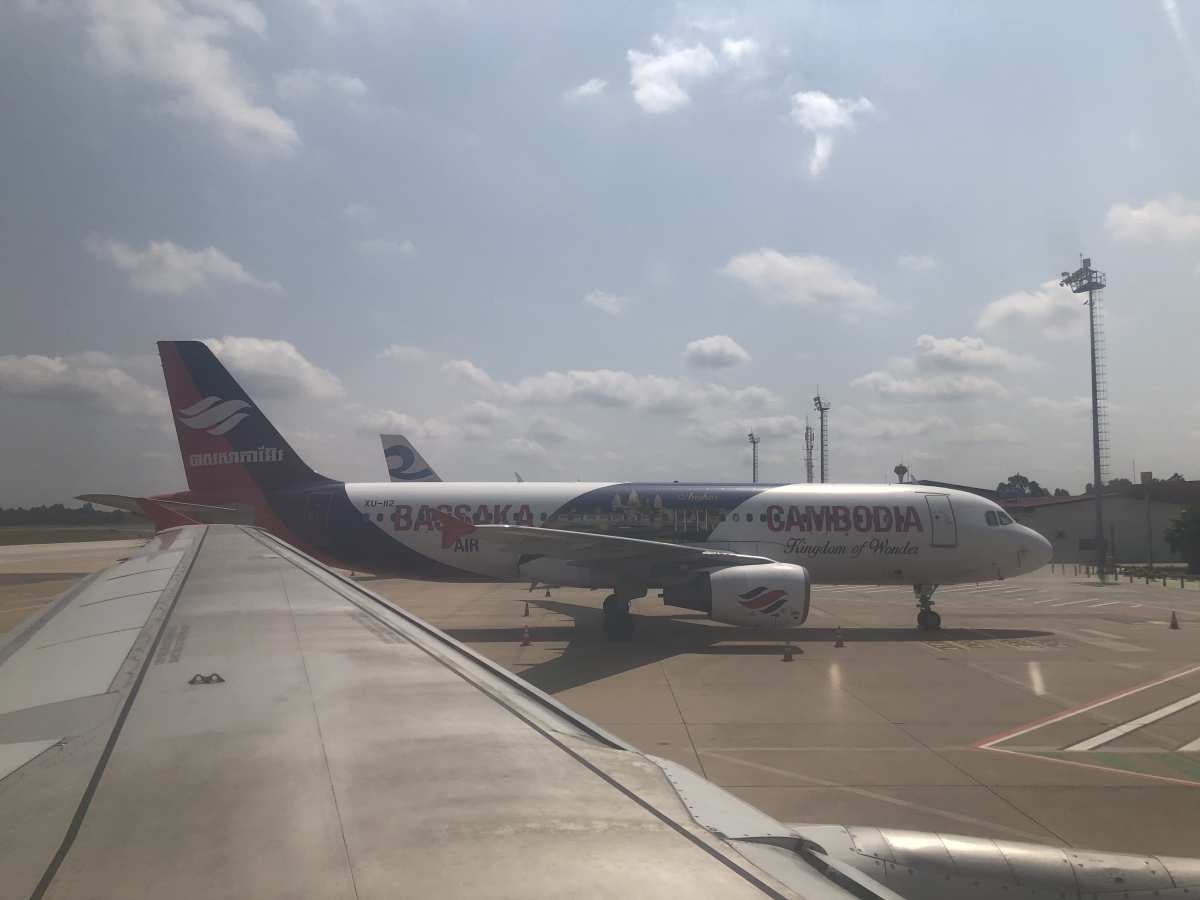 Booking with Bassaka Air
The booking process was surprisingly seamless. The website was easy to use, and what impressed us most was the price! We paid just $106 (around £78) for both of us, with hold luggage included (we've never seen hold luggage included in the price of a budget ticket in SE Asia). We booked about a week in advance, and received an email confirming our itinerary straight away.
Before the flight
The only downside is that Bassaka Air doesn't currently offer online check-in. We expected long queues at the airport, but we needn't have worried!
The only real negative of the whole experience was when I contacted Bassaka Air via Facebook to ask about online check-in. I was advised that it wasn't available, and to arrive at the airport 2 hours before departure. I wish I'd listened to my gut instinct about arriving later. We arrived at 7.15am, and had to wait around for over half an hour before our check-in counter was announced. Oh well. At least it meant that we were first in the queue!
If you're after an extra legroom seat, ask at check-in. Karl asked and we were given exit seats, no hassle, no extra charge. (We spotted someone on the flight try to sit in the exit row in front of ours, and he was swiftly told to go back to his seat. So definitely ask ahead, because chances are you won't be allowed to sit in an exit row, even if there are seats available).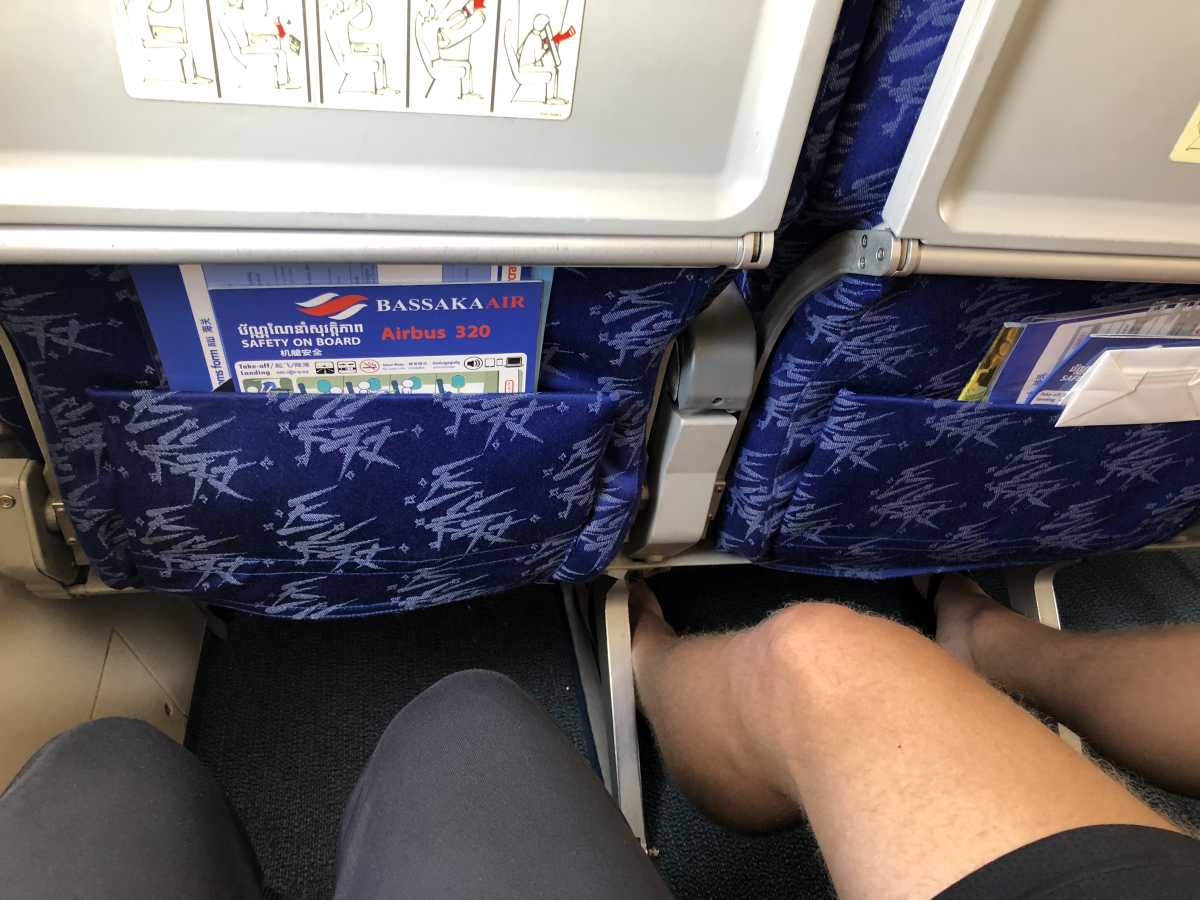 Boarding
Phnom Penh airport is tiny. After check-in, we were through security and at the gate in less than 5 minutes. Around 30 minutes before departure, our gate opened. We boarded by bus, but everything was very quick and again, we were on the plane within 5 minutes.
It's worth noting that in our experience, this is pretty much unheard of in SE Asia. Most budget flights we've taken have been at least 30 minutes to an hour late (usually with no prior warning or announcements, either).
On board
The Airbus 320 was comfortable, and would've been more than adequate for a much longer journey than we were taking! The seats were spacious and well-padded. Even the ordinary seats seemed to have plenty of legroom (take note, Air Asia).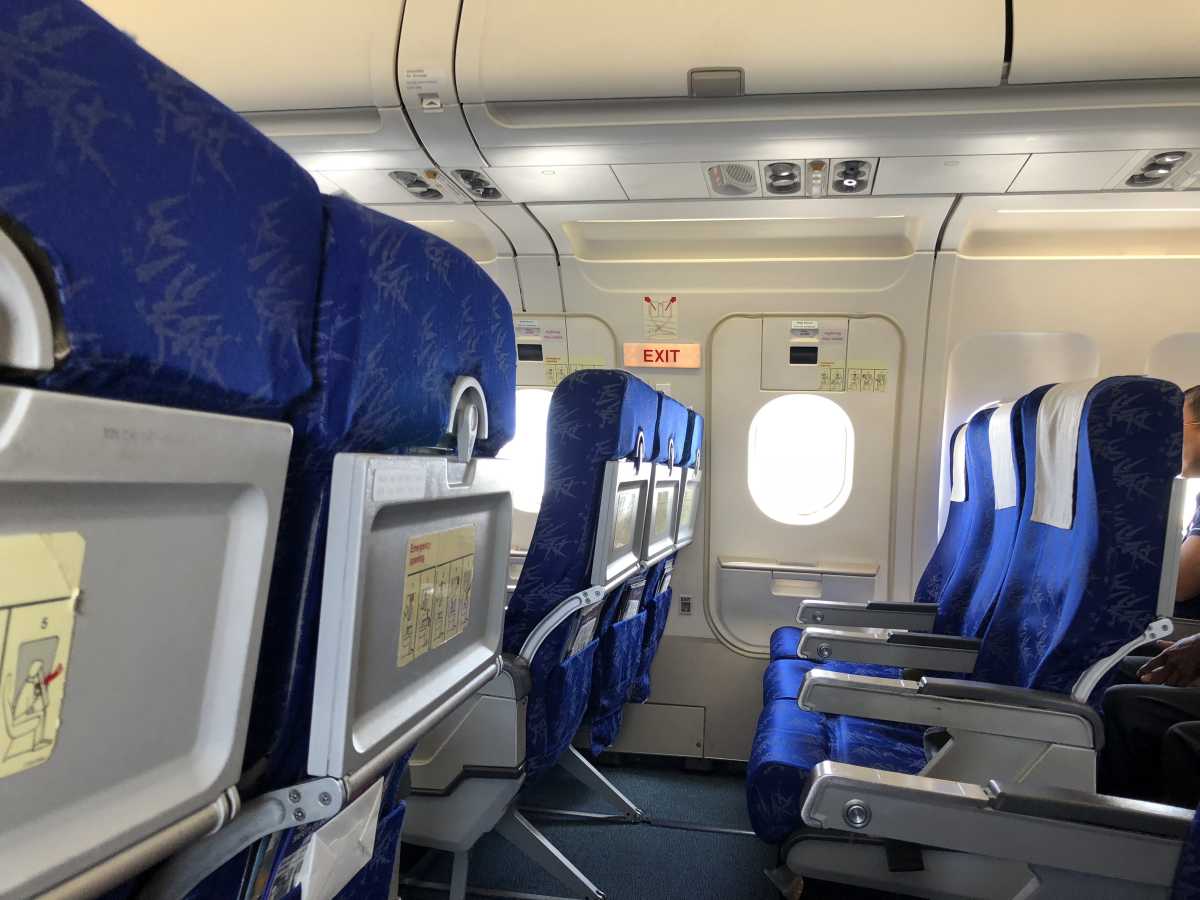 The flight was pretty full, apart from the exit seats which were all empty (except for ours, obviously). Refreshments of water and juice were served as soon as the seatbelt signs were turned off, and we began our descent into Siem Reap within about 20 minutes of being in the air!
And yes, it's luck of the draw, but the landing was one of the smoothest we've experienced in a long time.
Flying Bassaka Air from Phnom Penh to Siem Reap
To help you make a decision, here's an unbiased list of the pros and cons of flying from Phnom Penh to Siem Reap (and vice versa):
Pros
It's faster than road travel
It's probably more comfortable than a bus
If few toilet stops make you nervous, flying is a good choice!
It's a similar price to taking a private taxi
Cons
It's more expensive than a bus
Tiny chance of luggage being lost
Small chance of delays
Miss out on seeing the Cambodian countryside
If you value your time and comfort (like we do), flying is definitely the way to go. If you travel by bus, the journey will take around 6 hours, and only slightly less if you take a private car (which costs almost as much as a flight). In comparison, you could make the journey from Phnom Penh to Siem Reap by air, door-to-door in 3-4 hours.
We would definitely use Bassaka Air again, and we can highly recommend them to anybody looking for a comfortable way to travel between Phnom Penh to Siem Reap. All airline experiences are completely subjective, and usually based on luck! However, flying with Bassaka Air was undoubtedly one of the quickest and most efficient airline experiences we've had in SE Asia so far.