Thinking of driving the Great Ocean Road in two days? If you're planning to tick this Australian road trip off your bucket list, this scenic coastal route certainly lives up to its name.
How to plan your trip
This was our first ever "road trip". We'd never planned one before, but the Great Ocean Road is a perfect one to start with because there's so much information about it online. We mostly just read other blogs about it and planned our trip around what others recommended. (And now we're writing our own blog to help other travellers)!
Firstly, familiarise yourself with the Great Ocean Road route. It runs all the way from Torquay (15 minutes away from Geelong) west towards Allansford near Warrnambool. We didn't drive the whole route, we probably drove about 3/4 of it. And don't worry, it is mostly easy to follow.
Navigating the Great Ocean Road
If you're directionally challenged (like us!) we'd also highly recommend downloading the Sygic Offline GPS Navigation app. Although we had access to data, many parts of the Great Ocean Road have poor signal. Sygic even recognises most of the road's main points of interest, which makes it much easier to find your way to the lesser-known lookouts.
Our itinerary
We decided on driving the Great Ocean Road in two days, travelling from Torquay to Port Campbell before driving back using the inland route. It worked well for us but ideally, it would've been nice to have an extra day on top. If you have the time to spare, definitely dedicate three days to this famous route!
Melbourne to Geelong
Our trip started in Melbourne. We took a VLine train out to Geelong to pick up my dad's car, which took about an hour. We were lucky to be able to borrow a car, but there are plenty of places to hire one for an affordable price, particularly if you can bring it back to the same rental depot.
Torquay to Lorne
We set off from Geelong around 9.15am. The drive from Geelong to Torquay was down a long, straight highway and took around 20 minutes. We drove through Torquay and found our way onto the Great Ocean Road, where we passed Anglesea, Aireys Inlet and the Memorial Arch on the way to Lorne.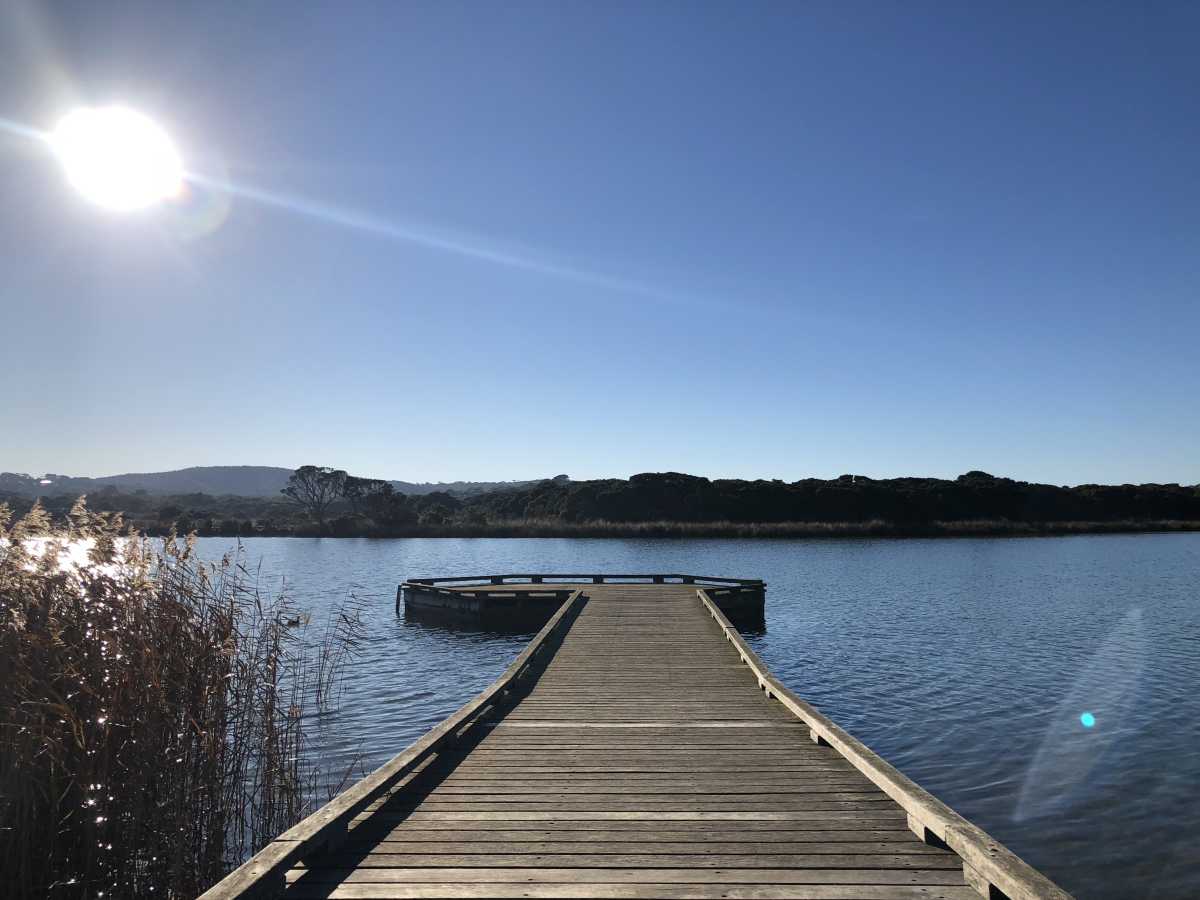 If you have time, stop off at each of these three areas on the way. Anglesea is a lovely riverside town, Aireys Inlet has a beautiful beach and lighthouse, and the Memorial Arch is the place to take a Great Ocean Road photo!
Without stopping, the drive from Torquay to Lorne takes just under an hour. Allow at least 2 hours to get between the two towns, if you want plenty of time to stop and take in the stunning scenery along the way.
Lorne is the perfect place to stop for lunch, especially if you arrive around 11.30-12pm like we did. There's plenty of parking, lots of boutiques and a huge choice of ice creameries, bakeries and fish and chip shops. We'd definitely recommend refuelling here before carrying on with your road trip. Pop into Grandma Shield's Bakery for one of their award-winning steak pies!
Before you leave Lorne, don't forget to stop at Teddy's Lookout. It was one of our favourite lookouts on the Great Ocean Road. The view is breathtaking and it's only a couple of minutes' drive away from Lorne centre. We left Lorne and Teddy's Lookout around 1pm.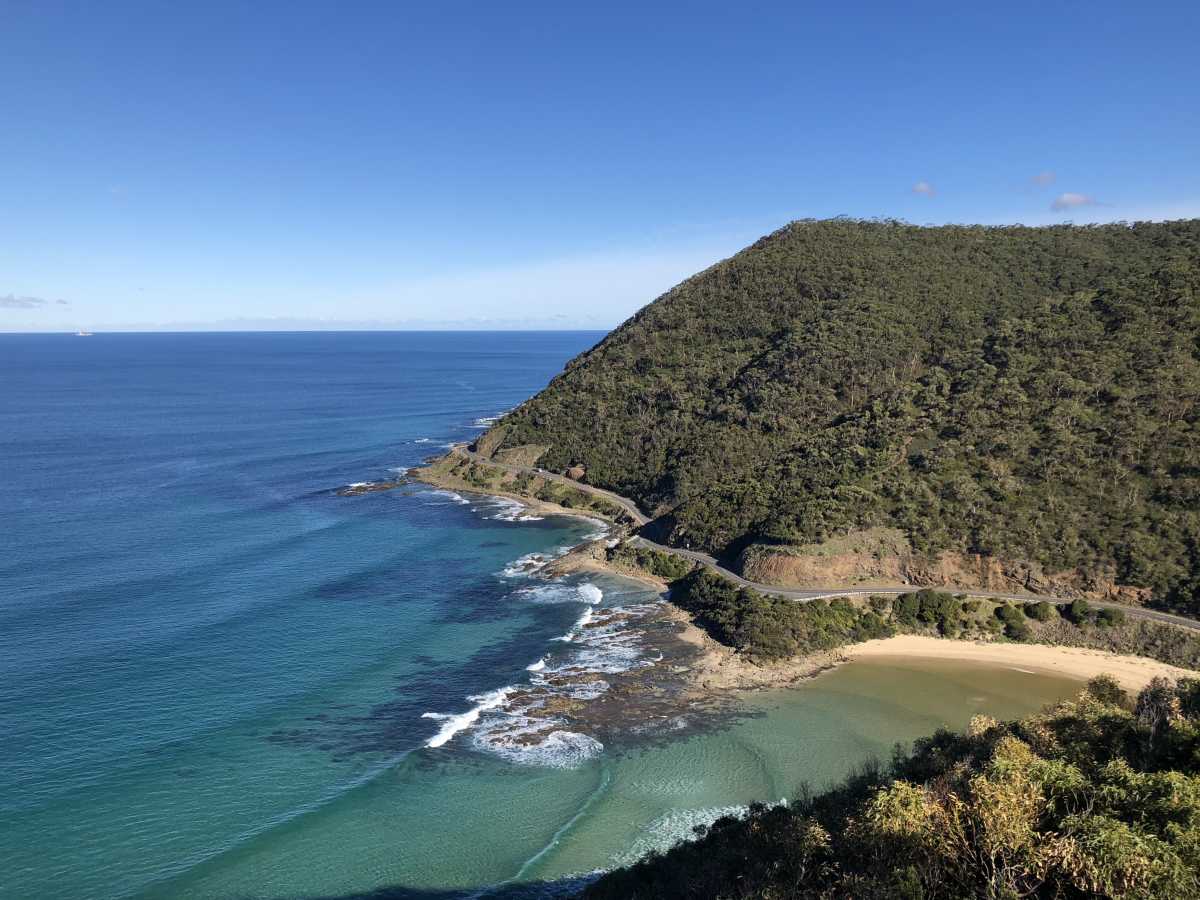 Lorne to Apollo Bay
As soon as you leave Lorne, you'll notice that the road becomes much more winding. It's a brilliant road to drive on, with plenty of lay-bys where you can stop and admire the coastal views.
The main stop-off point between Lorne and Apollo Bay is Kennett River. The drive between the two towns takes just over 30 minutes (without stopping). This small seaside town is famous for koala spotting, and if you're lucky you might get to see a couple! Pull in to Hawdon Avenue, where you'll be able to park near Kafe Koala. From there, walk up Grey River Road. You'll probably see lots of gorgeous, colourful birds. Keep your eye out in the trees, which is where the koalas like to nap.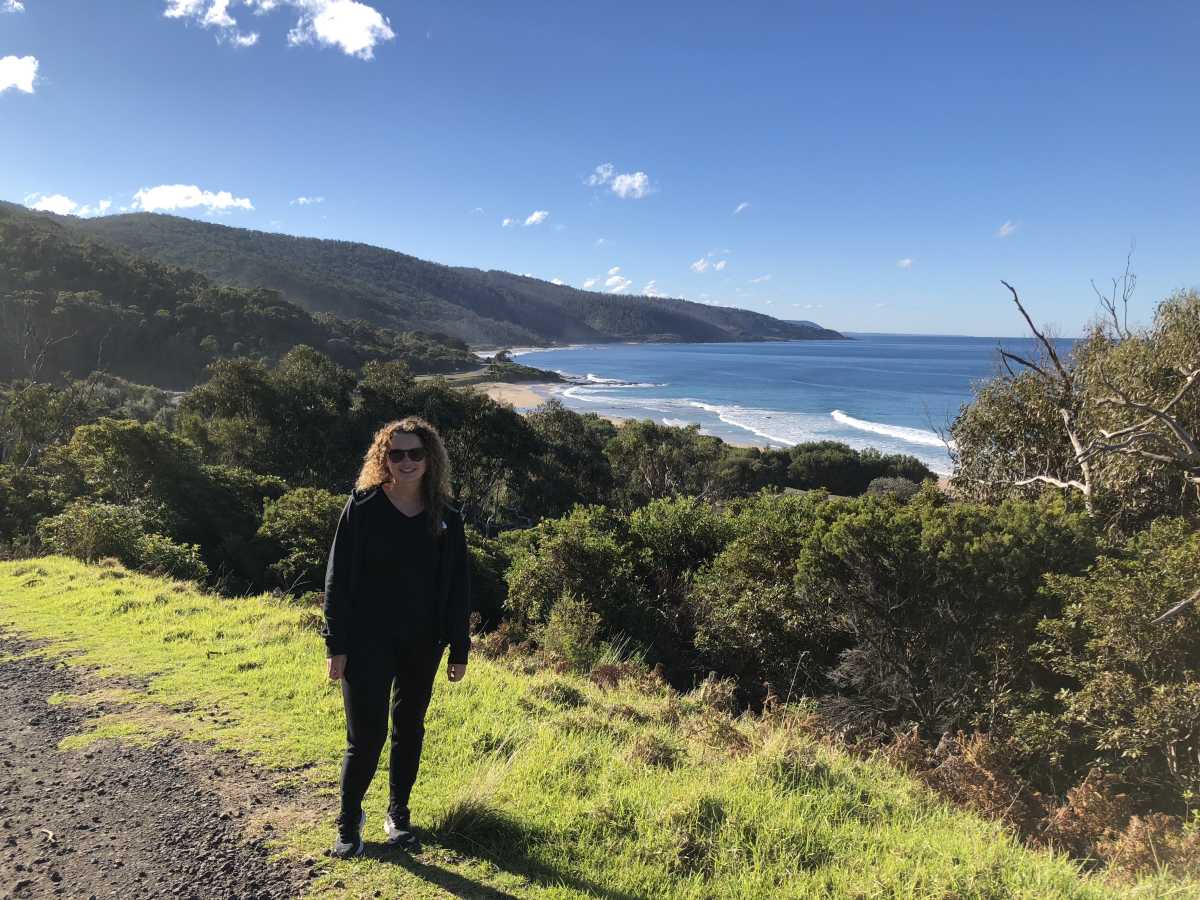 Unfortunately, we didn't spot any koalas on the main road, but if you walk to the top you'll get a fabulous view of the coastline and the Great Ocean Road. We ended up wandering down a little track where there were no other tourists, and there we saw a koala napping in a tree. It's so cool seeing these animals in the wild, so we'd highly recommend adding Kennett River into your itinerary.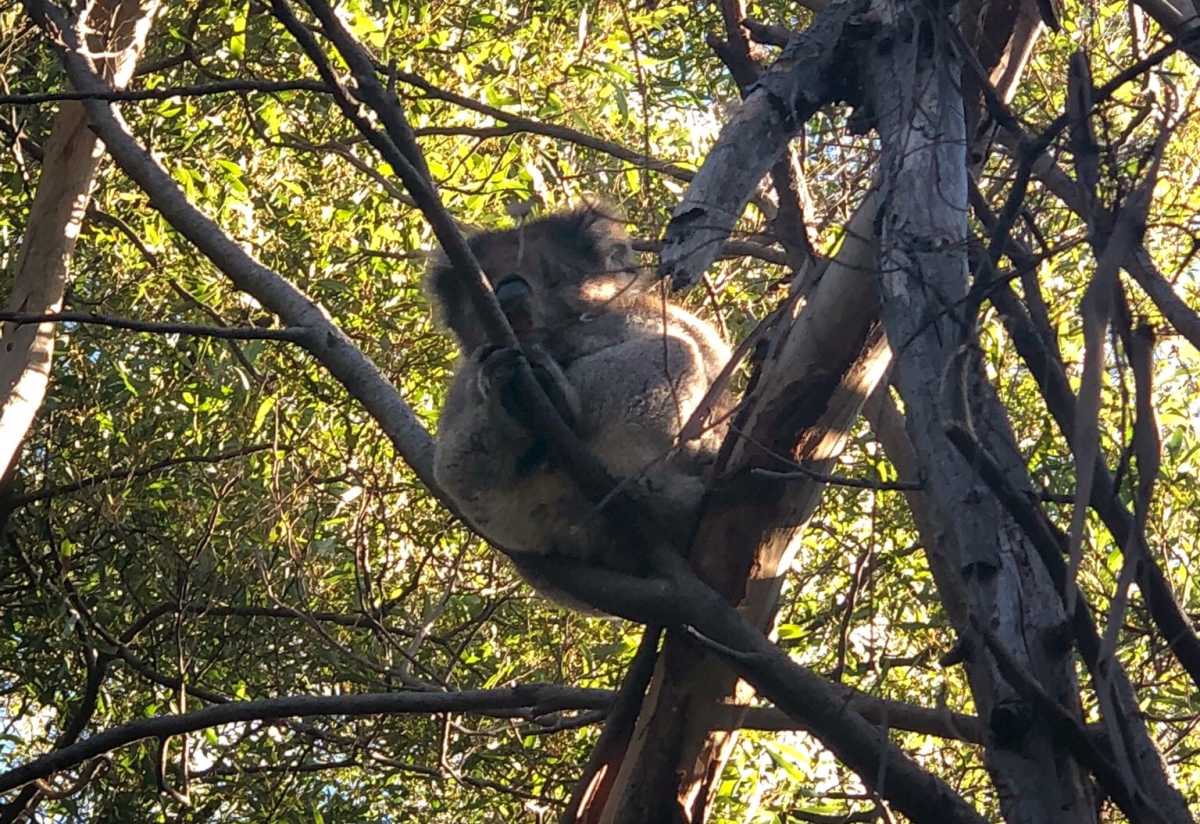 Staying the night in Apollo Bay
From Kennett River, we drove to Apollo Bay, where we had booked into a motel for the night. The drive from Kennett River to Apollo Bay took around half an hour, and we didn't really stop anywhere else in-between.
In Apollo Bay, we arrived at the Beachcomber Motel around 3.30pm. We had booked their standard queen motel room, which was perfect for a short stay. We even had heated blankets, which was a bonus on a very cold night.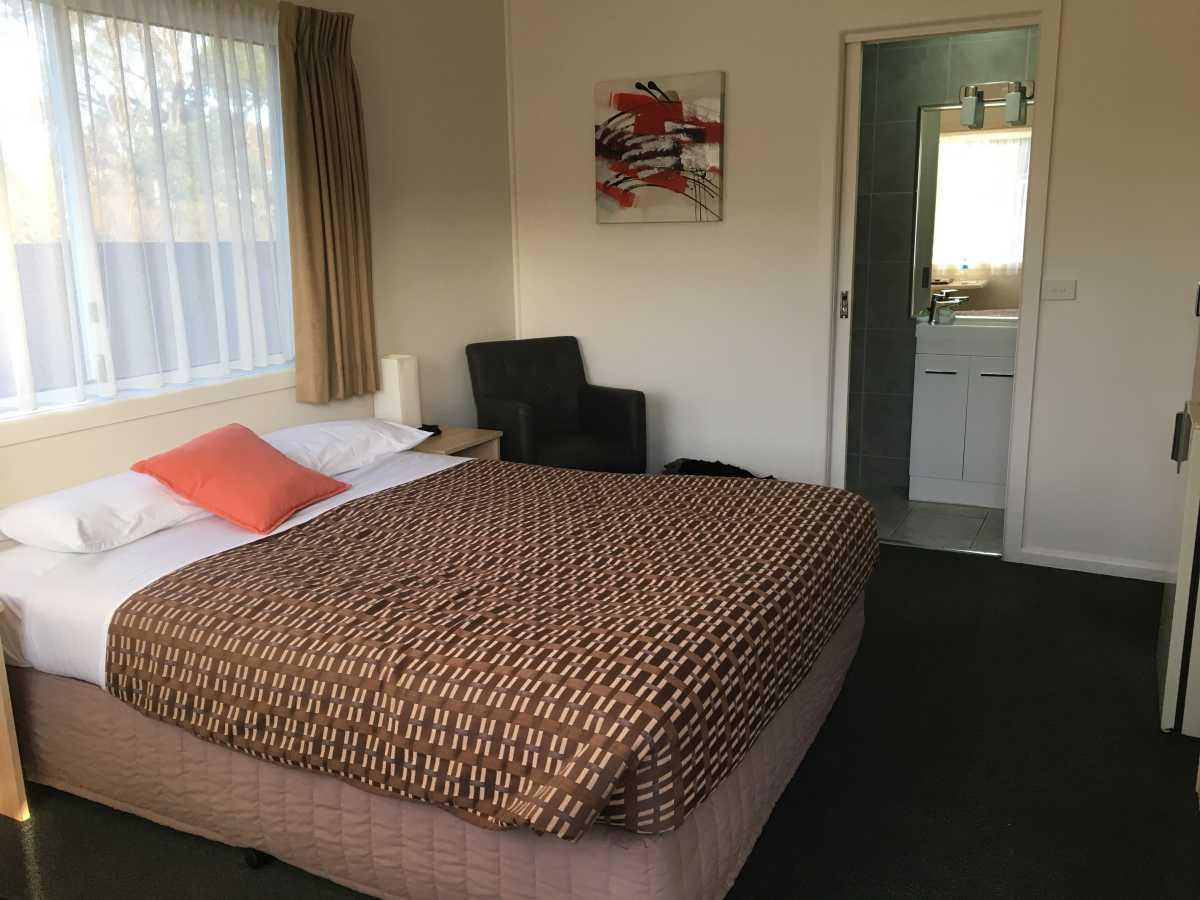 To be honest, we weren't actually that impressed with Apollo Bay. We thought Lorne had much more to offer. However, if you do get chance, try to walk up to the Marriner's Lookout at some point.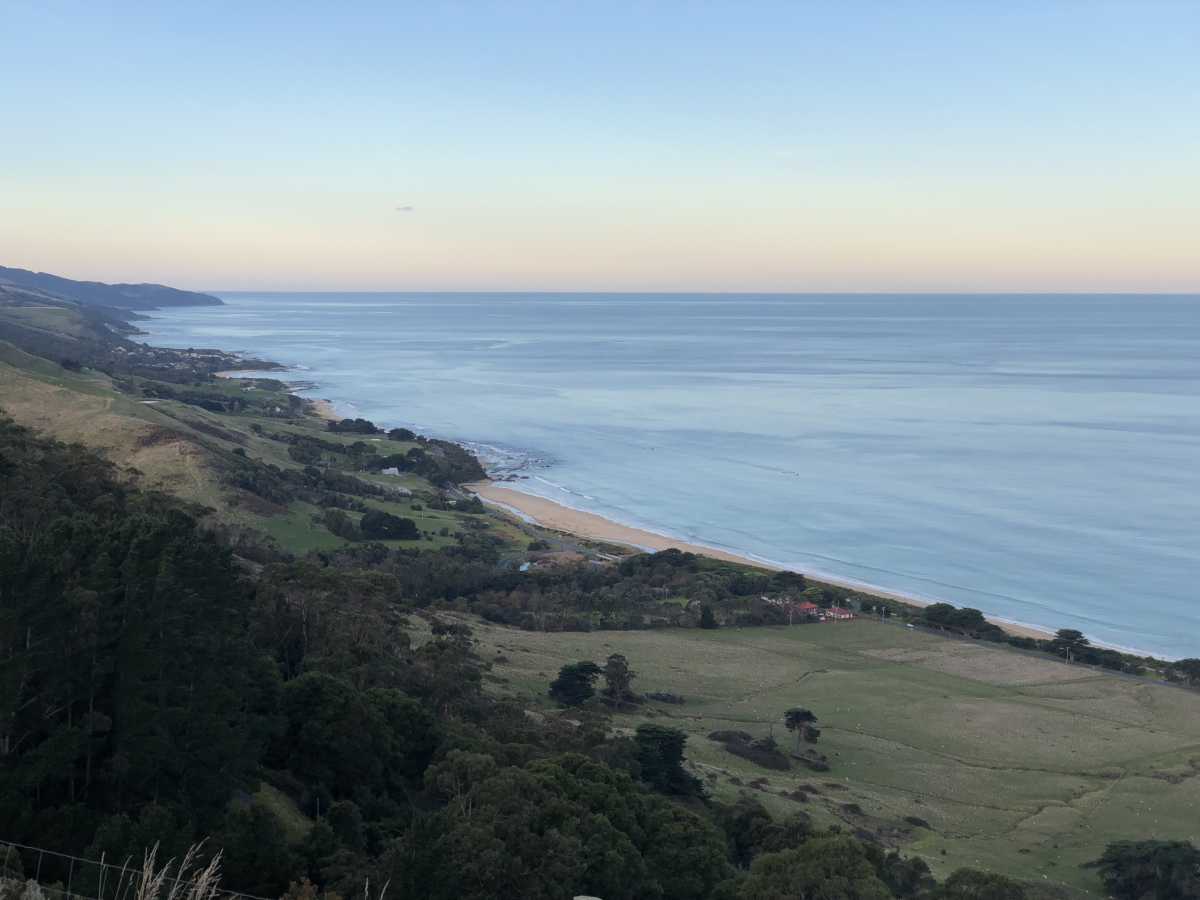 Apollo Bay to Port Campbell
This is the part of the drive where you'll see some of the Great Ocean Road's most famous sights. But first, you'll need to drive along the very winding roads all the way from Apollo Bay to Port Campbell, which will take around 1.5 hours.
We set off from Apollo Bay early at 7.30am, just in time to catch a fiery sunrise as we left the town. A lot of the scenery along this part of the Great Ocean Road reminded us of the Lake District. Most of the drive is along winding, 80-100km/h roads lined by huge trees. The windy weather conditions the night before meant that for us, the road was littered with huge tree branches.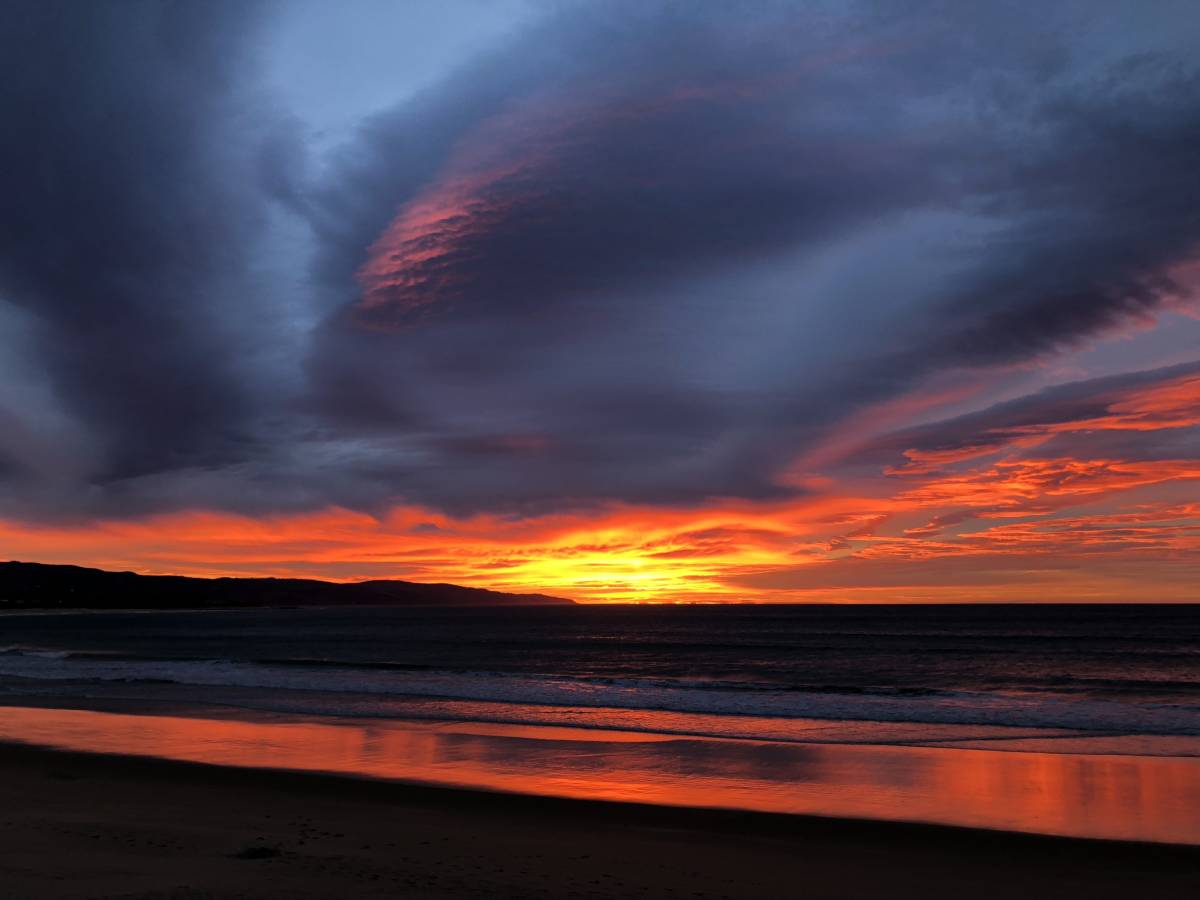 It was also incredibly quiet. During the whole 1.5-hour journey, I think we only saw about 10 other vehicles.
Gibson Steps, 12 Apostles, Razorback and Loch Ard Gorge
If you want, you can stop off at Cape Otway en route. We didn't, and continued on to the Gibson Steps, 12 Apostles, Razorback and Loch Ard Gorge. We really wanted to see these popular sights before the tourist coaches descended… and we succeeded!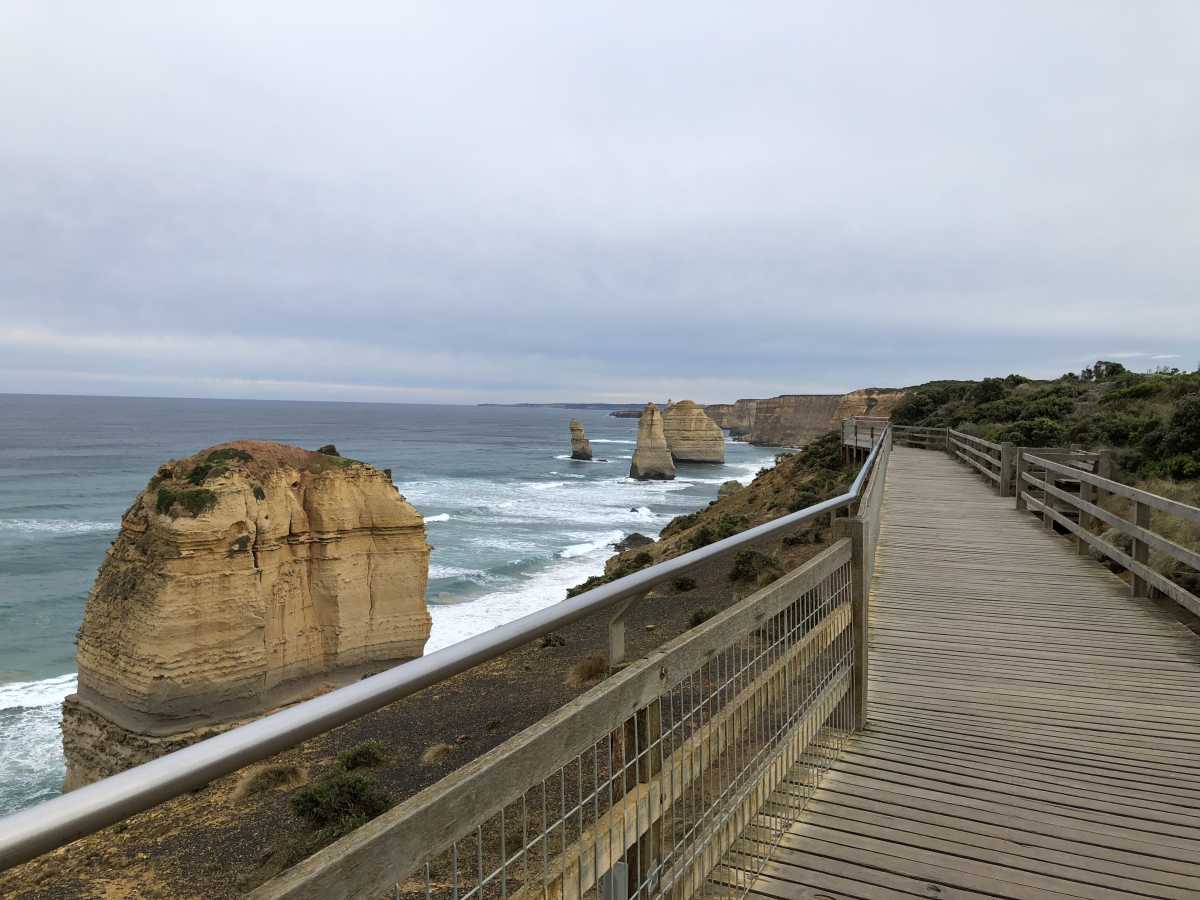 Even though there are no longer "12" Apostles, this was one of the most impressive sights. We also loved Loch Ard Gorge, named after the ship Loch Ard which ran aground in 1878.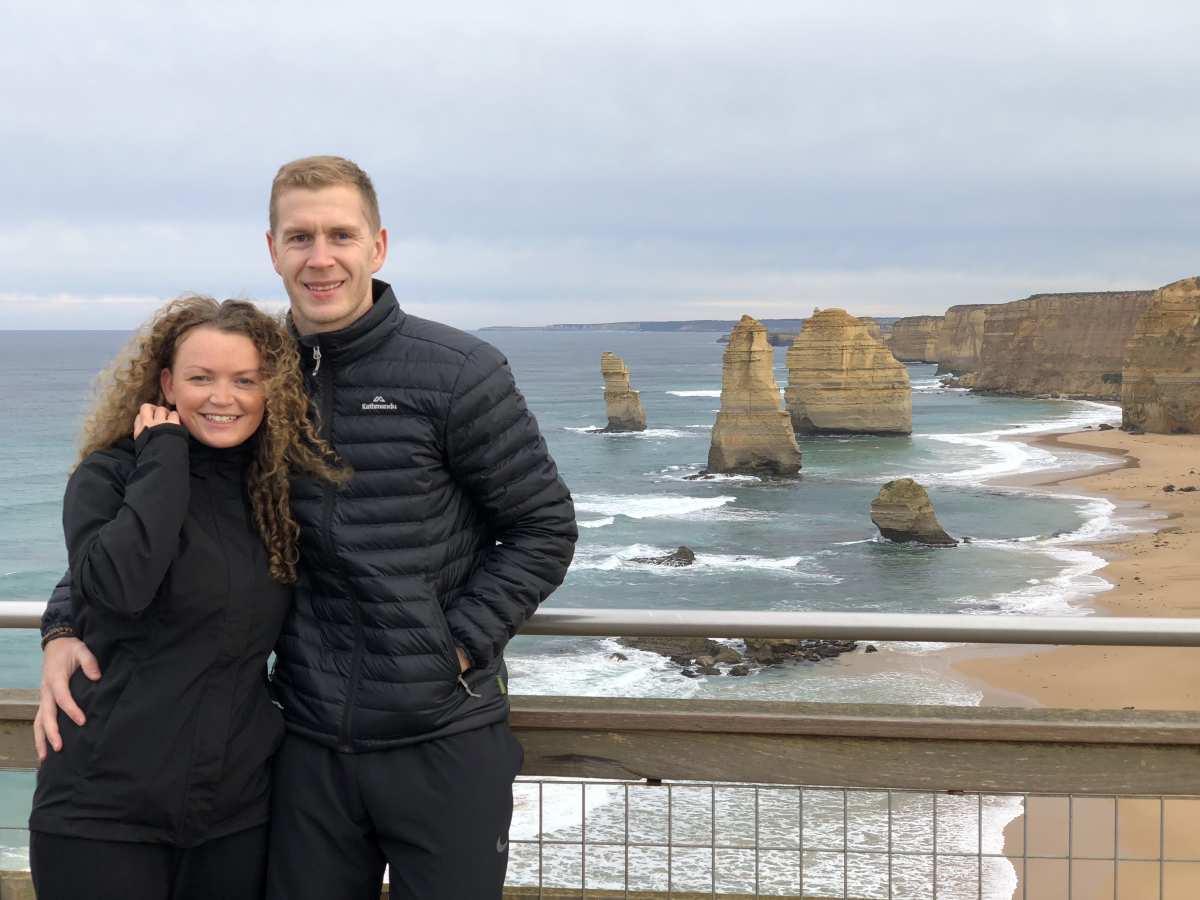 Before visiting, we had read plenty of blog posts about how busy this area of the Great Ocean Road gets. We arrived just before 9am, and had most of the sights to ourselves. It goes without saying, visit as early as possible to avoid the crowds and selfie-stick wavers!
Port Campbell to Geelong
As we had just two days to complete our trip, we had a quick brunch in Port Campbell before heading further west to see The Arch. We'd hoped to spot some whales after hearing about a few recent sightings near to The Arch, but unfortunately we didn't see any. From there, we then made the 2-hour inland trip back to Geelong. This is a great way to shave off some time if you don't have long to explore the Great Ocean Road.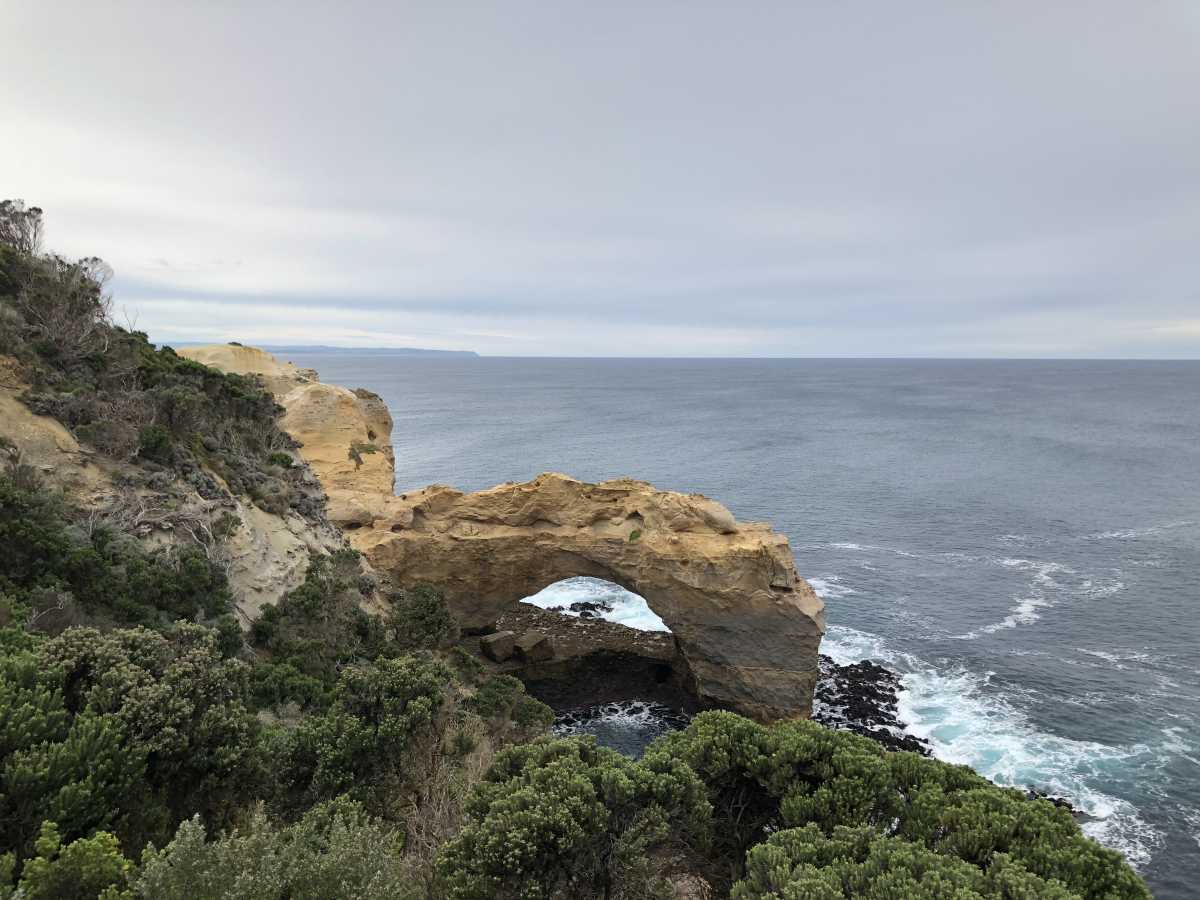 The inland journey has some pretty beautiful scenery of its own, and we also found it incredibly quiet. In fact, we drove for about 45 minutes before encountering another car on our side of the road (which is pretty much unheard of in the UK)!
Our itinerary TL;DR
On our first day, we visited Geelong, Torquay, Anglesea, Aireys Inlet, the Memorial Arch, Lorne, Kennett River and ended our journey in Apollo Bay.
On the second day, we drove from Apollo Bay to Gibson Steps, 12 Apostles, Razorback, Loch Ard Gorge, Port Campbell and The Arch, before heading back inland to Geelong.
Driving the Great Ocean Road in two days
The Great Ocean Road is one of the biggest highlights of our travels so far. We absolutely loved it. Whether you're in Victoria during the summer or winter months, this incredible coastal journey is a must-do in our opinion.