Angkor Wat is a regular feature on bucket lists around the world. The complex itself is much bigger than we expected, with so much to see. So how can you make the most of Angkor Wat in three days?
Sitting on 162 hectares, just one day at this expansive temple complex isn't enough. It's HOT too, so don't rush your visit. By 10am (if not earlier), you'll be ready to retire to your room with some cold water and a fan for company.
Temple pass options
In 2017, the prices for tickets increased considerably. Here are the prices (in USD), as of May 2018:
One day: $37
Three days: $62
Seven days: $72
We'd definitely recommend the three-day option if your budget can stretch to it. The difference in price between the one and three-day passes means that even if you only use it twice, the three-day option is still worth it. It's also worth noting that if you buy a three-day ticket, it will be valid for longer than just three days. We bought ours on 18th May, and they were valid until 27th May.
You can buy your tickets from the ticket office. Your hotel can point you in the right direction, and ALL tuk-tuk drivers will know where it is. You can pay by cash in USD, or by Mastercard or Visa. We purchased our tickets on the morning of our first visit, around 4.45am. It took about 15 minutes. If you don't want to wake up a second earlier than you need to, we'd suggest buying your tickets the day before your visit. The ticket office will probably be a bit quieter then, too!
The official opening hours for the ticket office are 5am-5.30pm. However, we arrived before 5am to large crowds already being served. It seems like the ticket office actually opens around 4.30-4.45am.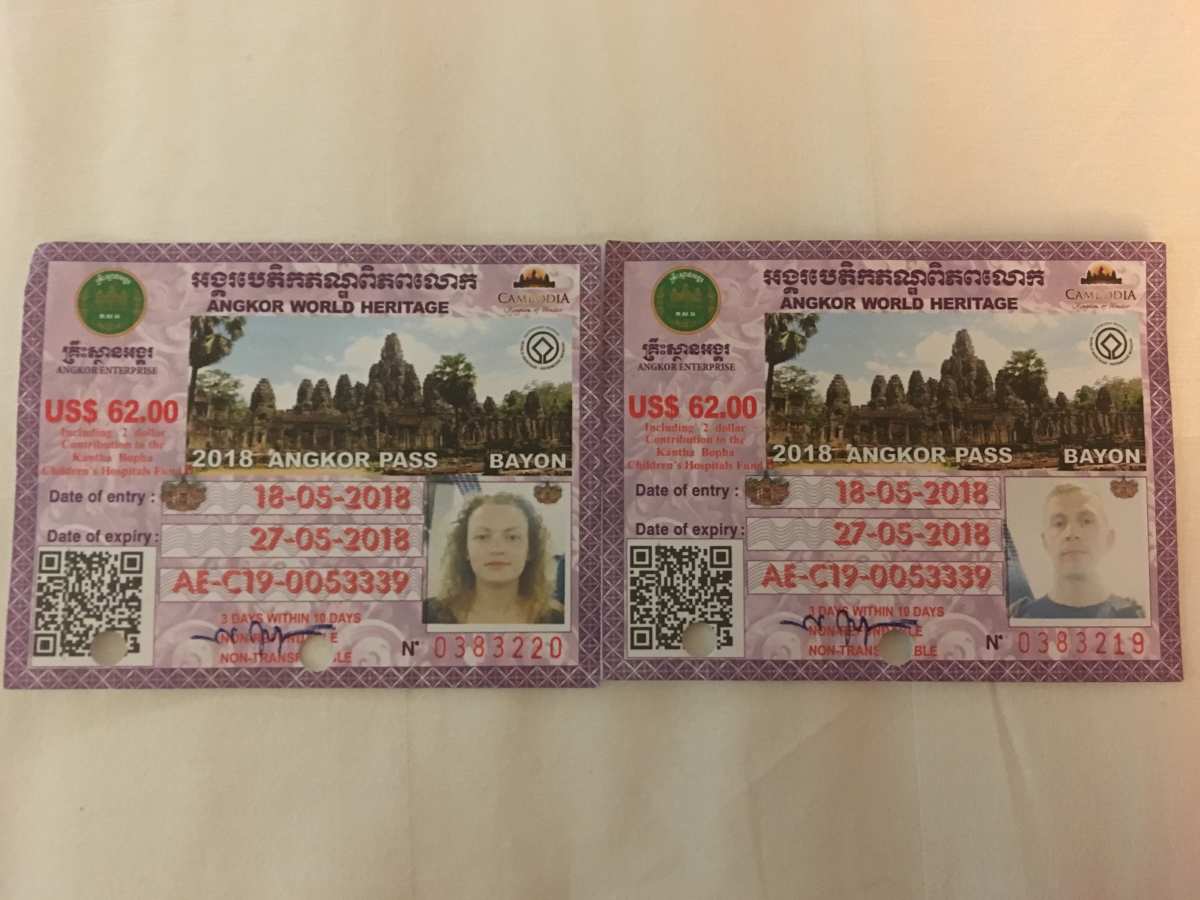 Angkor Wat
Built in the 12th century, the magnificent presence of this temple is pretty breathtaking. And in case you were wondering, yes, seeing Angkor Wat at sunrise is worth it. We'd heard mixed opinions, but we enjoyed the experience. It's simply one of those "once in a lifetime" must-dos.
Check with your hotel what time sunrise is (or just Google it), and plan to arrive about an hour before. Yep, it's an early start. Your hotel can help you to hire a tuk-tuk driver for the day, or you can find one yourself by simply asking the many tuk-tuk drivers in Siem Reap. Arrange with them to pick you up around 4.30am, and you're good to go.
When you arrive, it takes 10-15 minutes to walk from the drop-off point to Angkor Wat itself. The walk takes you over a jetty and onto the grounds. Everybody ends up in pretty much the same place. The *best* view of the sunrise is on the walkway directly in front of the temple. Naturally, this is also where it's most crowded!
After entering the grounds, we headed towards the right of the temple, where there was only a very small crowd. We managed to get some great pictures, while avoiding the scattered crowds that were gathering directly in front of Angkor Wat.
We were allowed to enter the temple just before 6am. It was surprisingly quiet and peaceful (probably because most people stayed outside to take more sunrise pictures).
Ta Prohm
We left Angkor Wat around 7am, and asked our tuk-tuk driver to take us to the Bayon Temple. He suggested we visit Ta Prohm instead, because it opened at 7.30am. This turned out to be a great idea. We hardly saw anybody else during our time there.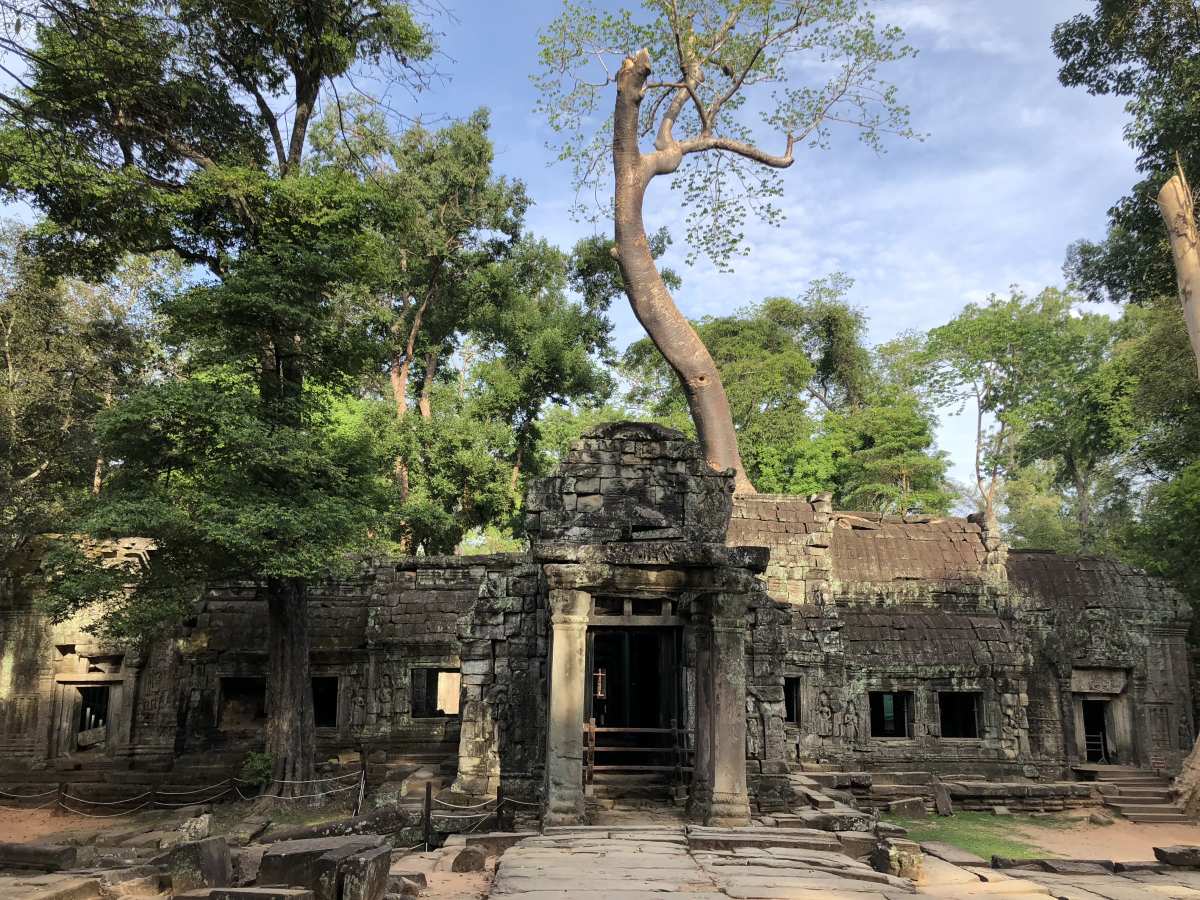 Built in the 12th and 13th centuries, Ta Prohm is famous for being used as a filming location for Tomb Raider. Crumbling ruins intertwine with the powerful roots of enormous trees, creating an eerie place to explore. We loved this temple. Definitely add it to your itinerary, and try to arrive at 7.30am!
Bayon
Surrounded by dense trees, this imposing temple looks incredible, even from the outside. Sometimes known as the "Face Temple", it features serene, smiling visages at almost every angle.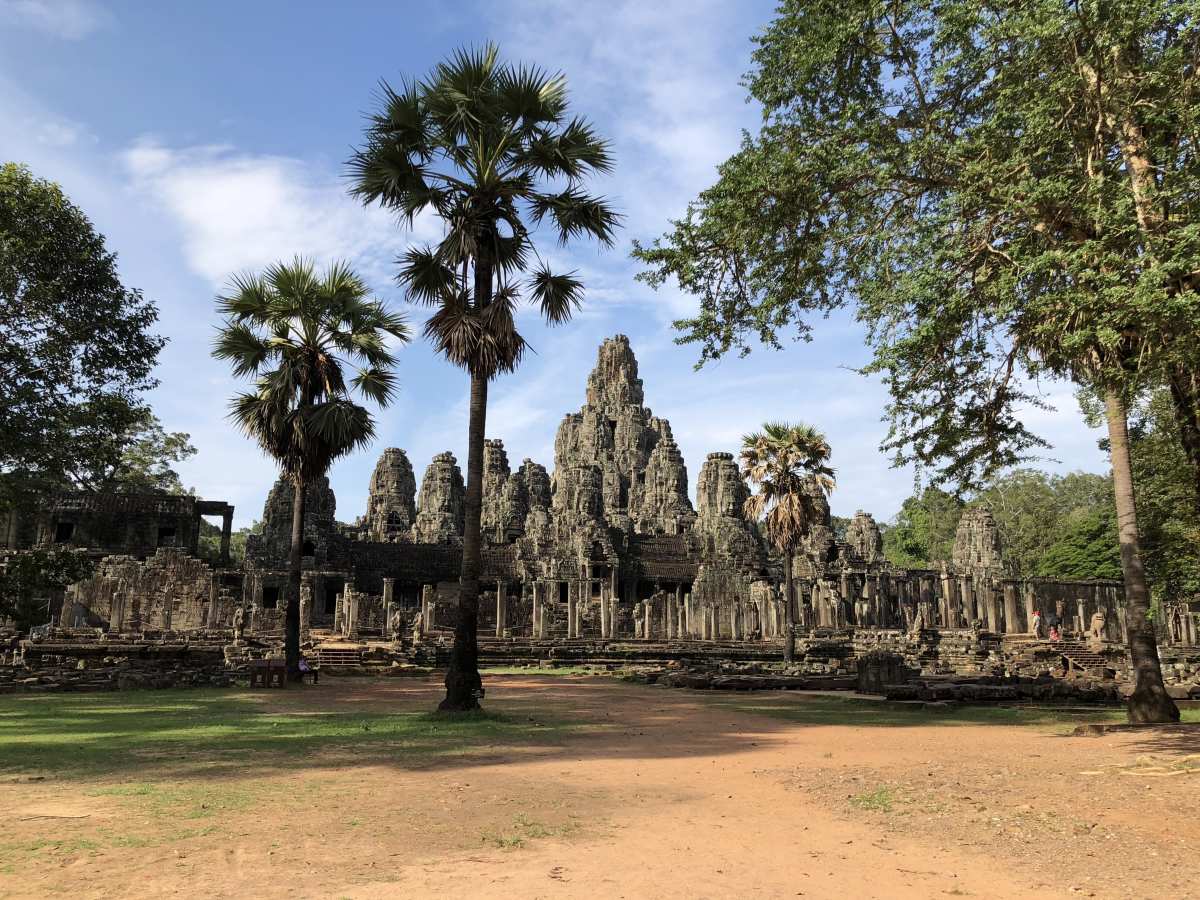 We visited just after 8am. It was busier than Ta Prohm, but the size of the Bayon Temple meant that it didn't feel crowded at all. We explored the grounds before making our way inside (to the shade)! Inside the walls of Angkor Thom, this is another must-visit in the temple complex.
Baphuon
Located in Angkor Thom, Baphuon only reopened in 2011 after an extensive period of restoration. The approach to this stunning temple leads you down a long, raised pathway. Get there early for some great photo opportunities, and to enjoy complete peace and quiet.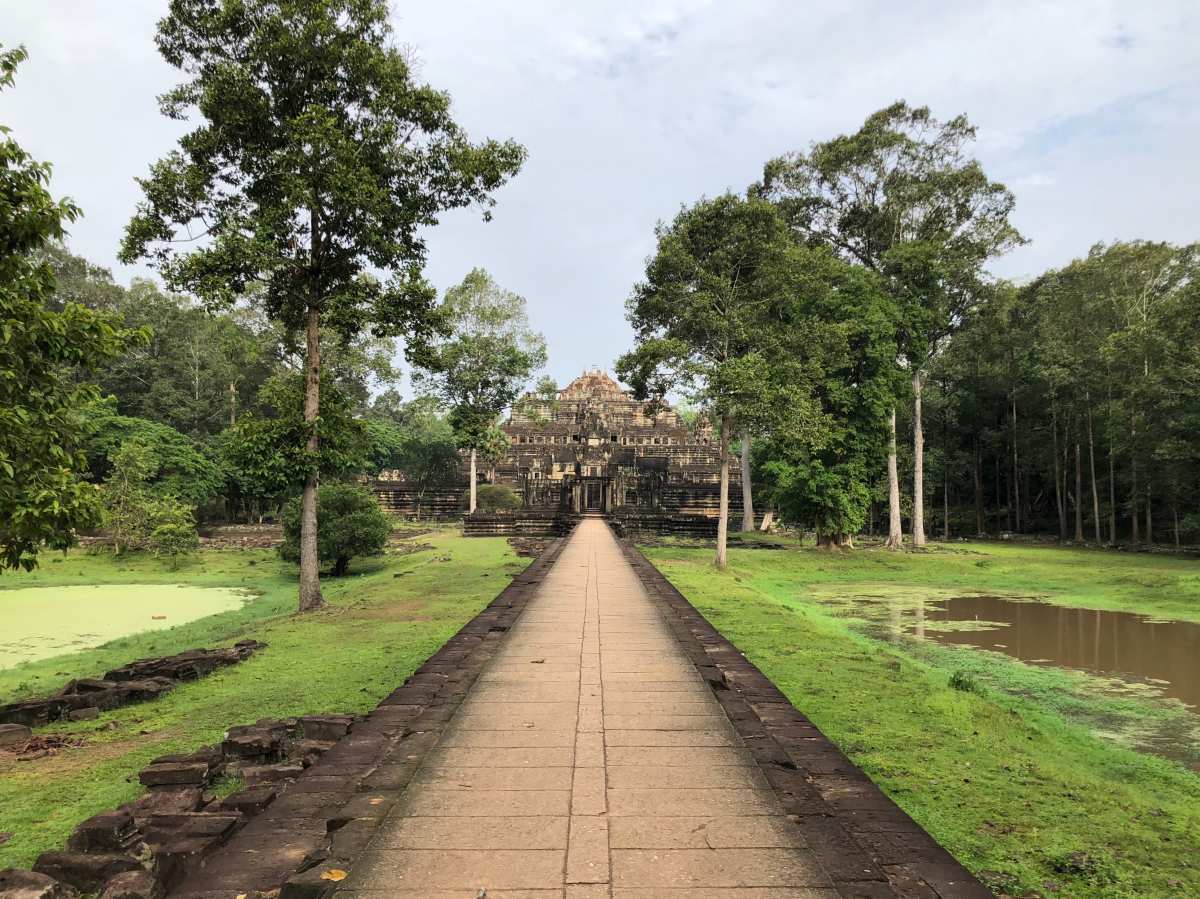 Preah Khan
With a huge area to explore, Preah Khan is a must-visit. We particularly loved the contrast between the crumbling, man-made columns and the gigantic tree roots that had completely taken over some parts of the complex.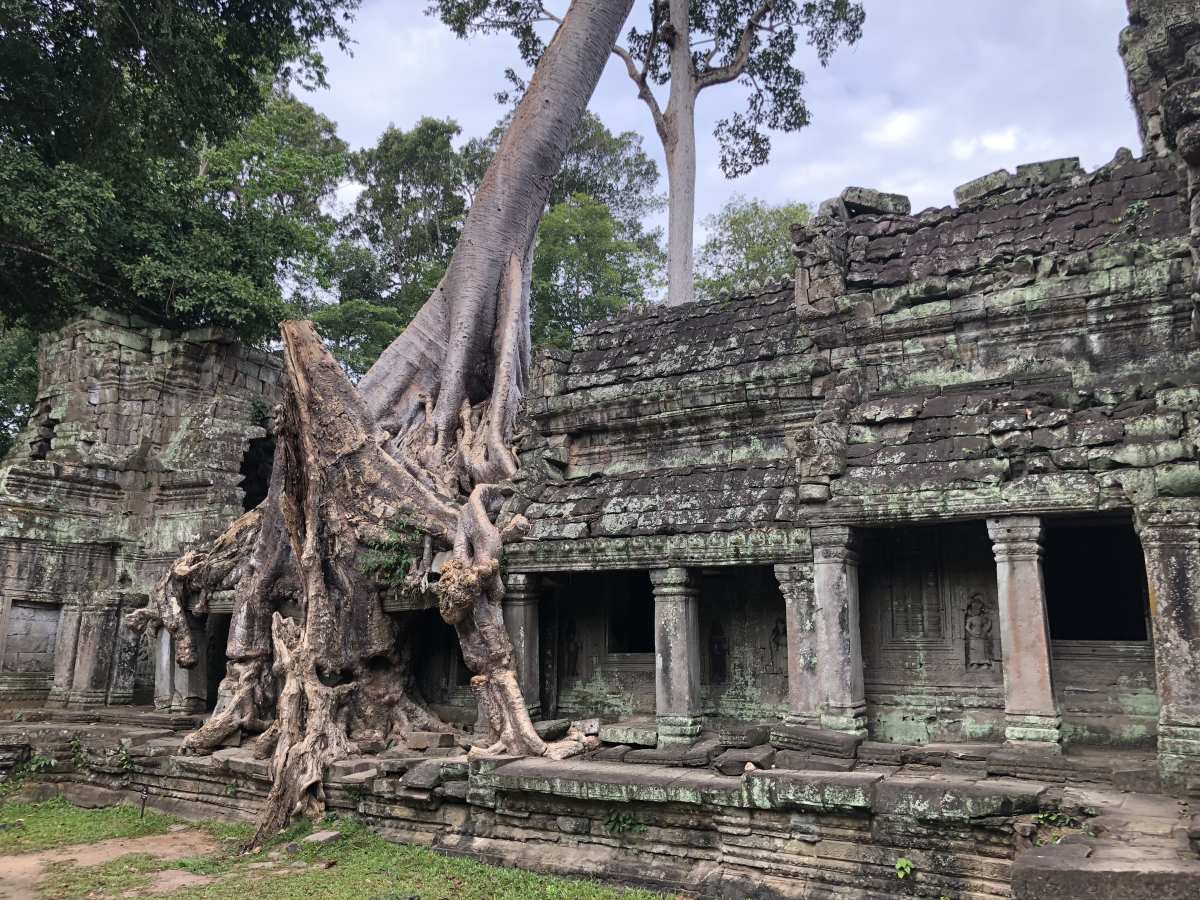 Ta Som
Originally built in the late 12th century, Ta Som is a small complex, but still worth seeing. Some of the carvings are in brilliant condition. Make sure you look out for the gateway that has been surrounded by the twisted roots of the trees around it.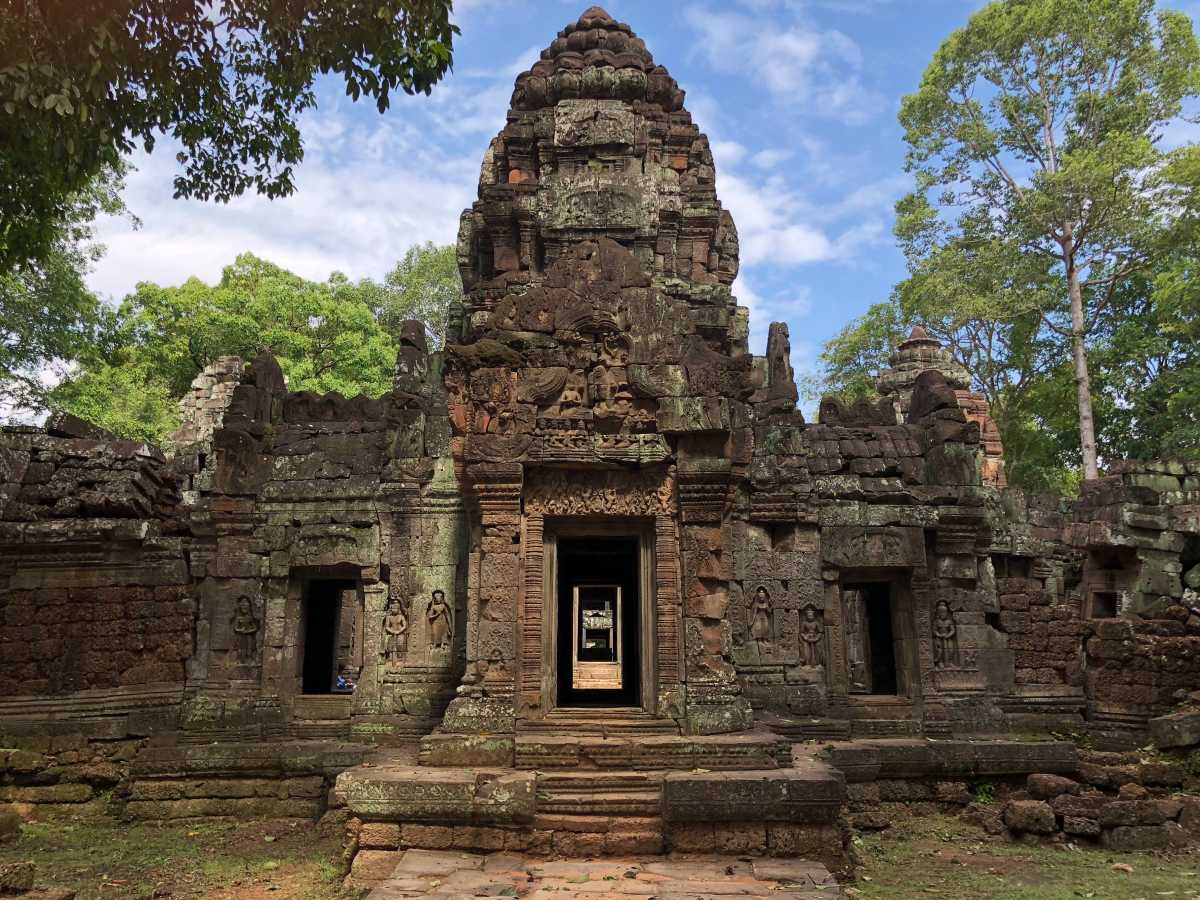 Neak Pean
This small island temple is so peaceful and pretty, and the journey across is an experience in itself. Look out for wild buffaloes as you walk along the raised walkway above the lake.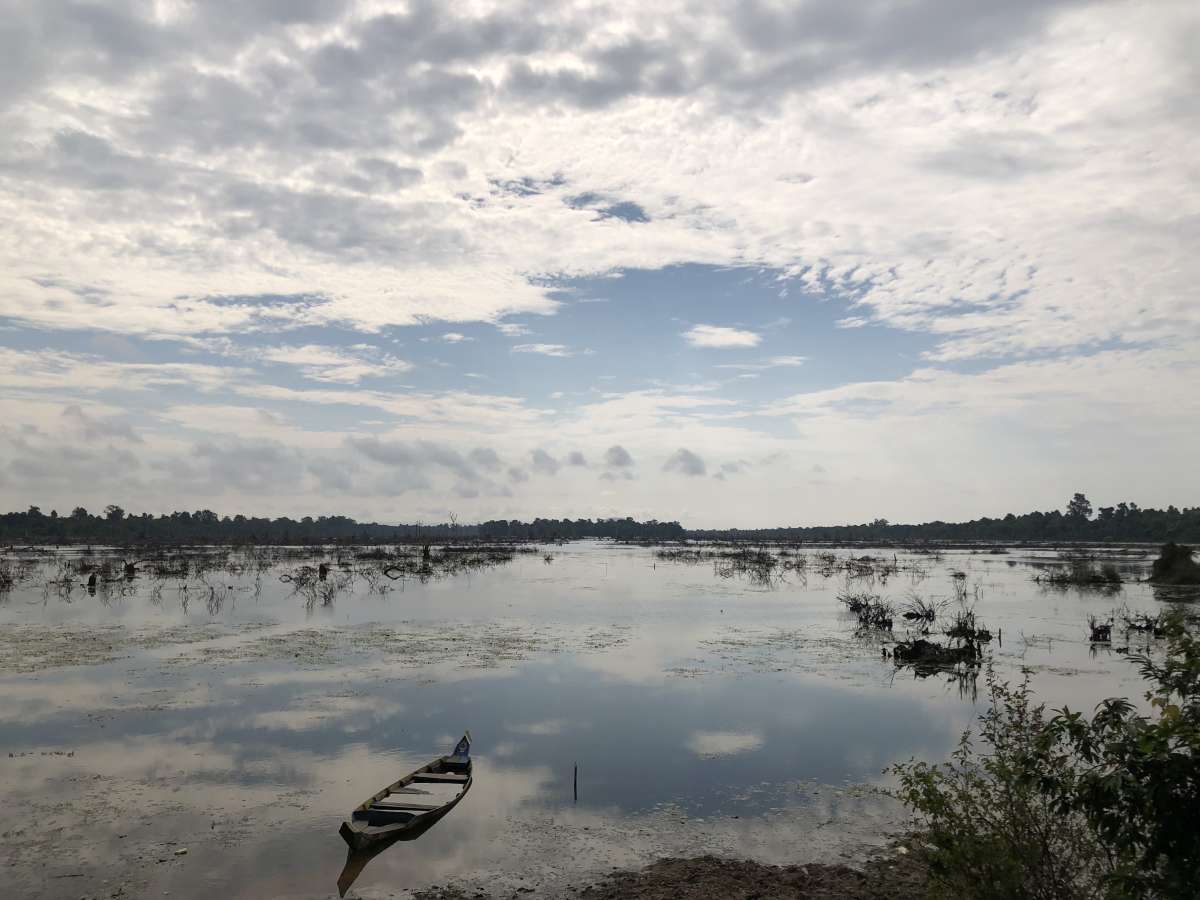 Phnom Bakheng
OK, so we did go to see Phnom Bakheng. It's a very popular sunset spot. But we'd struggle to recommend it! It was SO busy with a huge queue to reach the top (only 300 people are allowed up there at one time, and a lot of people were camped out ready for sunset). It was definitely not one of the most impressive temples we saw, either.
We'd definitely recommend going back to the temple complex at sunset, but instead opt for Pre Rup, or just revisit one of your favourite temples. For us, Phnom Bankheng was hugely underwhelming.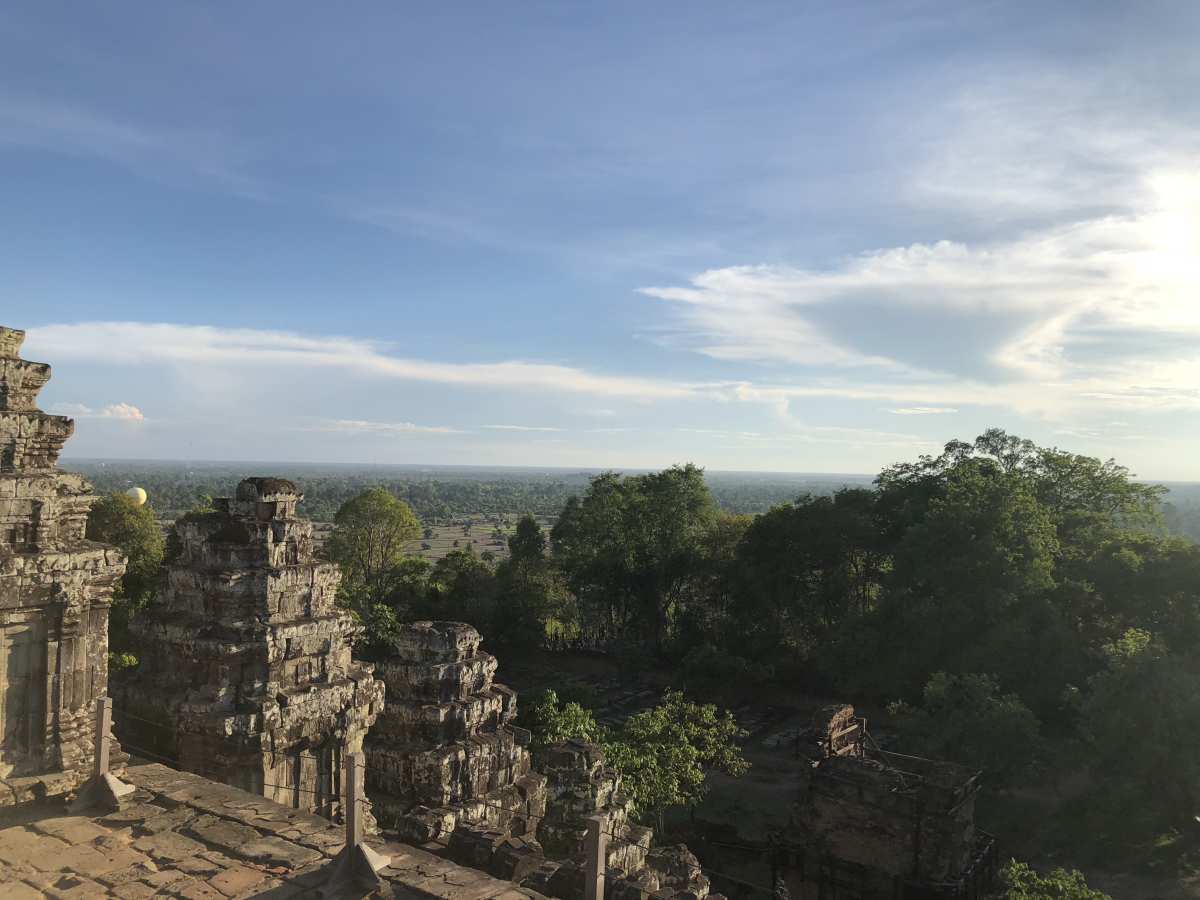 Angkor Wat in three days
Of course, your own itinerary will depend on which temples you most want to see, and the weather! We can't stress enough that the best time to see the temples is early in the morning. The heat becomes too oppressive otherwise. Cloudy days are better for sightseeing than sunny days, too.
We knew we wanted to see Angkor Wat and Bayon. For everything else, we let our lovely tuk-tuk driver give us recommendations. He knew the area well, and knew which temples were near to each other.
Here's what we'd recommend.
Day one
5am-7am – Angkor Wat
7.30am-8am – Ta Prohm
8am-9am – Bayon
Day two
7.30am-8am – Baphuon
8am-8.30am – Preah Khan
8.30am-9am – Neak Pean
9am-9.30am – Ta Som
Day three
4.30pm-6.30pm – Sunset at Pre Rup
Temple etiquette
If you've travelled a bit in Asia already, you'll know plenty about what's expected in temples. Even so, the rules in the Angkor Wat are slightly different.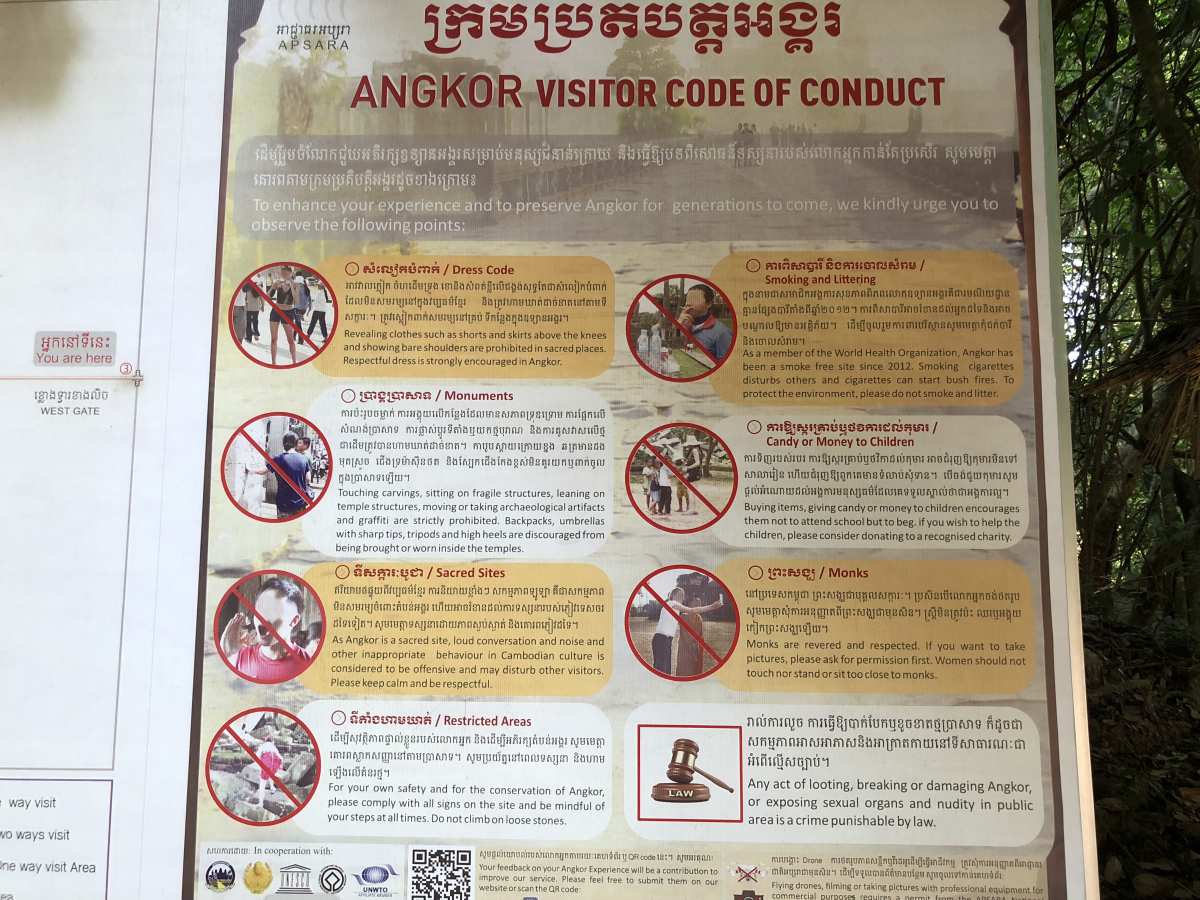 Dress code
Men and women are expected to cover their shoulders and knees. However, most men we saw were wearing normal shorts (including Karl). We've noticed throughout Asia that the dress code in temples tends to be stricter for women than men. Here, it's no different.
Behaviour
Naturally, smoking and littering are banned. Visitors are also expected to talk quietly, keeping noise to a minimum. This doesn't always happen, but most of the time we did notice that the temples were very peaceful places to be. Touching carvings is not allowed, nor is sitting in certain places.
Monks
If you want to take a picture of or with a monk, always ask them first. Remember also that women should not stand too close to them, or touch them.